Delicious PBJ French Toast
French toast is good on its own but add peanut butter and jelly to the equation and it gets even better. Have peanut butter and jelly french toast for breakfast or for supper. You can't go wrong. If you want more vegan breakfast inspiration, check out my vegan pancakes with biscoff which are also a great (sweet) treat to begin your day with.
Prefer To Watch Instead?
Ingredients For This Recipe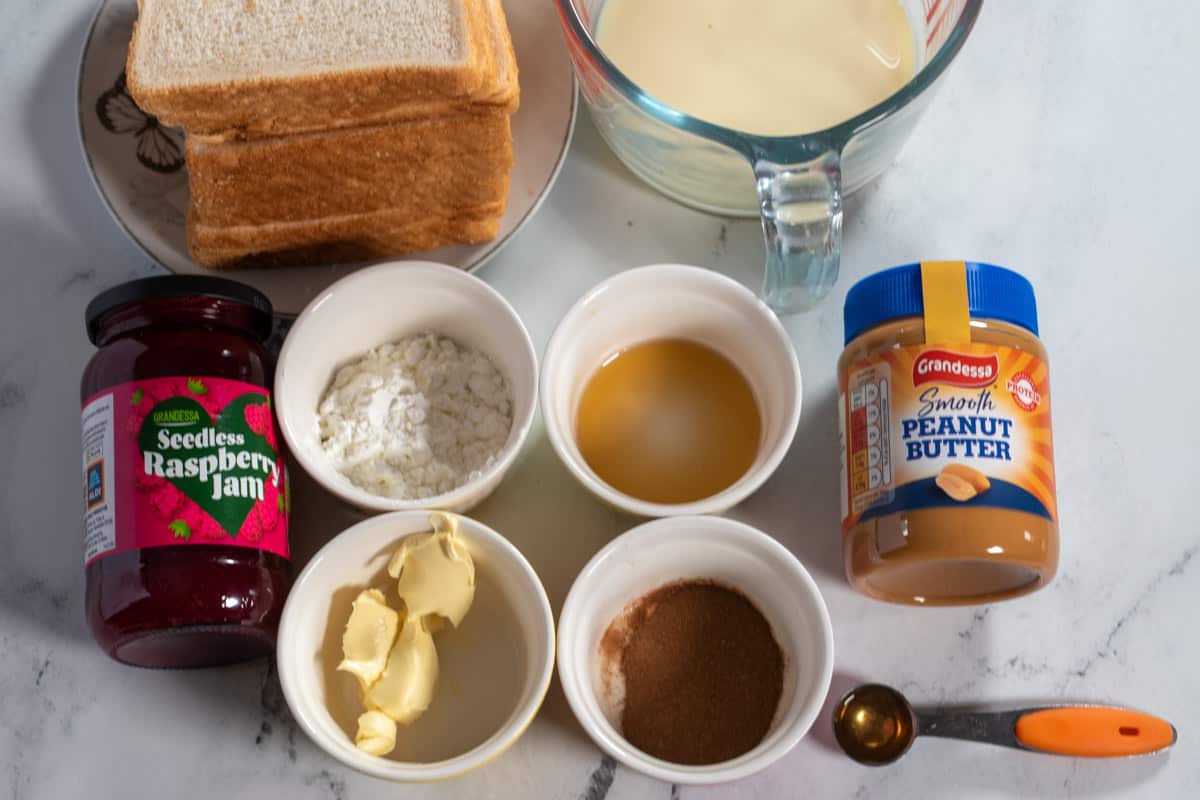 Cornstarch
Unsweetened soy milk
Vanilla extract
Maple syrup
Ground cinnamon
4 slices of white bread - I prefer thick as it doesn't collapse when dipping.
Vegan butter - for frying.
Smooth peanut butter - or crunchy if you're feeling adventurous.
Raspberry jelly (jam)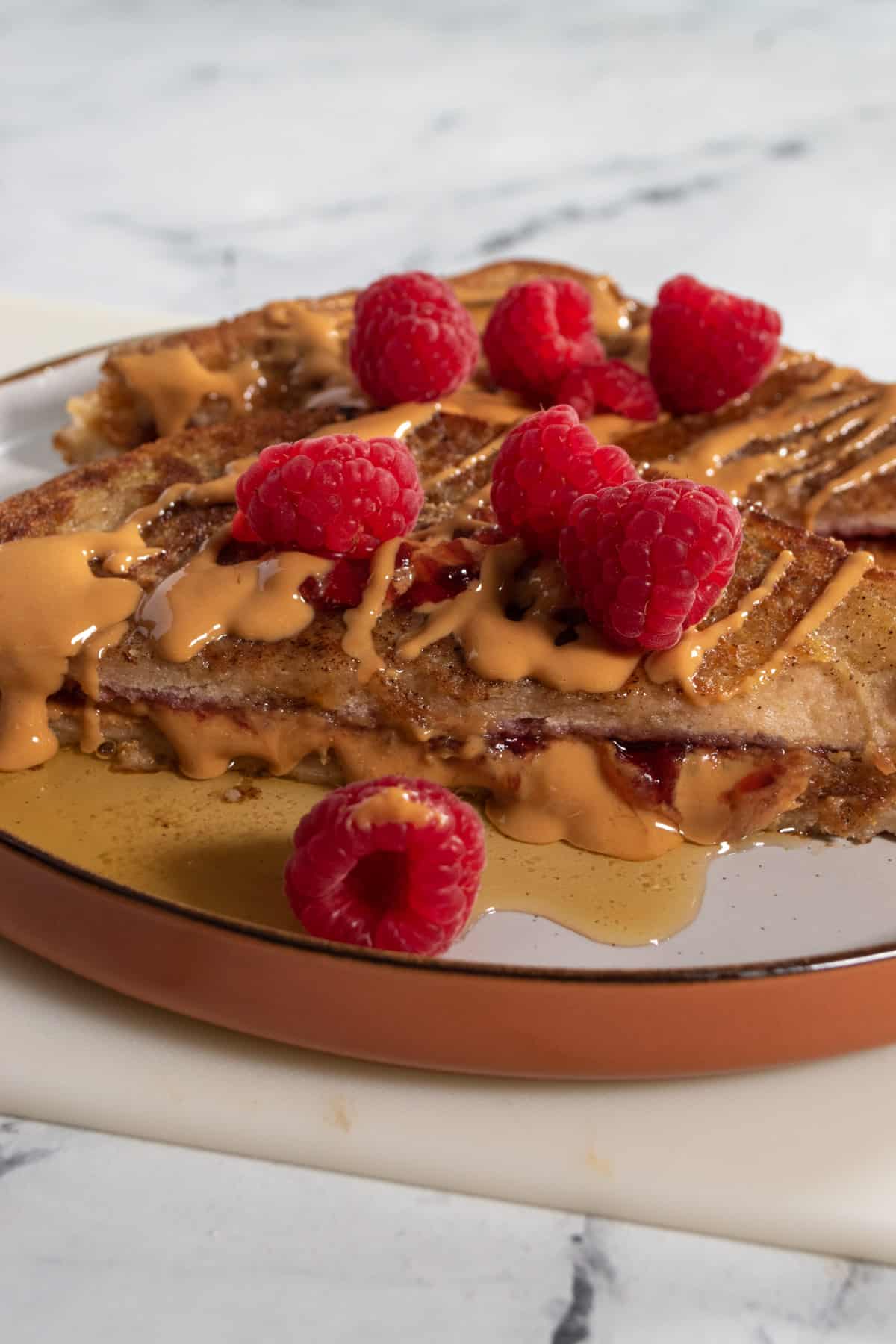 How To Make Vegan Peanut Butter and Jelly French Toast
For the full method and ingredient amounts, please refer to the recipe card at the bottom of this post.
Step By Step Instructions
STEP ONE
Make the french toast batter in a mixing bowl.
STEP TWO
Spread the peanut butter and jelly onto the bread.
STEP THREE
Make a sandwich.
STEP FOUR
Dip one side of the sandwich into the batter.
STEP FIVE
Flip and dip the other side into the batter.
STEP SIX
Fry the french toast in vegan butter on one side for 2 minutes.
STEP SEVEN
Flip and cook the other side until both sides are golden brown.
STEP EIGHT
Decorate and garnish your french toast.
Tips For Making Perfect Vegan French Toast
Use thick bread.
The thicker the bread, the less likely that it will break when dipped in the batter
Don't dip the bread for too long.
The longer you leave the bread soaking in the batter, the harder it is to take it out. This is why I recommend 10 seconds on each side.
Why You Should Make Your French Toast From Scratch
French toast is amazing when you make it from scratch at home. It tastes super fresh and it's easy to make. I have never tried pre-prepared or packaged french toast but I can't imagine that it is very nice!
Customise This Recipe
You don't have to use white bread. Brown bread will work just as well and it's also healthier.
Choose a different nut butter. Some people prefer almond butter or cashew butter.
Use a different jelly (jam) flavour. How about strawberry? Blackberry?
Make french toast sticks. Cut the bread into sticks before dipping.
Make it healthier. Baked french toast is very possible in an air fryer or an oven.
Frequently Asked Questions
Do you use cinnamon when making peanut butter and jelly french toast?
Cinnamon works great for french toast and this recipe.
Why is my french toast soggy?
The best french toast recipes are crispy on the outside and creamy on the inside (NOT soggy). If your french toast is soggy, you may have dipped it in the batter for too long.
Can You Freeze Peanut Butter and Jelly French Toast?
I don't advise this.
How To Store My Vegan French Toast
You can store the french toast in the fridge for two days, covered with plastic wrap.
More Breakfast Recipes
Print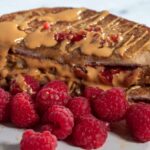 Easy Vegan Peanut Butter and Jelly French Toast
---
Description
This peanut butter and jelly french toast is the perfect breakfast for when you want to start with a sweet treat. Serve with maple syrup.
---
For the French toast batter:
3 tablespoons

cornstarch

120

ml

unsweetened soy milk

1 teaspoon

vanilla extract

2 teaspoons

maple syrup

1 teaspoon

ground cinnamon
 Bread:
4

slices of thick white bread

1.5 tablespoons

vegan butter* (for frying) (see notes)
For the filling:
Smooth peanut butter (to taste)
Raspberry jam (jelly) (to taste)
Garnish:
Melted peanut butter (optional)
Chopped peanuts (optional)
Fresh raspberries (optional)
Maple syrup (optional)
---
Instructions
Make the French toast batter:
To a medium bowl, add your cornstarch. Gradually, add in the soy milk while whisking constantly so that there are no lumps.
Next, pour in the vanilla and maple syrup. Then sprinkle in the cinnamon. Combine again with a whisk.
Add the PBJ:
Take 2 slices of your thick bread, then spread some peanut butter and raspberry jam onto them (as much as you like). Place the other 2 slices of bread over them, creating two sandwiches.
Dip the bread:
Heat a large skillet pan over a medium heat. While the pan heats up, add your sandwiches to the French toast batter. Leave them to soak for 5-10 seconds on each side. Any longer and the bread may fall apart.
Fry your French toast:
Add the vegan butter to the hot frying pan. Place as many peanut butter and jelly sandwiches into the pan as you can fit. This will usually be 1 or 2 at a time.
Cook your French toast for 2 minutes, pressing down with a metal spatula until the bottom is golden brown. This makes sure that the sandwich is properly pressed together.
Flip your French toast and cook the other side until it is also golden brown. Repeat this process until all the French toast has been fried.
Garnish your French toast:
If you want topping for your French toast, I recommend melted peanut butter, chopped peanuts and fresh berries.
Notes
Fry using coconut oil for a healthier option.
Prep Time:

5 minutes

Cook Time:

8 minutes

Category:

Breakfast

Method:

Frying

Cuisine:

PBJ French Toast
Nutrition
Serving Size:

1 French Toast Sandwich

Calories:

361

Sugar:

13.6 g

Sodium:

427.8 mg

Fat:

11.3 g

Carbohydrates:

55.2 g

Protein:

8.9 g

Cholesterol:

0 mg
Keywords: pbj, peanut butter and jelly, peanut butter and jelly french toast, vegan french toast, french toast recipe, vegan breakfast