Biscoff is just so good, no matter what you have it with. It simply makes desserts better. Whether that's a cake, a cheesecake or these vegan pancakes, you can't go wrong with it!
These pancakes are so simple and I promise you that they're utterly delicious. Also you need to do is make the batter, fry and drizzle. That's it. They're ready in no time at all.
I actually already have a few biscoff recipes on here despite only launching the blog a few months back. You all just love them!
Check out my vegan biscoff brownie bark, vegan biscoff cheesecake and my vegan biscoff caramel bars for more inspiration!
PREFER TO WATCH INSTEAD?
INGREDIENTS
All-purpose flour - I recommend using this flour for the softest texture. If you want to be a little healthier, you may want to use wholewheat flour and of course, you can also use gluten free flour instead if you wish.
Granulated sugar - I only call for a little bit of sugar on the recipe card but this gives them a nice subtle sweetness which works well for these pancakes.
Baking powder - this is what makes the pancakes so soft. The most important ingredient.
Salt - just a dash but it definitely enhances the final result.
Plant milk - I love to use soy milk in my pancake mix but any other plant milk should work just fine.
Vegetable oil - You can also use melted vegan butter.
Vanilla extract - gives them that little extra flavour.
Vegan butter - for greasing the frying pan.
HOW TO MAKE VEGAN PANCAKES
Below you can take a look at a quick overview of how to make my biscoff pancake stack. The full method is down on the recipe card. If you're looking for detailed steps, be sure to see it!
STEP ONE
Firstly, mix your dry ingredients until combined. Then add in your wet ingredients. Fold them in until they flour is just combined. Don't over-mix as this will affect the texture of the pancakes.
STEP TWO
Next, heat your frying pan and grease with a vegan butter alternative. Pour in enough pancake mixture to make a 12cm diameter pancake into the centre of the frying pan. When the pancake begins to bubble, flip over. Cook for about another minute. Repeat this process.
STEP THREE
Melt your biscoff spread in a saucepan then immediately pour it over your pancake stack. Top with biscoff cookie crumbs.
RECIPE TIPS
You can make your pancake batter before you intend to use it if you like. Once it is mixed, place it into an airtight container and use within the following two days.
Use a non-stick frying pan as this will combine with the greased surface and therefore, flipping your pancakes will be nice and easy.
Only flip your pancakes once as flipping too many times causes them to become less fluffy. Once your pancake starts to bubble in the pan, this usually means that the other side is cooked. The second side cooks even quicker!
Don't over-mix the batter as this makes the pancakes chewy and unappetising.
BISCOFF TOPPING
For the biscoff topping I used Lotus Biscoff spread which is widely available in many stores.
I then heated it in a small saucepan (it melts super quickly) and then poured it over my pancakes while it was hot. Biscoff and vegan pancakes are honestly like a match made in heaven.
I also added biscoff cookie crumbs on top.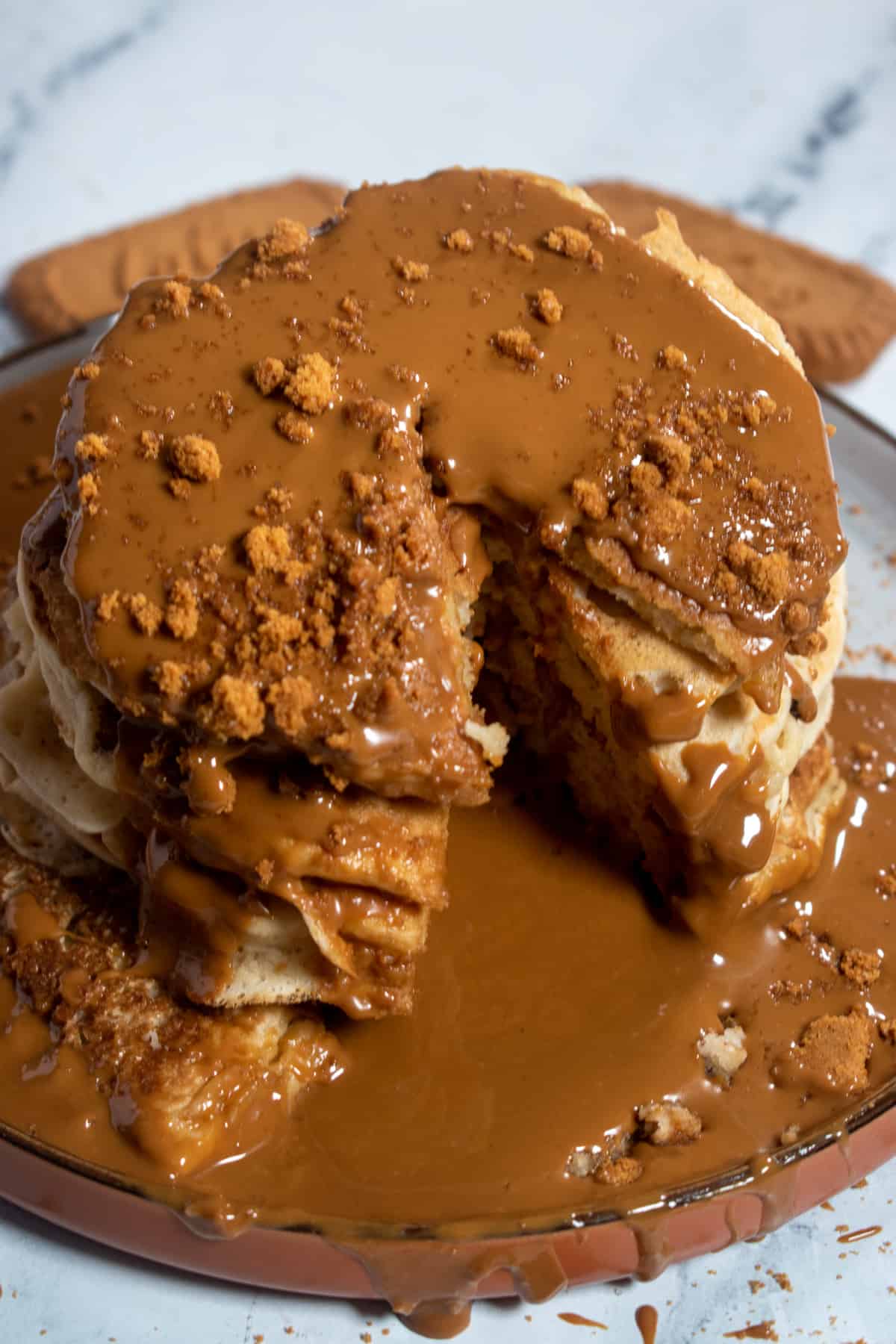 HOW LONG SHOULD I FRY MY PANCAKES FOR?
Once your pan is piping hot, the pancakes won't take long to cook at all. I usually flip them after they've been in the pan around 30 seconds. You will see them bubbling when they're ready to be flipped.
Cook for a further 30 seconds - 1 minute, depending on how hot your pan is.
VARIATIONS AND SUBSTITUTIONS
If you prefer your pancakes to have fillings, you can add a handful of chocolate chips or fresh blueberries to the batter mixture.
I decided to use soy milk for this recipe but other plant milks such as almond milk and oat milk also work very well.
You can use wholewheat flour for healthier pancakes.
The vegetable oil can be replaced by melted vegan butter, 1:1.
HOW TO STORE VEGAN PANCAKES
Store the pancakes in the refrigerator for up to 4 days. Keep them sealed inside an airtight container.
When you'd like to reheat them, place them into a microwave or toaster until they're nice and warm.
You can also freeze them in a ziplock bag for up to 1 month. Make sure that all of the air is fully squeezed out. Again, you can warm up your vegan pancakes in the microwave or a toaster.
HELPFUL EQUIPMENT FOR THIS RECIPE
Large mixing bowl
Medium non-stick frying pan
Fluffy Vegan Pancakes With Biscoff
These vegan pancakes are so simple and fluffy. Enjoy!
Print
Pin
Rate
Ingredients
Dry Ingredients:
200

g

all-purpose flour

30

g

granulated sugar

1

tablespoon

baking powder

0.5

teaspoon

salt
Wet Ingredients:
125

ml

water

240

ml

plant milk

2.5

tablespoons

vegetable oil

1

teaspoon

vanilla extract

optional
Toppings:
200

g

biscoff spread

melted

Biscoff cookie crumbs

to taste
Extras:
A small lump of vegan butter for greasing the pan.
Instructions
Making the pancake batter:
In a large mixing bowl, mix together the all-purpose flour, granulated sugar, baking powder and salt.

Next add the water, plant milk, vegetable oil and vanilla to the mixture. Use a wooden spoon to mix again until the batter is just combined. Don't over-mix. The flour should be fully folded in. A few lumps are okay. 
Frying the pancakes:
Grease a medium, non-stick frying pan with vegan butter. Place the pan over a medium-high heat and allow it to get hot for 30 seconds.

Pour enough mixture into the heated pan to create a pancake that is 12cm in diameter.

When the uncooked side of the pancake begins to bubble, this means it's ready to be flipped. Flip and cook the other side until it's golden brown. Repeat these steps until you have used all of the pancake batter.
Making the biscoff topping:
Once you have stacked your pancakes, add the biscoff spread to a small saucepan and melt it over a medium heat. Continuously stir until it is smooth and runny.

Pour the melted biscoff spread over the pancake stack and enjoy!
Notes
Store the pancakes in the refrigerator (in an airtight container) for up to 4 days. 
Store in the freezer in a ziplock bag for up to 1 month).
MORE EASY VEGAN RECIPES