I love to use fresh fruits in my cakes as much as I can and this sweet and zesty vegan blackberry lemon cake takes fruitiness to another level. I think you'll love it as there are so many delectable flavors to enjoy.
This recipe takes less than 30 minutes to make which isn't long at all. If you like cakes which are super soft, fluffy and easy to make, you should totally consider making this one.
Although I usually serve this cake on it's own, it also tastes great with dairy-free single cream or dairy-free custard. This is just optional but it highly recommend giving the cake a try with these sometime.
Love lemon cakes? If you do, I know you'll also like my vegan almond lemon cake, vegan lemon raspberry cake, vegan lemon olive oil cake and vegan blueberry lemon cake which are all amazing in their own ways.
Jump to:
Why You Will Love This Cake
Delicious Texture - This delicious sweet treat is so light and beautifully moist. Not only is the consistency of the cake itself amazing, but also the glaze on top which compliments it perfectly. It is bright lilac in color due to the blackberries which are added.
Fruity & Fresh - This blackberry lemon cake is one of the freshest summertime vegan treats that I have ever tried, along with my vegan blueberry cream pie and vegan lemon curd . Not only are both fruits bursting with flavor upon leaving the oven but they're also so refreshing! Both fruits are also packed with antioxidants.
Great For Sharing - I love baking these cakes for a summertime family get together and for other places where outdoor food sharing is prevalent. People always love this recipe and I hope that you will too.
Allergy Friendly & Plant Based - This vegan blackberry lemon cake recipe is entirely vegan and dairy free.
Ingredient Notes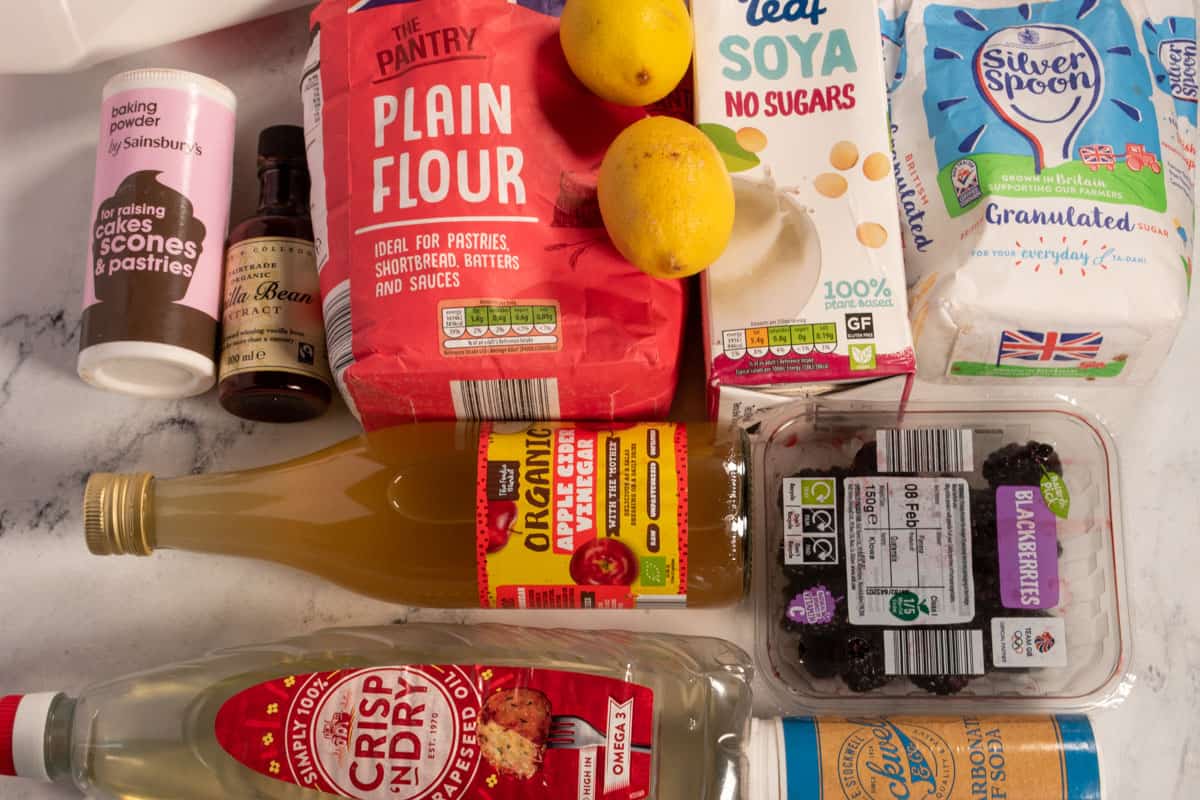 Apple cider vinegar - You need to stir the vinegar into the soy milk in order to make a vegan 'buttermilk'. This mixture will serve as a vital ingredient in this cake recipe and it will help the loaf cakes to have the best, airy texture possible.
Freshly squeezed lemon juice - I only ever used freshly squeezed lemon juice in my recipes. Avoid using artificial lemon juice. Not only is it unnatural, but it is also flavorless. It doesn't come through in the true, tangy fashion like real lemon juice does.
Lemon zest - This gives the cakes an even bigger 'punch' of lemon goodness than the juice. It's more concentrated than the lemon juice and contributes to the cake massively.
Fresh blackberries - These will be used for both the filling and the glaze topping.
See recipe card for full information on individual ingredients and quantities.
Substitutions & Variations
You can make the blackberry glaze thicker or thinner easily in this recipe. If the recommended ratios don't make the glaze you were looking for, all you need to do is change the amount of water that you add to the powdered sugar. Add a little more water for a thinner glaze and add a little less water for a thicker glaze. This is an option for so many of my cake recipe such as, in the vegan carrot walnut loaf cake.
You can make this cake gluten free very easily. In fact, you only need to substitute one of the ingredients, which is the regular white all-purpose flour. It's very easy to replace it these days, as most major grocery superstores will sell gluten-free all-purpose flour blends, which you can swap 1:1.
How To Make Vegan Blackberry Lemon Cake
For the full method, please refer to the recipe card at the bottom of this post.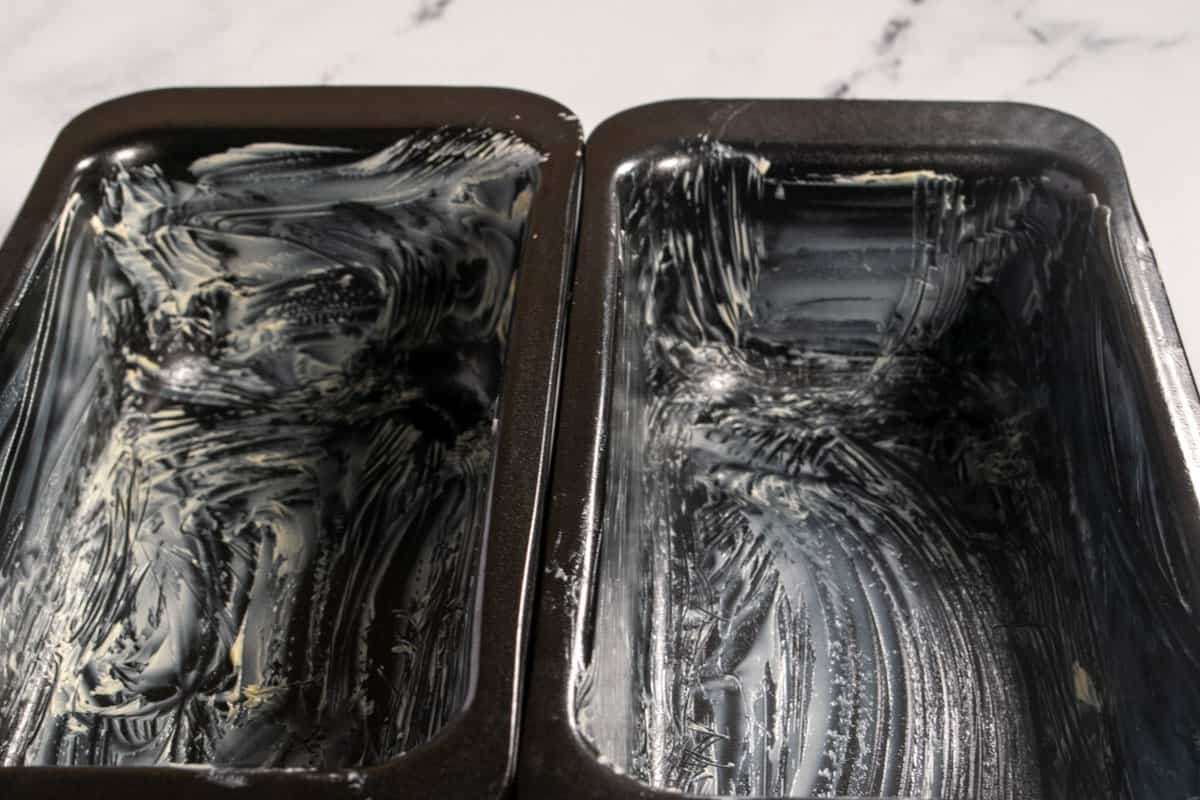 1: Grease two loaf cake tins with vegan butter then set aside.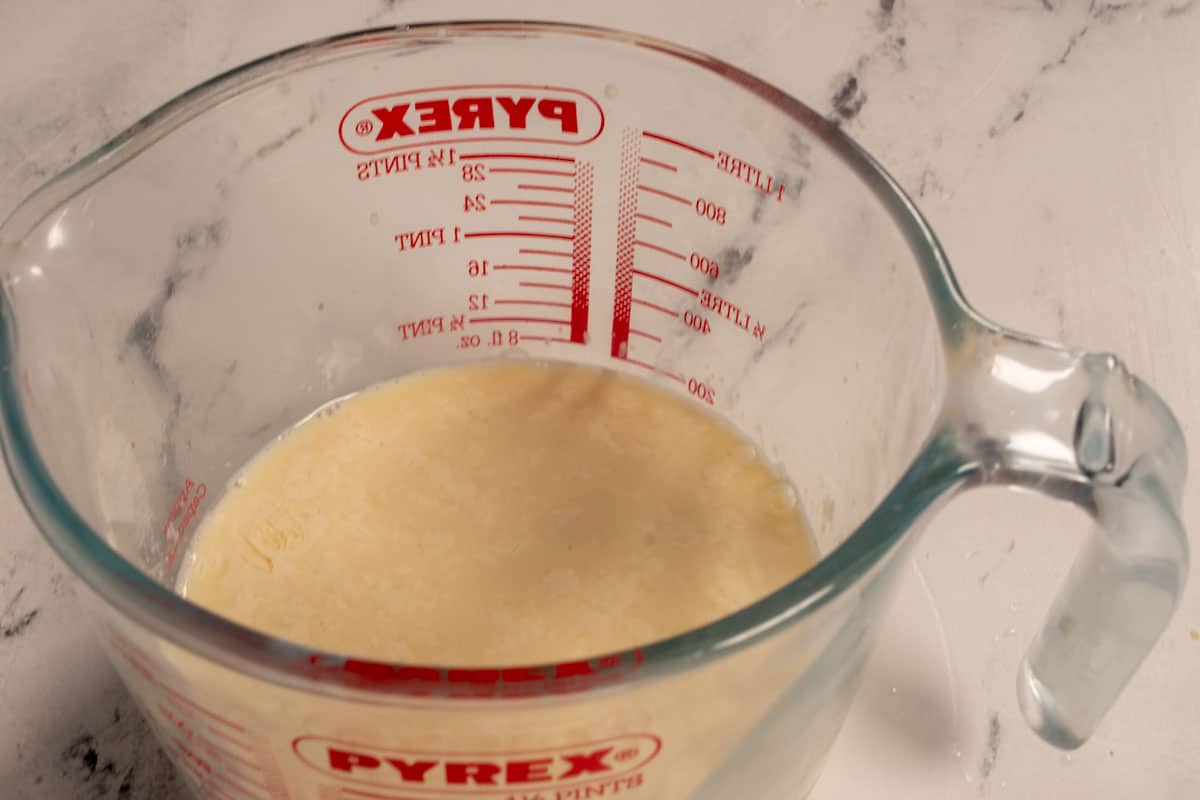 2: Make the vegan buttermilk.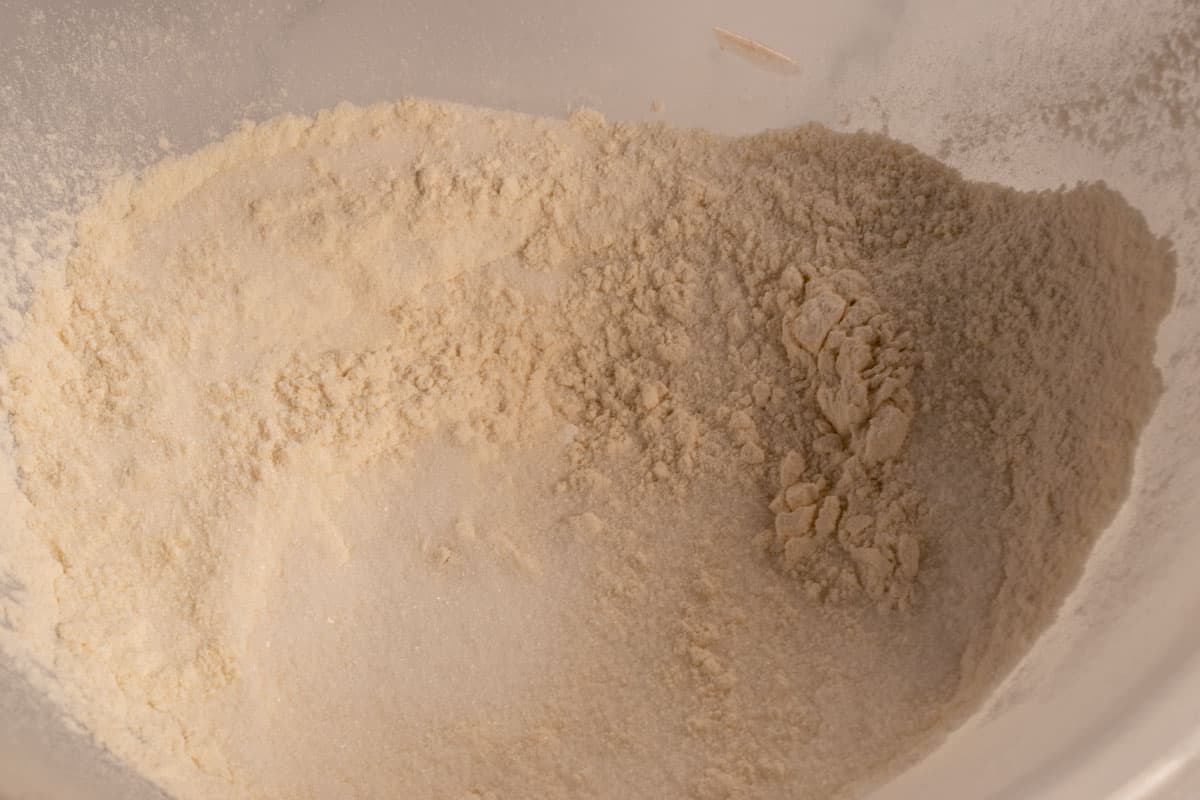 3: Combine the dry cake ingredients in a bowl.
4: Pour in the wet ingredients to create the batter.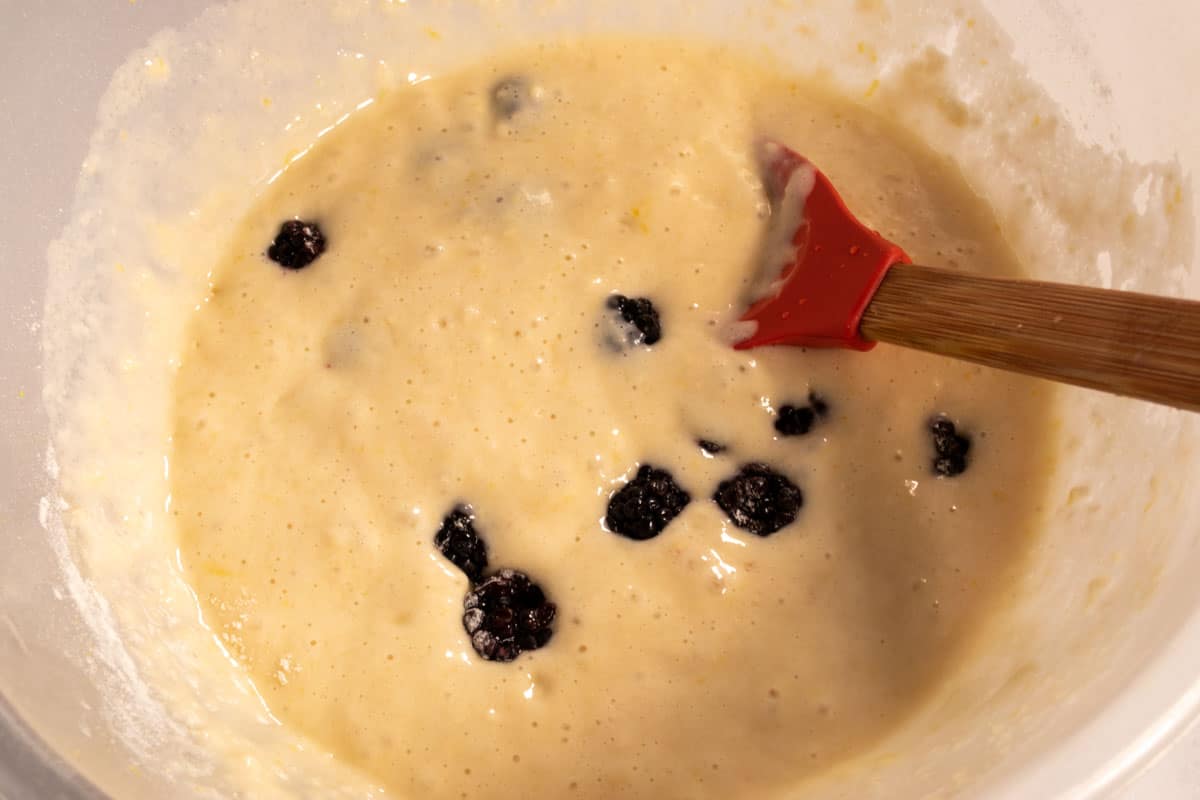 5: Fold in the blueberries and pour into the prepared tins. Bake.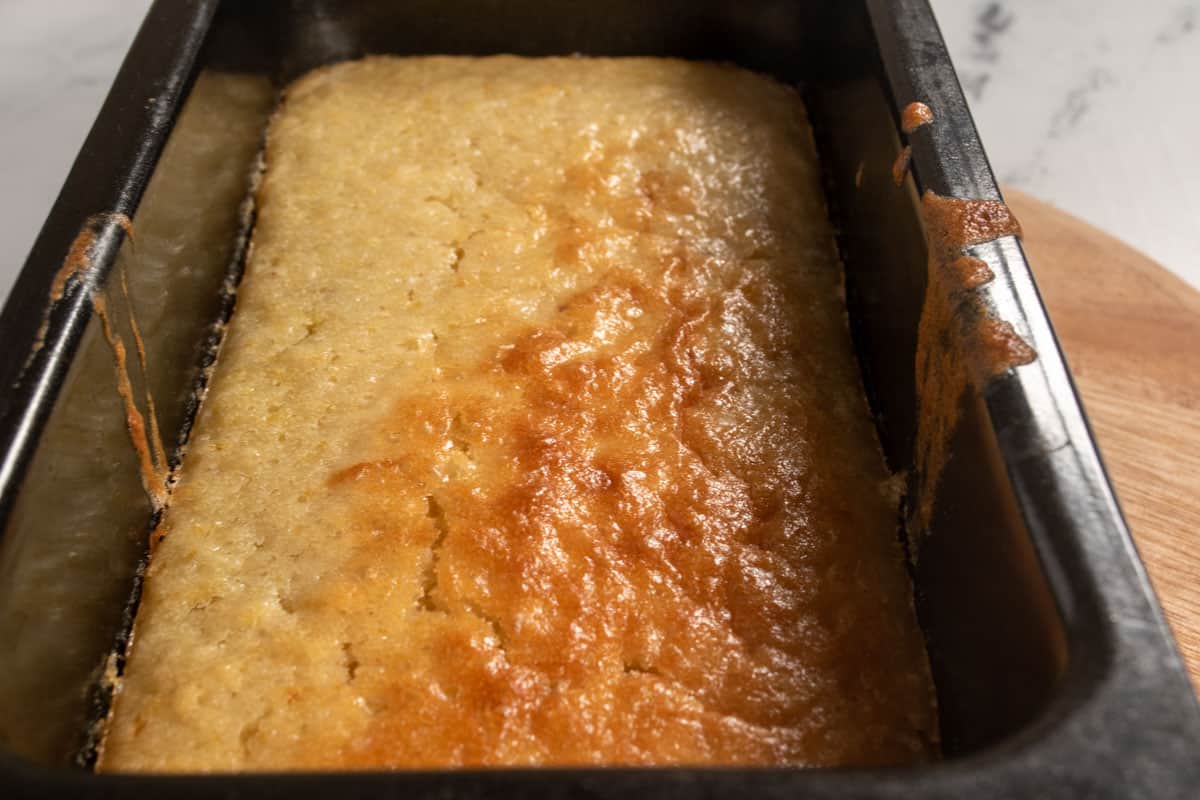 6: Let the loaf cakes cool before decorating.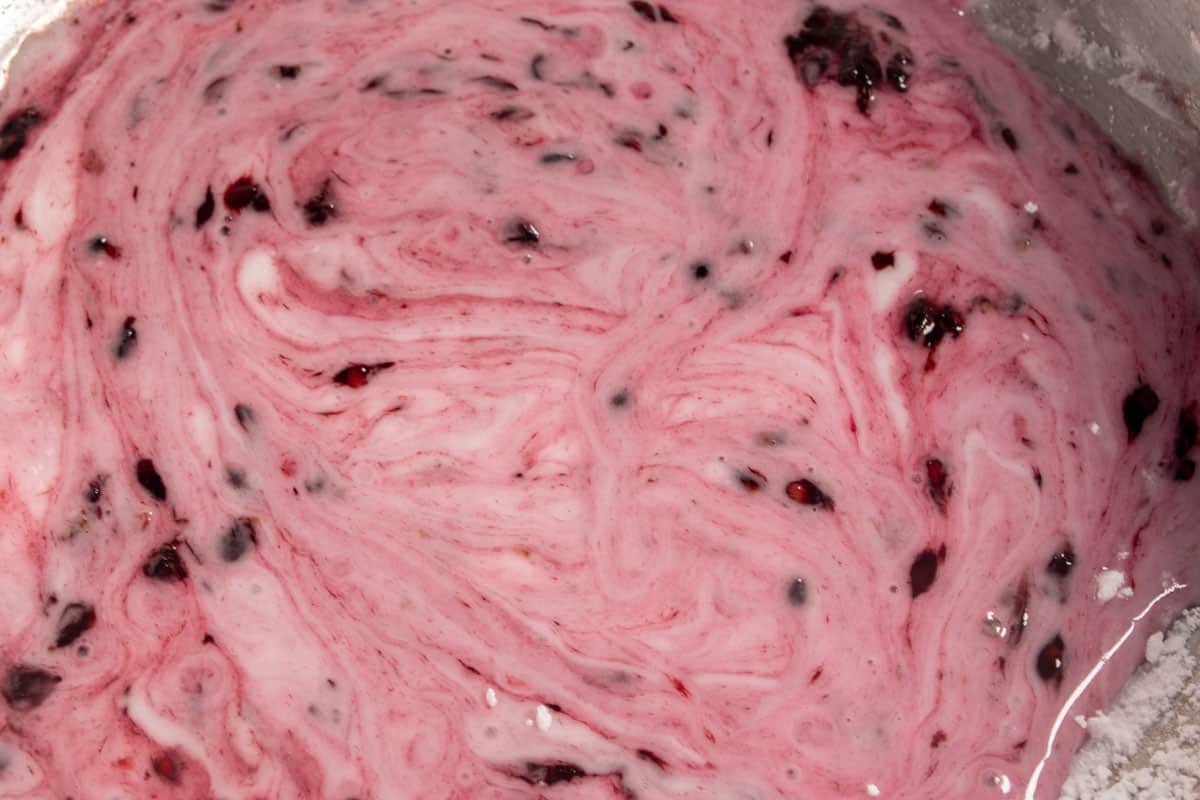 7: Make the blackberry glaze then spoon the glaze over the cooled cakes.
Expert Tips
Stop the blackberries from sinking - Dust the blackberries in some flour before adding them to the cake batter. This will help them stick to the batter and they won't sink as much while baking inside the oven.
Don't use frozen blackberries - For ease and efficiency, I advise that you use fresh blackberries, as opposed to frozen blackberries. Not only will you be able to use the fresh ones instantly, but they also have a much better flavor.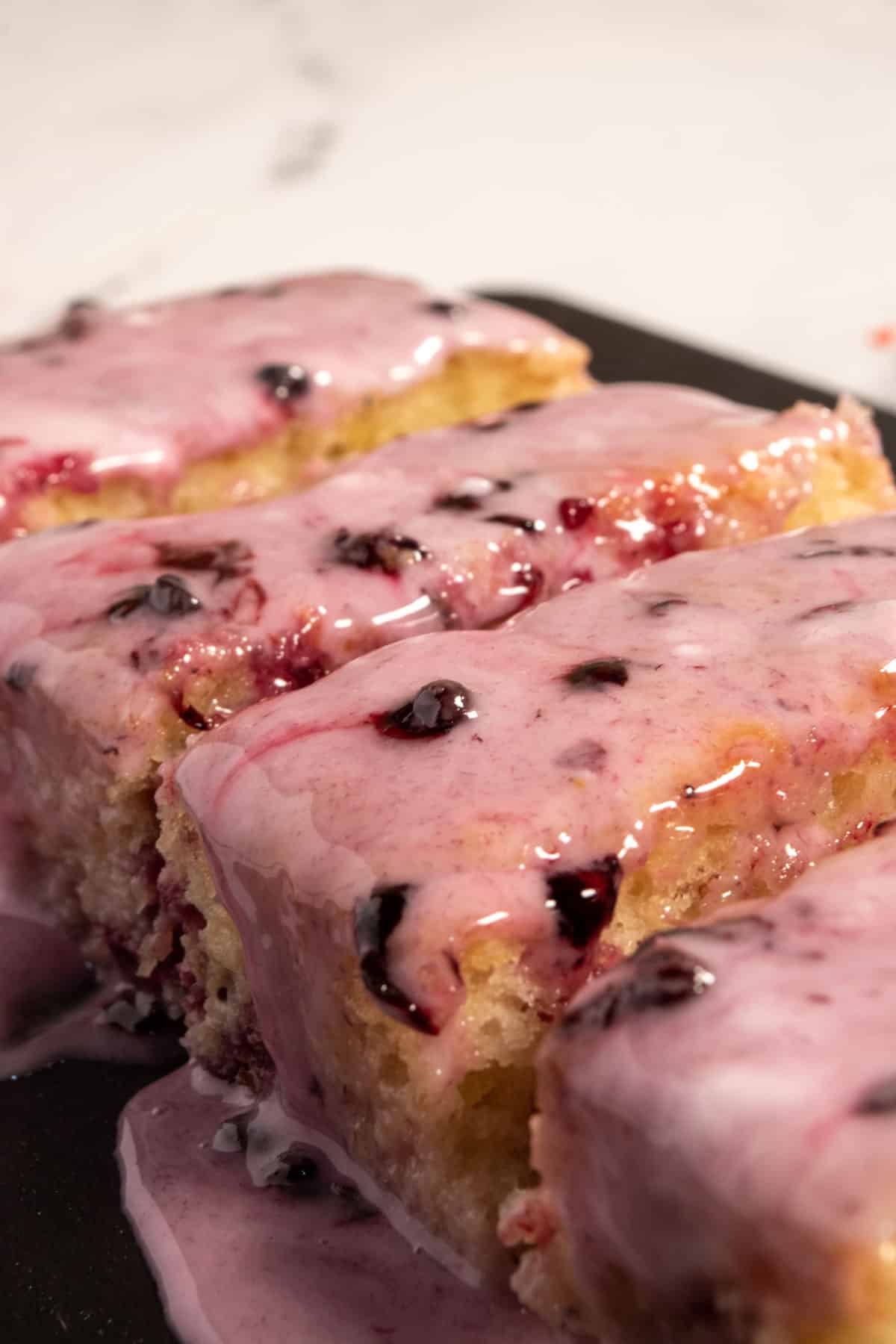 Recipe FAQs
Are blackberries good for you?
Blackberries are very good for you. They are packed with vitamins, minerals and antioxidants so if you'd like a treat that also has health benefits, this could be the one that you're looking for.
What is the best egg substitute for vegan cakes?
The great thing about these easy loaf cakes is that I don't use a direct egg replacer. Instead, I rely on science and chemical reactions between the apple cider vinegar and leavening agents.
How can I store vegan blackberry cakes?
Store this blackberry lemon cake at room temperature inside an airtight container for up to 3 days or in the fridge for 4 days.
Can I freeze this cake?
You can freeze this cake for up to 3 months. Slice the cake up and place inside a ziplock bag or an airtight container. I also recommend that you separate each slice of cake with a piece of parchment paper so that they don't stick together.
More Vegan Lemon Cakes
If you tried this Vegan Blackberry Lemon Cake Recipe or any other recipe on my website, please leave a 🌟 star rating and let me know how you go in the 📝 comments below. I love hearing from you!
Moist Vegan Blackberry Lemon Cake
My vegan blackberry cake recipe which is infused with lemon flavors is a delicious option for when you want a fruity, tangy treat. 
Print
Pin
Rate
Ingredients
For the lemon cake batter:
200

ml

soy milk

1

teaspoon

apple cider vinegar

200

g

all-purpose flour

sifted

150

g

granulated sugar

2

teaspoons

baking powder

0.5

teaspoon

baking soda

1

teaspoon

salt

50

ml

canola oil

rapeseed

1

teaspoon

vanilla extract

50

ml

freshly squeezed lemon juice

Zest of 2 medium-sized lemons

150

g

fresh blackberries
For the blackberry glaze:
160

g

powdered sugar

sifted

5

teaspoons

water

12

g

fresh blackberries

squashed with spoon
Instructions
Preparation:
Preheat your oven to 177 Celsius (350F).

Grease the insides of two 20cm x 10cm cake tins with vegan butter. Set aside.
Make the cake:
Start by making the vegan buttermilk. Do this by mixing your apple cider vinegar into the soy milk. Let it curdle for 8 minutes before adding it to any other ingredients.

To a large mixing bowl add the all-purpose flour, granulated sugar, baking powder, baking soda and salt. Mix the dry ingredients well.

Next, add the curdled soy milk, canola oil, vanilla, lemon juice and lemon zest to the mixture. Fold the lemon cake batter until almost all the flour is mixed in. Lastly, fold in the fresh blackberries.

Equally, pour the cake batter into the greased loaf tins and bake in center of your oven for 20 minutes. A skewer will come out clean when they're done.

Allow the lemon blackberry cakes to cool down inside the tins for 15 minutes, then place them on a cooling rack to cool fully.
Make the glaze:
To a small bowl, add the powdered sugar and the water, one teaspoon at a time. The glaze will be thick in consistency.

Separately, squash the blackberries with the bottom of a fork until they become juicy. Mix the squashed blackberries into your glaze.

Spoon the blackberry glaze over the two lemon loaf cakes.
Video
Notes
Dust the blackberries in some flour before adding them to the cake batter. This will help them stick to the batter and they won't sink as much while baking inside the oven.
For ease and efficiency, I advise that you use fresh blackberries, as opposed to frozen blackberries. Not only will you be able to use the fresh ones instantly, but they also have a much better flavor.
Nutrition
Calories:
211
kcal
|
Carbohydrates:
41
g
|
Protein:
2
g
|
Fat:
5
g
|
Saturated Fat:
0.4
g
|
Polyunsaturated Fat:
1
g
|
Monounsaturated Fat:
3
g
|
Trans Fat:
0.02
g
|
Sodium:
324
mg
|
Potassium:
69
mg
|
Fiber:
1
g
|
Sugar:
27
g
|
Vitamin A:
94
IU
|
Vitamin C:
6
mg
|
Calcium:
70
mg
|
Iron:
1
mg