Cookies and biscuits are just the best. Make sure you also check out my Vegan Melted Snowman Cookies for more vegan cookie inspiration!
PREFER TO WATCH INSTEAD?
When I think of home comforts from back in the day, one of the first things that comes to mind is a classic dark chocolate digestive. Unfortunately, the commercial version of this easy plant-based recipe isn't a vegan-friendly chocolate cookie.
I've decided to take matters into my own hands to create these vegan dark chocolate Digestives and they taste so yummy! They're nice and thick, a little crunchy and most importantly, have the 'wholemeally' taste that makes a homemade Digestive Biscuit so iconic.
Scroll down to the recipe card to see how to make these tasty treats. The more I eat them, the more I realise that it's everything I want in a vegan chocolate cookie recipe. If you try these, let me know what you think on Instagram @vegan_treats_blogger. I'd love to know what you think!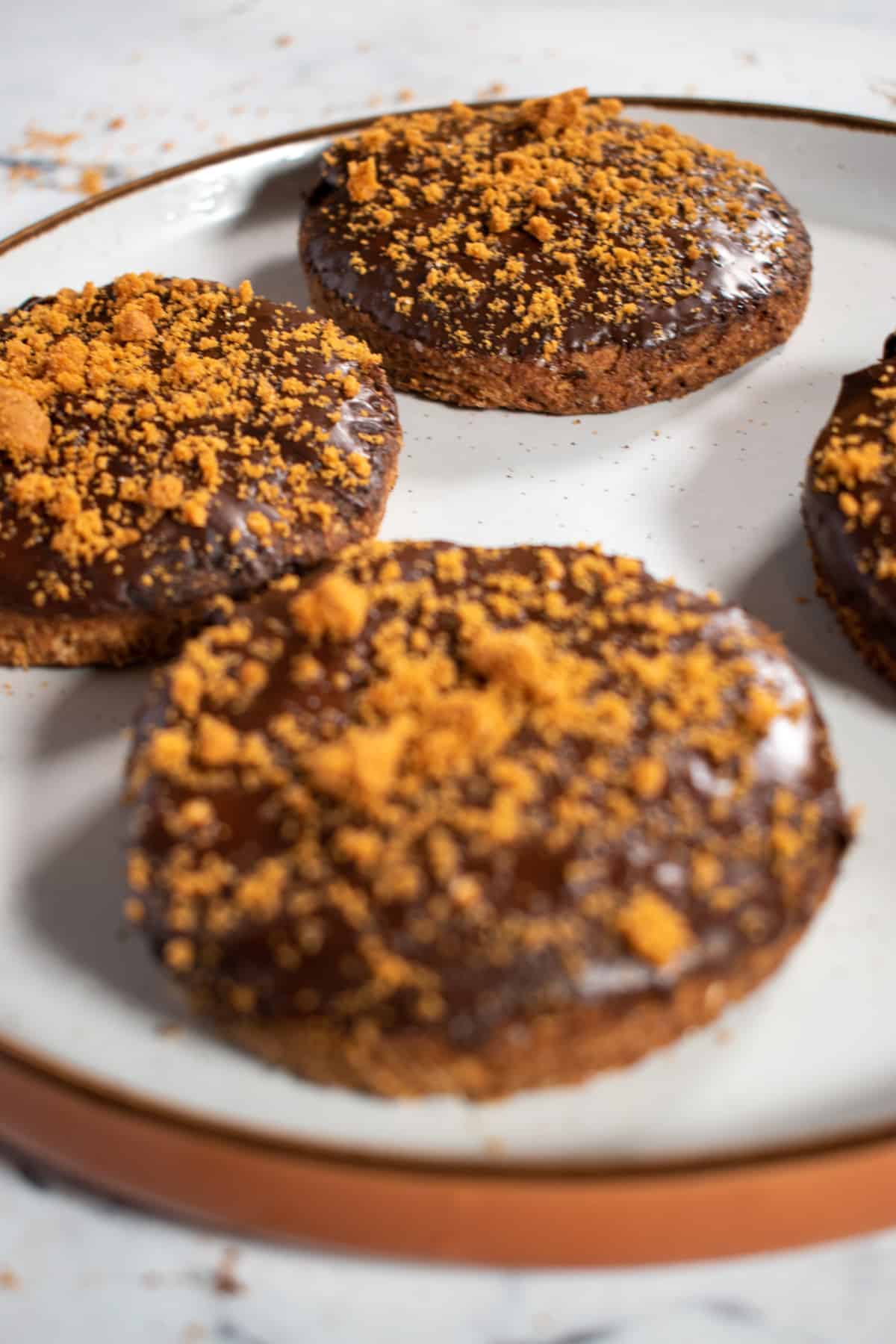 What Ingredients Do You Need To Make Vegan Dark Chocolate Digestives?
Whole-wheat flour
All-purpose flour
Brown sugar
Baking powder
Salt
Vegan butter
Maple syrup
Soya milk
How To Make This Vegan Dark Chocolate Digestives Recipe: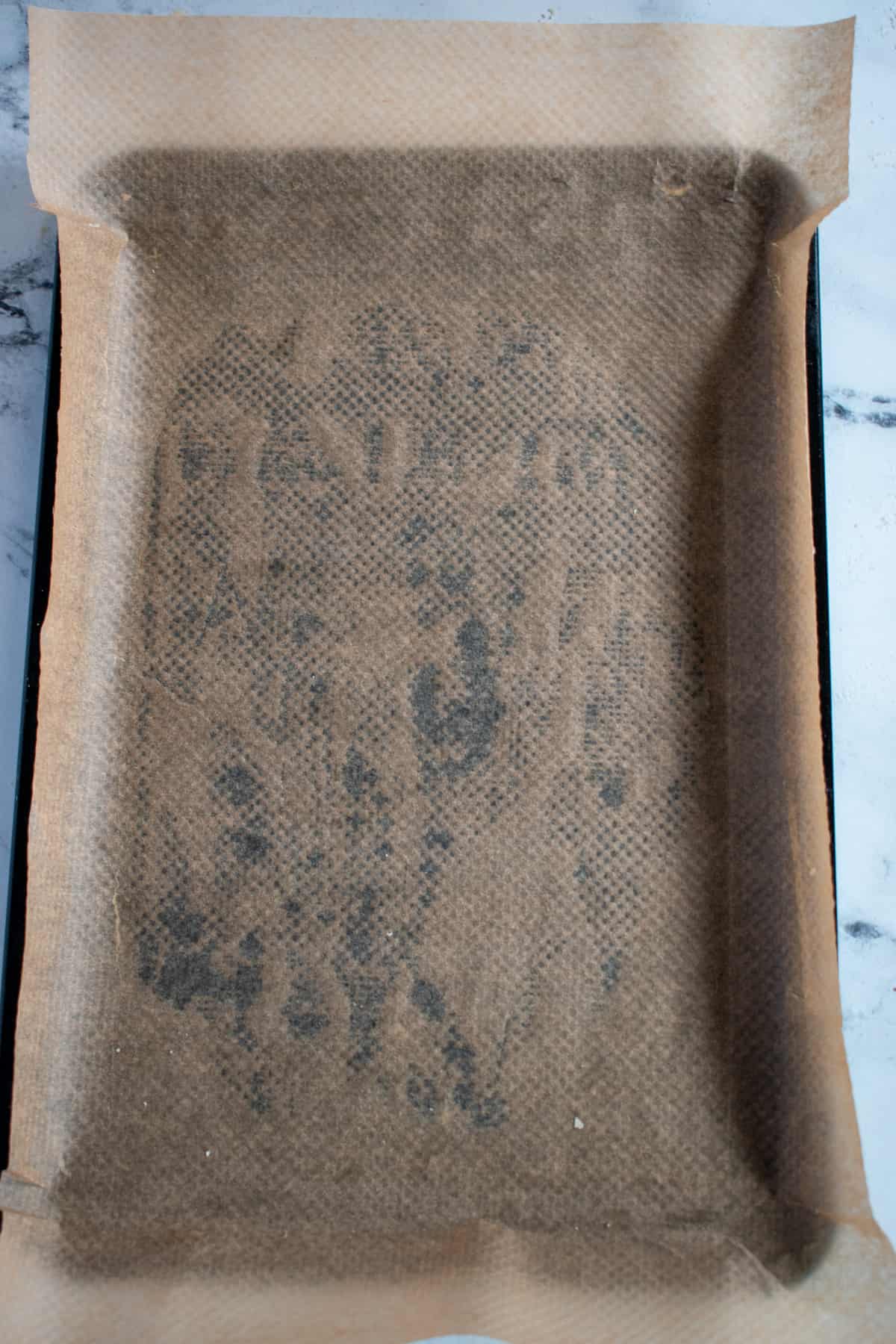 (Full instructions are on the recipe card below).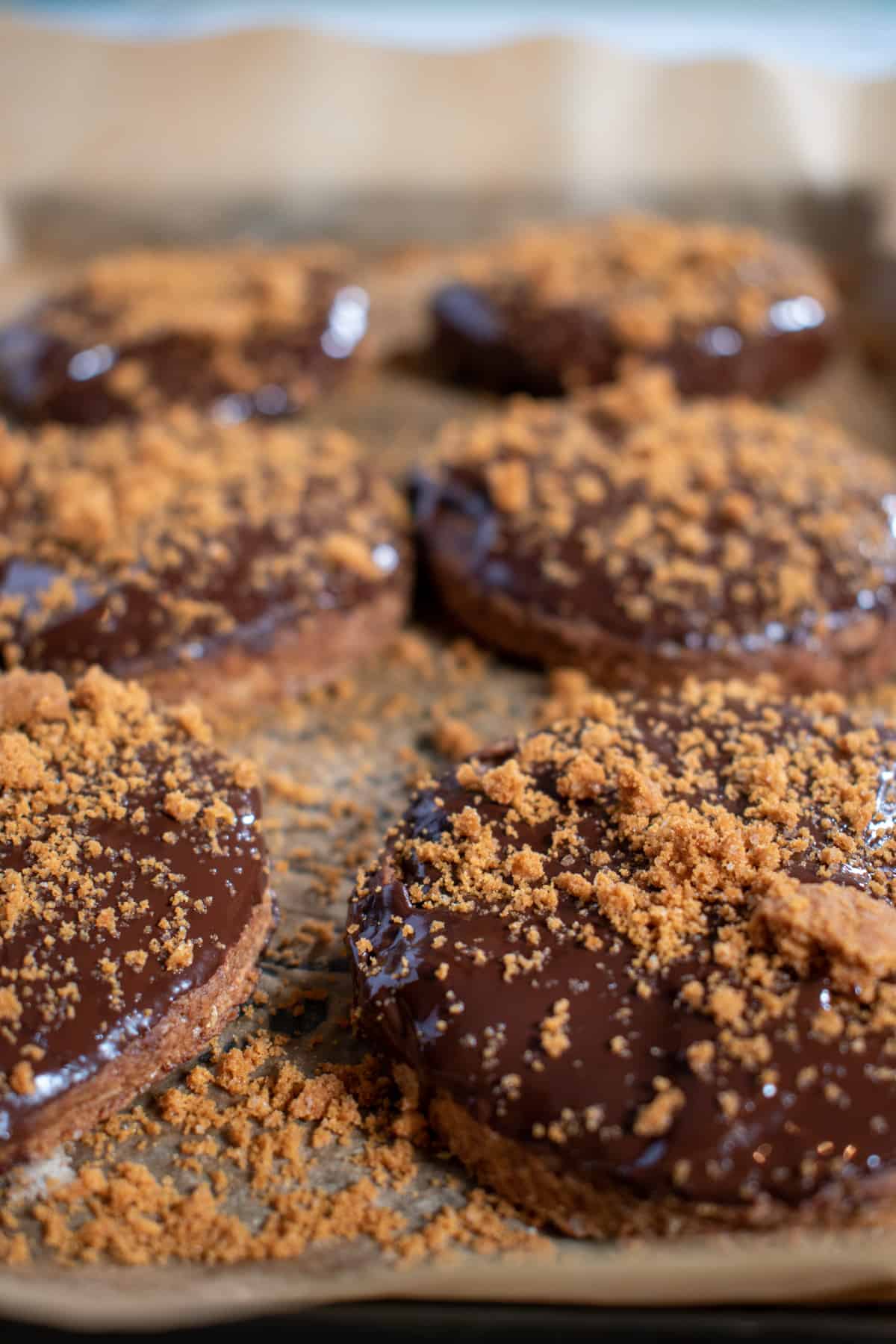 Tips For Making These Simple Vegan Cookies
ROLL YOUR VEGAN COOKIE DOUGH TO 1/2CM THICK
These vegan Digestives will rise quite a lot in the oven so rolling your dough to half a centimetre thick is just about right. Your vegan chocolate cookies will still be nice and thick.
SOFTEN YOUR VEGAN BUTTER BEFORE MIXING
I always like to soften my vegan butter before mixing as it can be quite awkward trying to combine a firm block into the other ingredients.
IF YOUR DOUGH IS TOO SOFT, PLACE IN THE FRIDGE
This shouldn't happen but if you're struggling to roll out the dough because it's too soft, place it into the fridge for 15 minutes.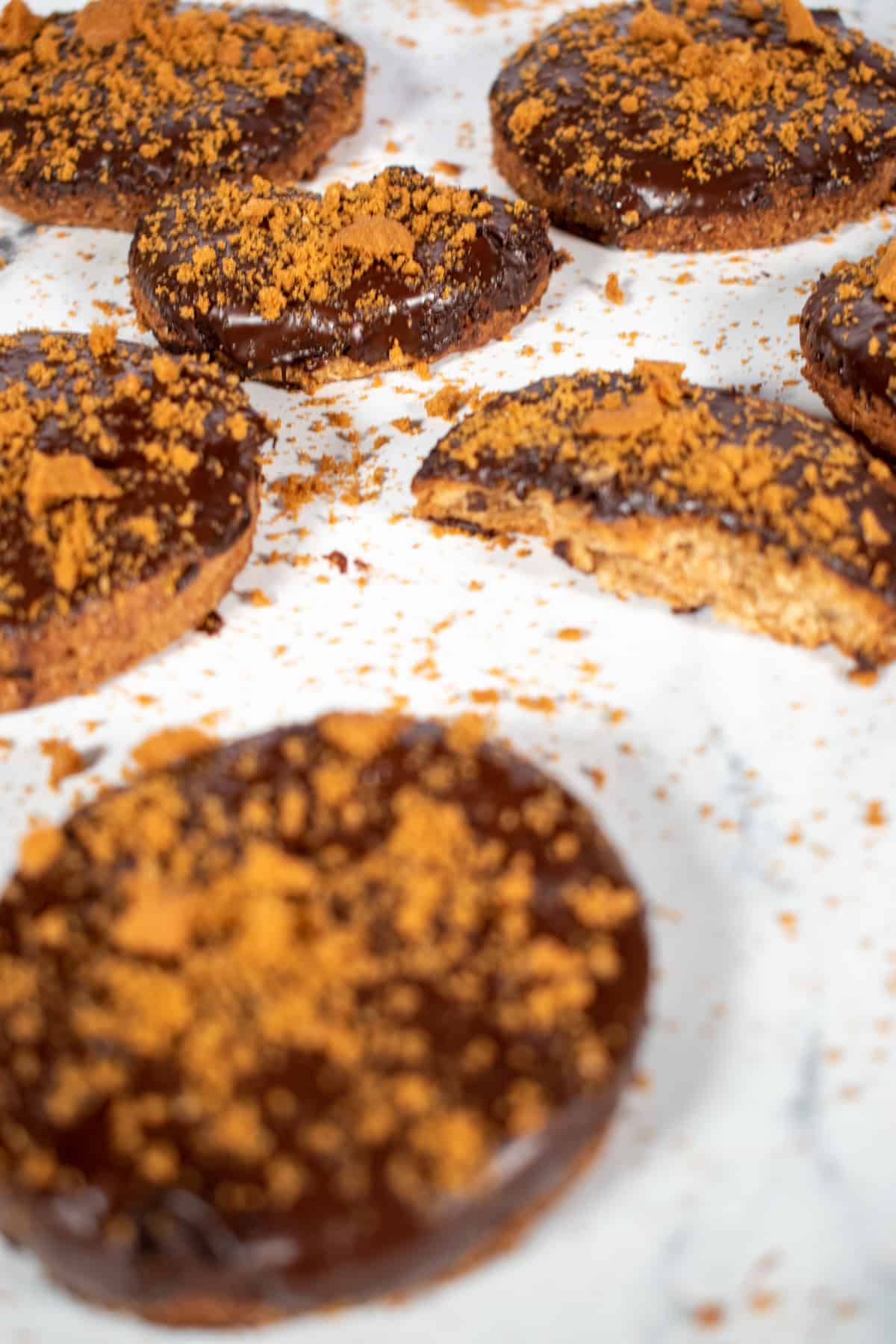 What Are Digestives?
Digestives are round, 'wheaty' biscuits which are primarily made from whole-wheat flour. They are called Digestives due to "the belief that they had antacid properties due to the use of sodium bicarbonate when they were first developed."
Why I Love These Vegan Dark Chocolate Digestives
As i've previously said, I love these vegan Digestive biscuits purely due to nostalgia. I used to love them so much and I think a vegan version is definitely overdue. I've worked on this recipe for quite a while now as i've found it quite tricky but finally, I have found a formula which I am happy with. I also love the 'oaty' taste of a chocolate Digestive and this is down to the Whole-wheat flour.
Have you tried my Vegan Chocolate Fudge Lava Cake recipe? It's so yummy!
Why You Should Make This Recipe:
For old times sake. If you're craving vegan Digestives from your past, these goodies will make you feel better and give you some of what you've been missing.
They're tasty even if you've never had a Digestive Before. Even if you've never even heard of a Digestive biscuit, this is your chance to be introduced to greatness. Join the Digestive fan club.
Helpful Tools For Making These Vegan Dark Chocolate Chocolate Digestives:
1 medium baking tray
Medium-sized mixing bowl
Rolling pin
8cm diameter cookie cutter
Saucepan
Recipe Variations & Substitutions:
Change your plant milk: Ideally, soya milk would be the best plant milk for this vegan cookie recipe but if you don't like/want it you can substitute it for something like almond milk, oat milk and so on.
Make your vegan cookies bigger (or smaller): Sometimes you just want your vegan cookies to be HUGE and other times, tiny. Feel free to make your dark chocolate Digestives however big or small you want with a different sized cookie cutter.
FAQ:
Are dark chocolate McVities Digestives vegan?
Unfortunately not. They contain butter oil.
What are dark chocolate Digestives?
Dark chocolate Digestives are wheatmeal biscuits covered in dark chocolate.
Are dark chocolate Digestives healthy?
They aren't healthy although, if they are consumed in moderation, they aren't harmful to your health.
How To Store:
Store your Digestives in an airtight container for four days at room temperature.
Print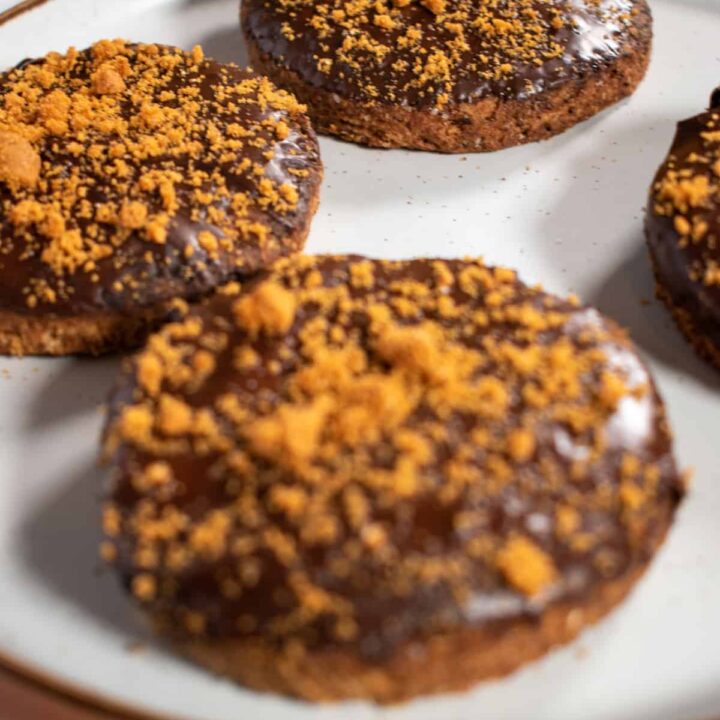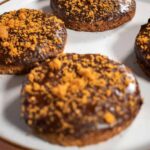 Vegan Dark Chocolate Digestives
---
Description
My take on the British classic - Digestives. I tend to make these vegan dark chocolate Digestives a little thicker and crunchier, whilst preserving a similar aftertaste. Hope you enjoy!
---
Cookies:
115

g

Whole-wheat flour

90

g

All-purpose flour

3

Heaped tablespoons brown sugar

1/2 teaspoon

baking powder

1/4 Tablespoon

salt

75

g

Vegan butter, softened

1.5 Tablespoons

maple syrup

4 Tablespoons

soya milk.
Chocolate Glaze:
150

g

Dairy-free chocolate chips
Biscoff biscuit crumbs (optional)
---
Instructions
Preheat oven to 180C. 
Line a large baking tray with parchment paper.
Making the dough: In a medium-sized bowl, combine both flours, brown sugar, baking powder and salt. Mix well.
Next, using your fingertips, rub the vegan butter into the dry mixture. Finally, add the maple syrup followed by gradually adding the soya milk, one tablespoon at a time. A soft dough will form.
Roll your Digestive dough into a ball. Before rolling it out, you may want to add an extra sprinkle of flour. You can also create a lightly-floured surface if you prefer. If your dough is too soft. refrigerate for 15 minutes.
Roll out the dough to 1/2cm thick. Using an 8cm diameter cookie cutter, you should be able to cut out 6 Digestives after re-rolling.
Place them 3cm apart on the prepared baking tray.
Bake for 17 minutes, checking regularly. The rims should be golden brown. All ovens are different so if you feel like they need a few minutes longer, that's okay. 
Remove the Digestives from the oven and allow them to cool fully.
Making the chocolate glaze: Whilst you're waiting for them to cool, melt your chocolate chips. I filled a saucer with hot water, placed a steaming pan over it and a metal mixing bowl above that. 
Dip one of the faces of your cooled cookies into the melted chocolate, then sprinkle the Biscoff crumbs onto it if you wish. Follow this step for the remaining 5.
Let them set and enjoy!
Notes
Store your Digestives in an airtight container for four days at room temperature. 
Prep Time:

10 minutes

Cook Time:

24 minutes

Category:

Bakes

Method:

Baking

Cuisine:

Digestives
Nutrition
Serving Size:

1 Digestive

Calories:

275

Sugar:

4.6 g

Sodium:

399.1 mg

Fat:

12.9 g

Carbohydrates:

44.9 g

Protein:

6.1 g

Cholesterol:

0 mg
Keywords: digestives, chocolate cookies, vegan digestives, vegan dark chocolate digestives, vegan baking, vegan cookies
You May Also Like: