The festive season is here! These easy vegan melted snowman shortbread cookies are the perfect during the build up to Christmas as the whole family can come together and bake them!
Also see my vegan fudge stripe shortbread cookies and vegan twix cookies for more delicious cookie inspiration.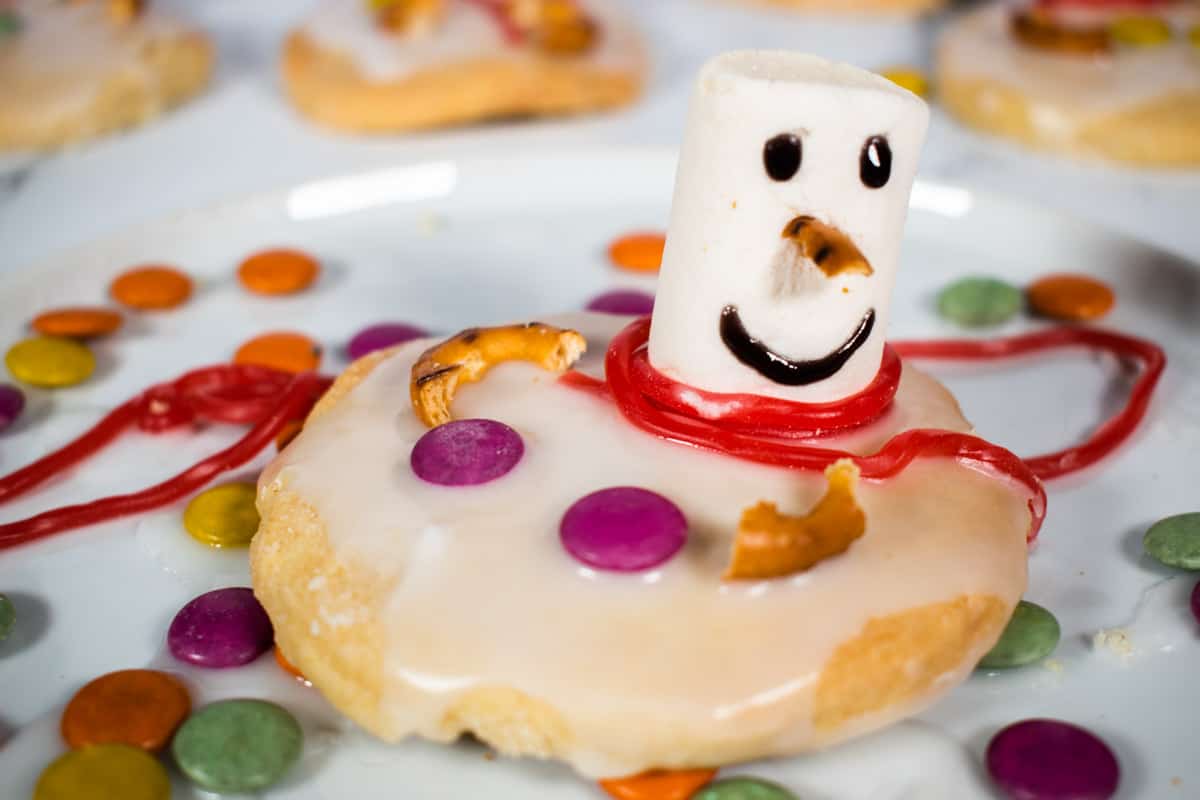 Baking melted snowman cookies is always a really fun way to spend a winter, festive afternoon and they're also a great way to get the kids involved in some Christmas baking. They're super colourful, decorated with lots of candy and best of all, they resemble a (melted) snowman. What's not to love?
As well as looking cute, these vegan shortbread cookies are really simple to make. All you need to do is create a dough, cut your cookies out, bake and decorate! If you'd like the process to be even quicker you can even use pre-made cookies of a similar diameter.
These are your melted snowman cookies so you do what is best for YOU. The one thing I can guarantee is that once you have one, they become pretty moreish! I mean, it's the festive period so that's totally okay!
What Ingredients Do You Need For These Vegan Melted Snowman Cookies?
all-purpose flour
caster sugar
vegan butter
vanilla extract
salt
powdered sugar
large vegan marshmallows
black decorating icing tube (for eyes and mouth)
mini vegan pretzels
mini vegan chocolate drops/buttons
vegan strawberry laces (optional)
Expert Tips
Make sure your glaze isn't too thick. By adding a little extra water to your powdered sugar than you would for a thicker glaze, it allows it to have a thinner and icier look. I personally think that the theme of a 'melted snowman' is better supported by this effect as melted snow is often much more translucent. Of course, if you prefer you can make it thicker.
Extras. Try adding some desiccated coconut as a topping for the glaze. Not only does it taste great wit shortbread but it also enhances all snowy Christmas vibes.
If you'd like to have a go at making these wintery treats, here's what you need to do:
Combine all of the shortbread ingredients.
Mix the shortbread mixture until it resembles breadcrumbs.
Form a dough. Roll it out.
Cut your cookies out.
Bake.
Decorate and enjoy!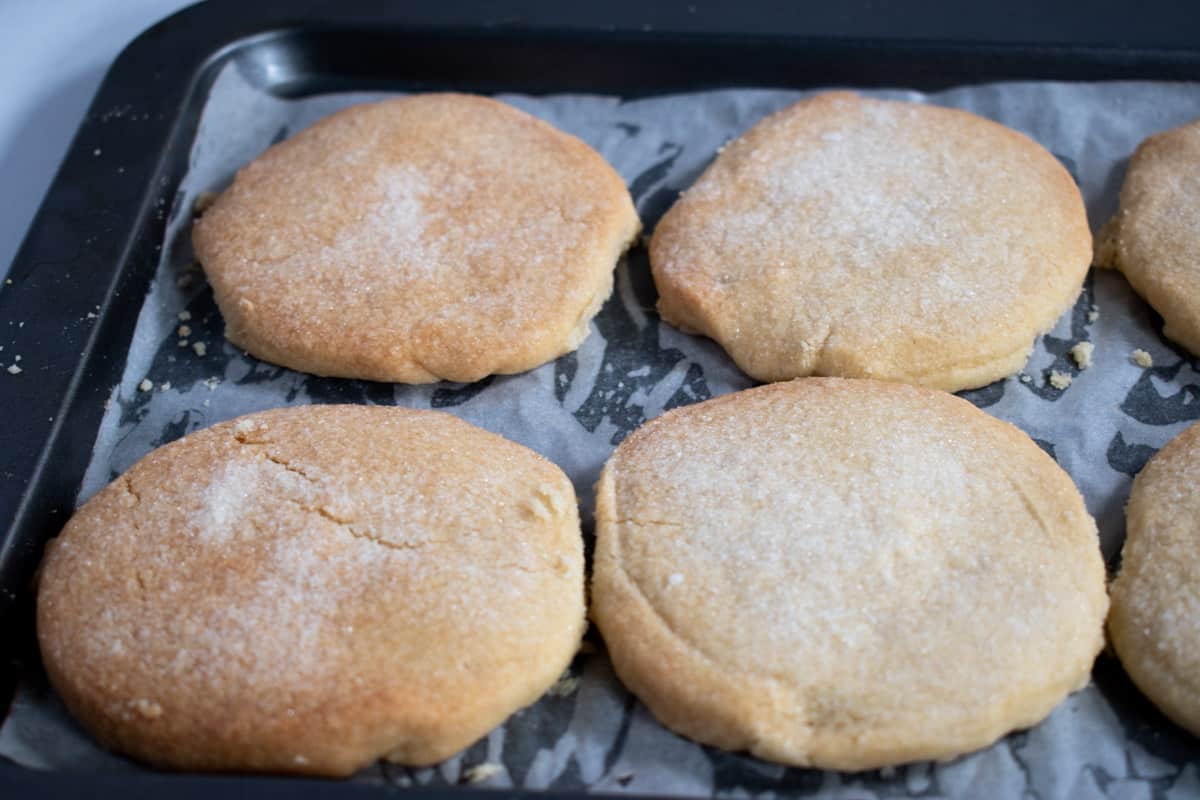 VEGAN SHORTBREAD GALORE
Non-vegan shortbread is known for it's soft and crumbly texture and it's subtle buttery taste. I'm happy to say that these vegan ones don't allow you to feel like you are missing out! The bite feels exactly the same as their non-vegan counterparts and the flavour is nice and buttery. I can't wait for you all to try them!
Recipe FAQs
What is the difference between shortbread cookies and sugar cookies?
Sugar cookies are much lighter than shortbread cookies. Sugar cookies require leavening whereas shortbread does not. Shortbread are simpler to make.
Can you use powdered sugar in shortbread?
Using powdered sugar in your shortbread cookies will create a more melt-in-your-mouth texture for sure but you can't beat the crunch of shortbread in my opinion and for that, caster sugar does the trick.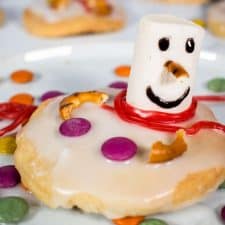 Vegan Melted Snowman Cookies
Continue the holiday season in style with these crunchy vegan melted snowman shortbread cookies. So buttery and perfect in the build up to Christmas!
Print
Pin
Rate
Ingredients
Shortbread:
300

g

all-purpose flour

sifted

80

g

caster sugar

250

g

vegan butter

softened

1

teaspoon

vanilla extract

Pinch

of salt
Glaze/Decoration:
300

g

powdered sugar

10

large vegan marshmallows

black decorating icing

for eyes and mouth

roughly 20 mini vegan pretzels

for nose and arms

vegan strawberry laces

for scarf (optional)

20

vegan mini chocolate drops/buttons

I used Doisy and Dam.
Instructions
Preheat your oven to 160 Celsius (325F).

Line a large baking tray or two medium trays with parchment paper. Set aside. (Make sure that 10 8cm diameter cookies can fit on the tray).

Making the shortbread mixture: In a medium-sized bowl sift in the flour and add the sugar. Give them a mix and then add in the vegan butter, vanilla and salt.

Using your hands, combine the shortbread mixture until it resembles breadcrumbs. Squeeze it until the breadcrumbs come together to form a smooth dough.

Lightly, sprinkle some flour onto your shortbread dough and use a rolling pin to roll it out to roughly 1cm thick.

Using a round 8cm diameter cookie cutter, cut out your circles, utilising all of the dough. Make sure that your re-roll the dough so none of it goes to waste.

Place the cookies onto the prepared baking tray/s and you can even sprinkle a little extra caster sugar on top of them if you wish!

Bake your cookies in the pre-heated oven for 13-15 minutes or until the edges become golden brown. Oven temperatures vary so keep checking them!

Remove the shortbread from the oven and let them cool fully before decorating.

Meanwhile you can prepare the glaze: Sift the powdered sugar into a medium-sized bowl so that all the lumps have been removed.

Add water a drop at a time, mixing after each. Every powdered sugar is different so you often have rough estimates.

You want the glaze to have a thick consistency but also a little runny from a spoon.

Once you have reached a good consistency, spoon the glaze onto the shortbread one by one. As these are melted snowmen, it doesn't matter if the glaze is patchy or uneven.

While the glaze is sticky, place one marshmallow towards the top of the cookie. Draw on the yes with the black icing.

Chop a couple mini pretzels to form the snowman's nose and arms. Carefully pierce the 'noses' into the marshmallows and lay the 'arms' on the glaze.

Finally you can add the optional strawberry laces as a scarf and the chocolate drops as buttons.
Notes
You won't need to chill the dough before baking as these don't contain any dairy fats.
YOU MAY ALSO LIKE THESE BAKES:
Vegan Raspberry & Coconut Slices