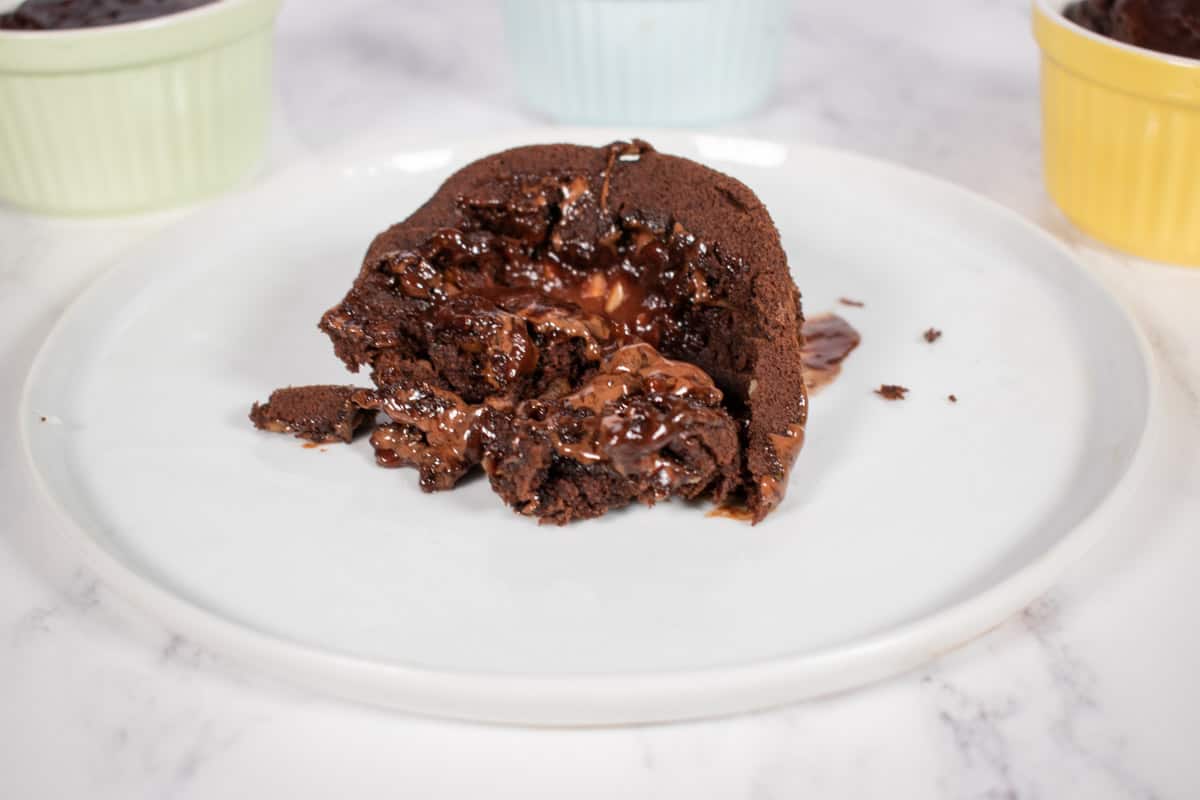 Aren't vegan puddings and desserts just the BEST when the filling oozes out from the centre?! These cakey treats are vegan chocolate fudge lava cakes and therefore, the ooziness is their nature. Once you spoon them open, the chocolate flows out elegantly onto your plate.
The great thing about the filling is that you can literally add as much chocolate as you wish. Some people would say the more chocolate in the middle, the better. I only added a few squares but there honestly isn't a wrong answer. Be as adventurous or cautious as you see fit.
Another amazing thing about these vegan lava cakes is that they are ready in absolutely no time at all just like my vegan lemon poppy seed mug cake! All you need to do is mix all of your ingredients, bake your lava cakes in the oven and then enjoy! Tag @vegan_treats_blogger on Instagram if you make them! I'd love to see your amazing creations!
What Ingredients Do You Need For These Vegan Chocolate Lava Cakes?
all purpose flour/plain flour
hazelnuts (ground or chopped)
cocoa powder
baking powder
bicarbonate of soda
plant milk
maple syrup
small banana
lemon juice
vanilla
vegan chocolate bar
Tips For Making This Vegan Lava Cake Happen (For The Best Outcome)
Serve with vegan cream or vegan custard. If you want to really enjoy these cakes, I suggest that you eat these lava cakes while they are still warm. When they cool down they are still yummy but nothing beats a warm vegan pudding. The warmness of the cake really compliments both the coolness of vegan single cream and also warm custard. Either option is so delicious!
You may prefer a bigger lava cake. This recipe makes four smaller cakes inside ramekins but you can also simply make one larger cake. All you need to do is add more chocolate into the middle so that it isn't too dry. You can add as many chocolate squares to the middle as you wish but make sure it's at least 4x the recommended amount.
To Make this chocolatey treat, all you need to do is:
Combine all of your dry ingredients.
Mix in the wet ingredients.
Pour the mixture into ramekins.
Place squares of chocolate into the centre of the ramekins.
Bake in the oven.
Let it cool and enjoy!
CHOCOLATE, CHOCOLATE AND MORE CHOCOLATE
If you love all things chocolate, you'll love this dessert so much (especially the filling). The filling is the part that contributes to the majority of the chocolatey paradise. The cocoa isn't as overtly chocolatey as the melted vegan chocolate in the middle but combined with the sweetness of the maple syrup, it is also really tasty!
Helpful Tools For Making A Vegan Lava Cake
Oven-proof ramekins
Medium-sized bowl
Whisk
Vegan Chocolate Fudge Lava Cake FAQ's:
Why is my vegan chocolate lava cake not runny?
Depending on the size of your ramekin, you may need to add more vegan chocolate squares to the centre. Small ramekins usually only need 2-3. A larger ramekin may need 4x that amount depending on how gooey you want your centre to be.
How long does it take to make a vegan lava cake?
Recipe times can vary. This one only needs 15-20 minutes in the oven which isn't too long to wait!
What can I serve my vegan chocolate fudge lava cake with?
I recommend serving your lava cake/s warm with cold vegan cream or vegan custard!
PREFER TO WATCH INSTEAD?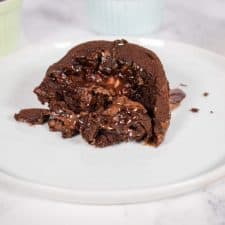 Vegan Chocolate Fudge Lava Cake
Do you like your vegan puddings oozy and gooey? If that's a yes, this chocolate lava cake should do the trick! Happy baking!
Print
Pin
Rate
Ingredients
Dry: 
100

g

all purpose flour/plain flour

40

g

chopped hazelnuts

20

g

cocoa powder

1

teaspoon

baking powder

½

teaspoon

bicarbonate of soda
Wet:
170

ml

plant milk

70

ml

maple syrup

1

small banana

mashed

½

tablespoon

lemon juice

1

teaspoon

vanilla
Filling: 
8-12

squares of vegan chocolate divided between the 4 ramekins.

8-12 if you're having one big lava cake
Instructions
Preheat your oven to 180 Celsius (350F).

Grease 4 small, oven-proof ramekins.

Making the cake mixture: Combine all of the dry ingredients in a medium-sized bowl and then mix in the wet ingredients until they're fully incorporated.

Equally, pour your chocolatey mixture into the 4 ramekins and place either 2 or 3 vegan chocolate squares into the middle of each one. Make sure that they're completely covered by the mixture.

Bake the lava cakes in the oven for 15-20 minutes. Once they're ready, allow them to cool for a further 8 minutes or so. 

Remove from the ramekins and enjoy. Best served with warm custard.
Notes
If you don't have any ramekins at hand, not to worry! You can also use something like silicon muffin moulds or even an everyday mug!
If you are allergic to banana or you simply don't like them, substitute for 1/3 cup apple sauce. It will give you the same final outcome!
If you don't want chopped hazelnuts in your lava cake, you could try using ground hazelnuts instead. Maybe you'd like to try a different type of nut altogether!
You can use any vegan chocolate for the centre as long as it melts well.
YOU MAY ALSO LIKE THESE OTHER BAKES:
Vegan Raspberry & Coconut Slices