Is there a better type of vegan cookie dough than one that tastes just like brownies? I might be a little biased as I just love vegan brownies so much but this vegan brownie cookie dough is by far my favourite cookie dough recipe that I have ever made. It's rich, it's smooth and perfect for anyone who loves their treats ultra-chocolatey!
It's a little different to brownie batter which is a lot wetter and is usually spread on things such as, toast. This brownie cookie dough has a much thicker consistency, yet it still remains nice and smooth when you're eating it! I mixed in vegan chocolate chips too which served as a nice complimentary touch. There's no such thing as too much chocolate when i'm in the kitchen! Be sure to tag @vegan_treats_blogger on Instagram if you make this yummy recipe!
What Ingredients Do You Need To Make This Vegan Brownie Cookie Dough?
heat treated all-purpose flour
granulated sugar
vegan butter
maple syrup
peanut butter
cocoa powder
plant milk
vegan chocolate chips
pinch of salt
Tips For Making This Vegan Brownie Cookie Dough Happen (For The Best Outcome)
Add any other fillings/toppings that make you happy. When I have made this chocolate cookie dough in the past, I have filled it with different things, each giving the treat a unique feel. You can stir in chopped nuts for a crunch, some chocolate sauce to make it nice and gooey or you can even add your favourite cereal!
Don't leave out the plant milk. When testing this recipe, I have sometimes chosen to leave out the plant milk in order to see what happens. Ultimately, it is stodgier and firm when you don't add it in. I use soya milk in mine and it allows the brownie cookie dough to become much creamier and easy to eat. Some people prefer it the other way but I think the plant milk contributes towards the best experience. I also found that by adding the soya milk, it lasts longer in the fridge.
Want to make this goodie? Here's how you can:
Heat treat your flour.
Mix the sugar, maple syrup and vegan butter.
Add the flour along with the cocoa powder.
Pour in the plant milk, then fold in the chocolate chips.
Serve straight away unless you prefer it even thicker. In this case, place it in the fridge for 20 minutes.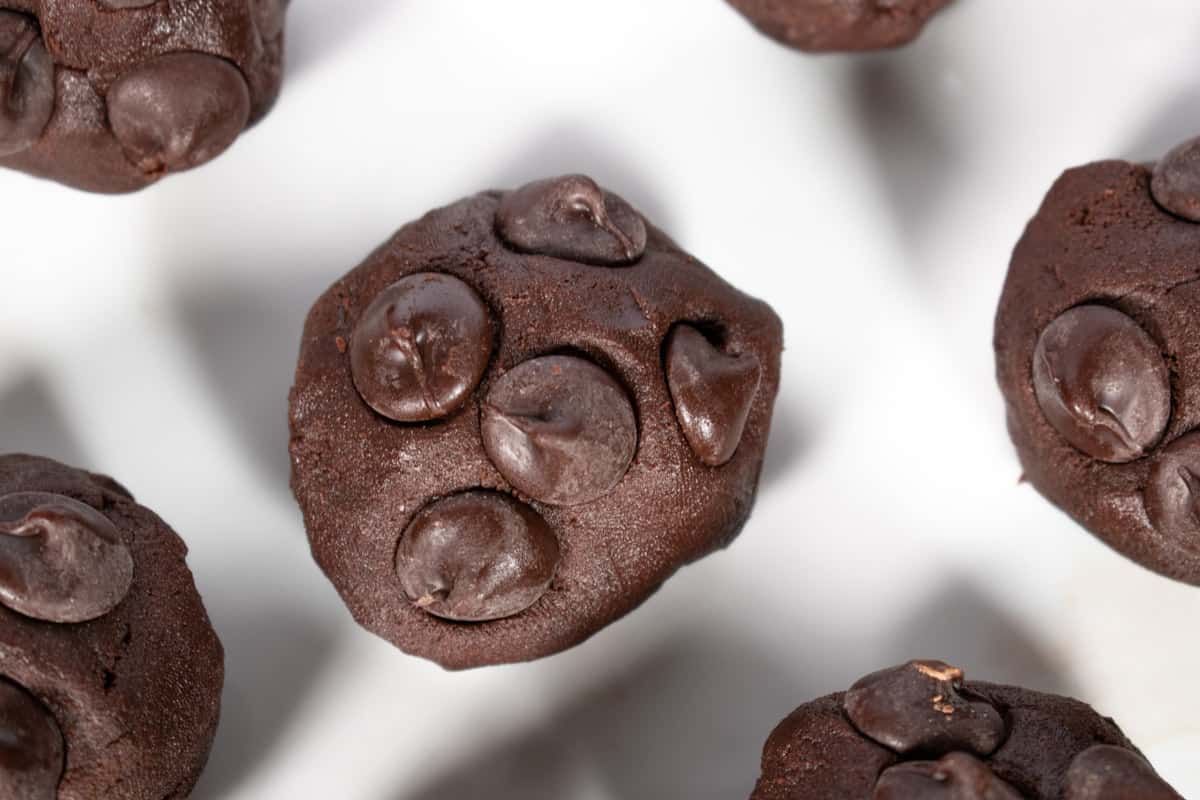 VEGAN CHOCOLATE BROWNIE BALLS FOR DAYS
When you roll this vegan brownie cookie dough into mini brownie balls, it suddenly feels like you have a lot more brownie goodness to munch on. This is especially true when you double or triple the ingredient amounts! Some days I can find myself eating most of them in one sitting and other times, I choose to savour them for days on end.
I found that are a perfect treat for when you have those evening sweet tooth cravings and you are chilling out. Maybe you're watching a movie or you've just been for an evening walk. These chocolate treats are a perfect companion for relaxation.
Helpful Tools For Making Vegan Brownie Cookie Dough
baking tray
medium-sized bowl
Vegan Brownie Cookie Dough FAQ's:
How can I make my vegan brownie cookie dough creamy?
When adding the plant milk, make sure you drop it in slowly until it reaches your desired consistency. Be aware that putting it into the fridge will cause it to thicken.
Why do I need to heat treat the flour?
When making a treat like vegan cookie dough, it is so important that you heat treat you flour first in the oven. The high heat allows the bad bacterias to be eradicated and also keeps the flour usable in treats like edible cookie dough.
PREFER TO WATCH INSTEAD?
Print
Vegan Brownie Cookie Dough
---
Description
Do you like your cookie dough super chocolatey? Look no further than this vegan brownie cookie dough which is delicious and easily customisable.
---
Cookie Dough:
80

g

all-purpose flour, sifted, heat treated

50

g

granulated sugar

1.5 tablespoons

maple syrup

100

g

vegan butter, melted, warm

60

g

peanut butter

60

g

cocoa powder

1 tablespoon

plant milk

70

g

vegan chocolate chips
pinch of salt
---
Instructions
Heat treat the flour: Preheat your oven to 180 Celsius/350 Fahrenheit.
Line your baking tray with parchment paper and add the flour to it, spreading it evenly.
Once your oven has preheated, place the flour in there for 5-6 minutes.
When the time is up, remove the heat treated flour from the oven and allow it to cool fully.
Making the brownie cookie dough: In a medium-sized bowl, mix the sugar maple syrup, warm vegan butter and peanut butter until it becomes smooth.
Sift in the flour along with the cocoa powder. Mix well.
Finally add in your plant milk followed by folding in the chocolate chips. Serve immediately. 
Notes
Don't forget to heat treat your flour before adding it to the cookie dough. 
Store in the fridge for up to 3 days. Let it sit at room temperature to soften after being chilled.
Prep Time:

6 minutes

Cook Time:

5 minutes

Category:

Cookie dough

Method:

No-bake

Cuisine:

Vegan chocolate
Nutrition
Serving Size:

1/3 Of The Yield

Calories:

659

Sugar:

41.5 g

Sodium:

1131.9 mg

Fat:

38.2 g

Carbohydrates:

81.2 g

Protein:

13.5 g

Cholesterol:

0 mg
Keywords: Vegan cookie dough, vegan chocolate, no-bake desserts, vegan baking, easy vegan desserts, vegan treats
YOU MAY ALSO LIKE THESE GOODIES:
Single Serve Healthy Vegan Edible Cookie Dough