Want more shortbread recipes? Check out these Vegan Melted Snowman Cookies which are so much fun to make.
PREFER TO WATCH INSTEAD?
When I try a vegan shortbread recipe, I want it to be delicate to the bite and melt-in-your-mouth. I can confirm that these tasty cookies are just that. This is buttery vegan shortbread. These are soft vegan cookies. They're definitely one of my favourite recipes that I have made so far!
Let's not ignore the fact that they have been dipped in warm vegan dark chocolate too, as well as having Lotus Biscoff crumbs sprinkled on top! The bitterness of the melted chocolate compliments the sweetness of the shortbread cookies nicely and who doesn't love a bit of Biscoff on everything?!
Scroll down to the recipe card to see how to make these delicious vegan cookies. If you make these vegan cookies, tag @vegan_treats_blogger on Instagram as I love to see your bakes and creations.
What Ingredients Do You Need To Make Chocolate Shortbread Cookies?
All-purpose flour
Caster sugar
Vegan butter
Vanilla extract
Salt
Vegan chocolate chips
Vegan double cream
How To Make This Vegan Chocolate Shortbread Cookies Recipe: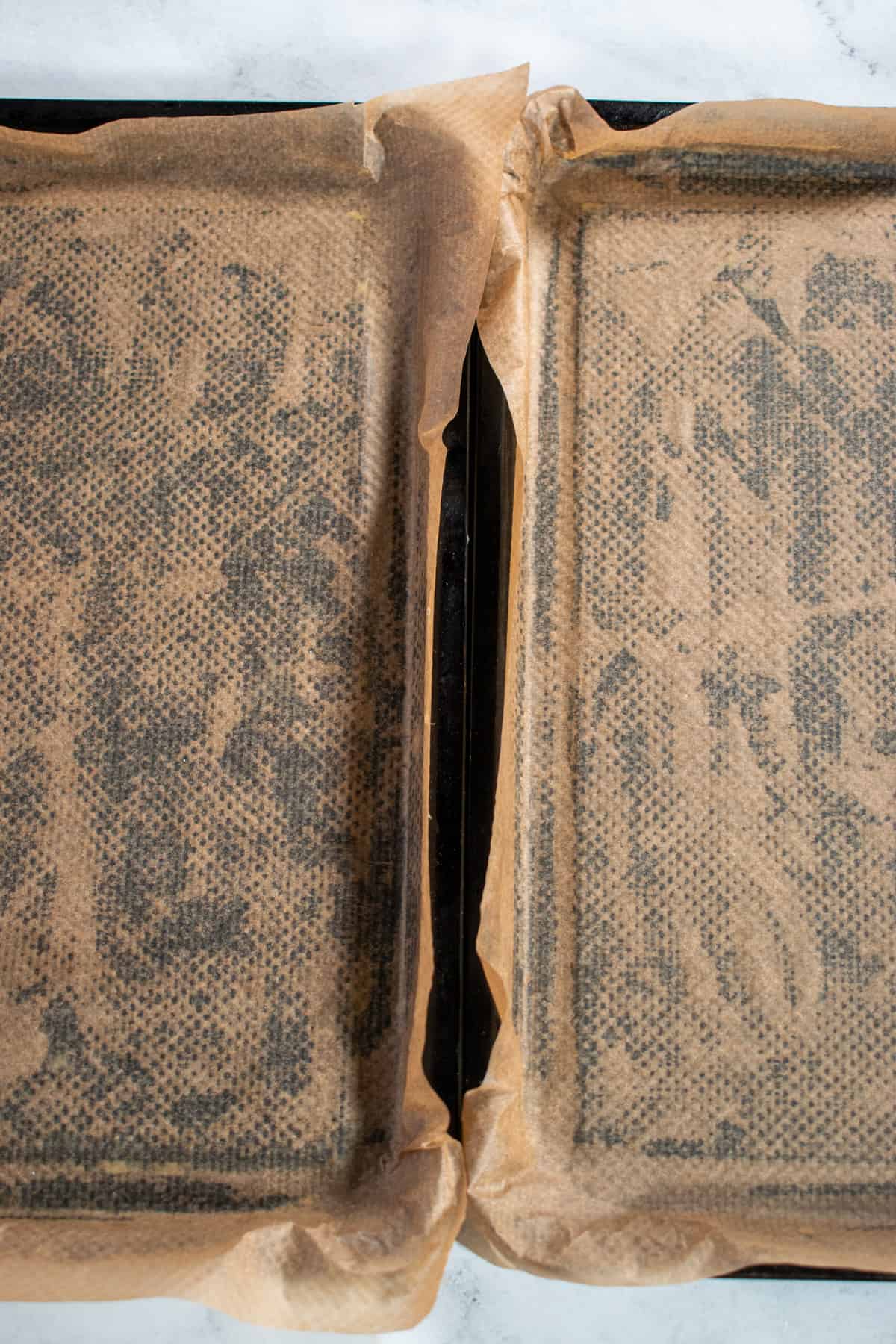 (Full instructions are on the recipe card below).
Tips For Making This Easy Shortbread Recipe
SOFTEN YOUR VEGAN BUTTER BEFORE MIXING
I like to soften my vegan butter in the microwave before mixing it as a less firm butter is much easier to combine with the rest of the mixture. I melt it in 10 second intervals until the butter is still in shape but on the verge of dripping.
ROLL YOUR VEGAN SHORTBREAD DOUGH TO 1CM THICK
After making this vegan shortbread recipe many times this year, I've found that rolling to roughly 1cm is the optimum thickness when you take a bite.
LET YOUR COOKIES COOL BEFORE DIPPING IN CHOCOLATE
Allow your vegan cookies to fully cool down before dipping them in melted chocolate. This allows the coating to be even and smooth.
What Is Shortbread?
Shortbread is a traditional Scottish biscuit which dates all the way back to the 12th century. Originally, it was named shortbread due to the sugar to fat ratio. The large amount of vegan butter/butter in vegan and non-vegan shortbread gives them a high fat content.
Why I Love This Vegan Chocolate Shortbread Cookie Recipe
I love this vegan shortbread recipe because of how soft and buttery the cookies are. I've tried other vegan variations of this recipe in the past and unfortunately, they weren't as buttery as I remember their non-vegan counterparts being in the past. When developing this recipe, I tried so hard to get the balance just right.
For anyone who is interested, I used the Naturli butter block for the first time and I really loved the taste of it. I now have a big decision to make in terms of whether to revert back to the ever-reliable Flora vegan block or stick with this one. I think i'll mix and match!
Have you tried my Vegan Biscoff Brownie Bark recipe? I think you'd love it!
Why You Should Make This Recipe:
They're nice and soft to bite. These are soft vegan cookies. If you prefer a heavier crunch, these chocolate shortbread cookies may not be the ones for you. I still think most people will enjoy them.
They're so easy to make. All you need to do is combine your ingredients, roll your dough, cut out your shortbread cookies, bake and enjoy.
Helpful Tools For Making These Vegan Chocolate Shortbread Cookies:
2 baking trays
8cm diameter cookie cutter
Medium-sized mixing bowl
Rolling pin
Saucepan
Recipe Variations & Substitutions:
Choose a different topping: I went for crumbled Lotus Biscoff biscuits as my chocolate topping but you can choose anything you wish. These are YOUR chocolate shortbread cookies. You choose what is best for you.
Make your vegan cookies bigger (or smaller): This recipe calls for an 8cm diameter cookie cutter. However, in this instance there are no rules and you can cut yours as big or as small as you wish! You can even change the cookie cutter shape in order to make them extra funky!
FAQ:
Are shortbread cookies the same as butter cookies?
No. Butter cookies have more sugar and bake at a higher temperature than shortbread cookies.
Should vegan butter be cold for shortbread cookies?
Start with cold vegan butter because if the dough becomes too warm it will be too greasy and difficult to roll.
How do you know when shortbread is ready?
They should be a light golden brown.
How To Store:
Place in an airtight container and store in the fridge for a week. Alternatively, freeze in an airtight container for three months.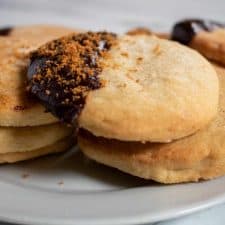 Vegan Chocolate Shortbread Cookies
These vegan chocolate shortbread cookies are delicate and totally melt-in-your-mouth. If you like your cookies buttery, look no further.
Print
Pin
Rate
Ingredients
Shortbread Cookies:
300

g

All-purpose flour

80

g

Caster sugar

250

g

Vegan butter

softened

1

teaspoon

vanilla extract

Pinch

of salt
Chocolate Topping:
100

g

Dairy-free chocolate chips

50

g

Vegan double cream
Instructions
Preheat your oven to 160C. 

Line two baking trays with parchment paper. Set aside. 

Making the shortbread dough: 

In a medium-sized bowl sift in the flour, followed by the sugar. Mix and then add in the vegan butter, vanilla and salt. 

Using your hands, combine the shortbread mixture until it resembles breadcrumbs. Squeeze it all together until a smooth dough forms.

Lightly, sprinkle some flour onto your vegan shortbread dough and carefully, use a rolling pin to roll it out to roughly 1cm thick. 

Using an 8cm diameter cookie cutter, cut out your shortbread. Make sure that you use of the dough by re-rolling. 

Place your cookies onto the prepared baking trays 1cm apart. You can even sprinkle a little extra caster sugar on top if you wish. 

Baking the vegan chocolate shortbread cookies: Bake your cookies in the pre-heated oven for 13 minutes or until the edges become golden brown. Oven temperatures vary so keep checking them! 

Remove the shortbread cookies from the oven and let them cool fully.

Making the chocolate topping:

Whilst you're waiting for them to cool, melt your chocolate chips with the vegan cream. I filled a saucer with hot water, placed a steaming pan over it and a metal mixing bowl above that. 

Dip the tips of your cooled cookies into the melted chocolate, then sprinkle the Biscoff crumbs onto them if you wish. 

Let them set and enjoy!
Notes
Place in an airtight container and store in the fridge for a week. Alternatively, freeze in an airtight container for three months. 
You May Also Like:
Vegan Chocolate Fudge Lava Cake