I absolutely citrus-flavoured cakes. This is the first orange cake that I have posted onto the blog but it certainly won't be the last. I've previously made a vegan lemon poppyseed cake which is very popular, so I hope you like this eggless orange cake too!
Made with fresh orange juice (squeezed), this recipe tastes super fresh. Nothing artificial, no orange food colouring, just freshly squeezed orange juice.
Some other orange treats that you'll love are my vegan chocolate orange macadamia nut clusters , eggless blueberry orange cake loaf and vegan orange almond cake.
PREFER TO WATCH INSTEAD?
INGREDIENTS FOR THIS RECIPE
Soy milk - I've always found this to be the best plant milk for baking vegan cakes.
Apple cider vinegar - Really important for making the vegan 'buttermilk'. Mix with the plant milk.
All-purpose flour - Standard, everyday all-purpose flour is the flour you'll need for awesome results.
Granulated sugar - You can also use caster sugar if you prefer. Both do the trick.
Baking powder & Baking soda - The legendary leavening agents.
Salt - I love to use fine sea salt.
Rapeseed/Canola oil - They're both the same thing for those of you that are wondering.
Vanilla - Adds so much flavour. Please don't skip.
Two medium oranges - The combination of the juice and zest is just unbelievable!
Vegan butter block & Powdered sugar - For the buttercream.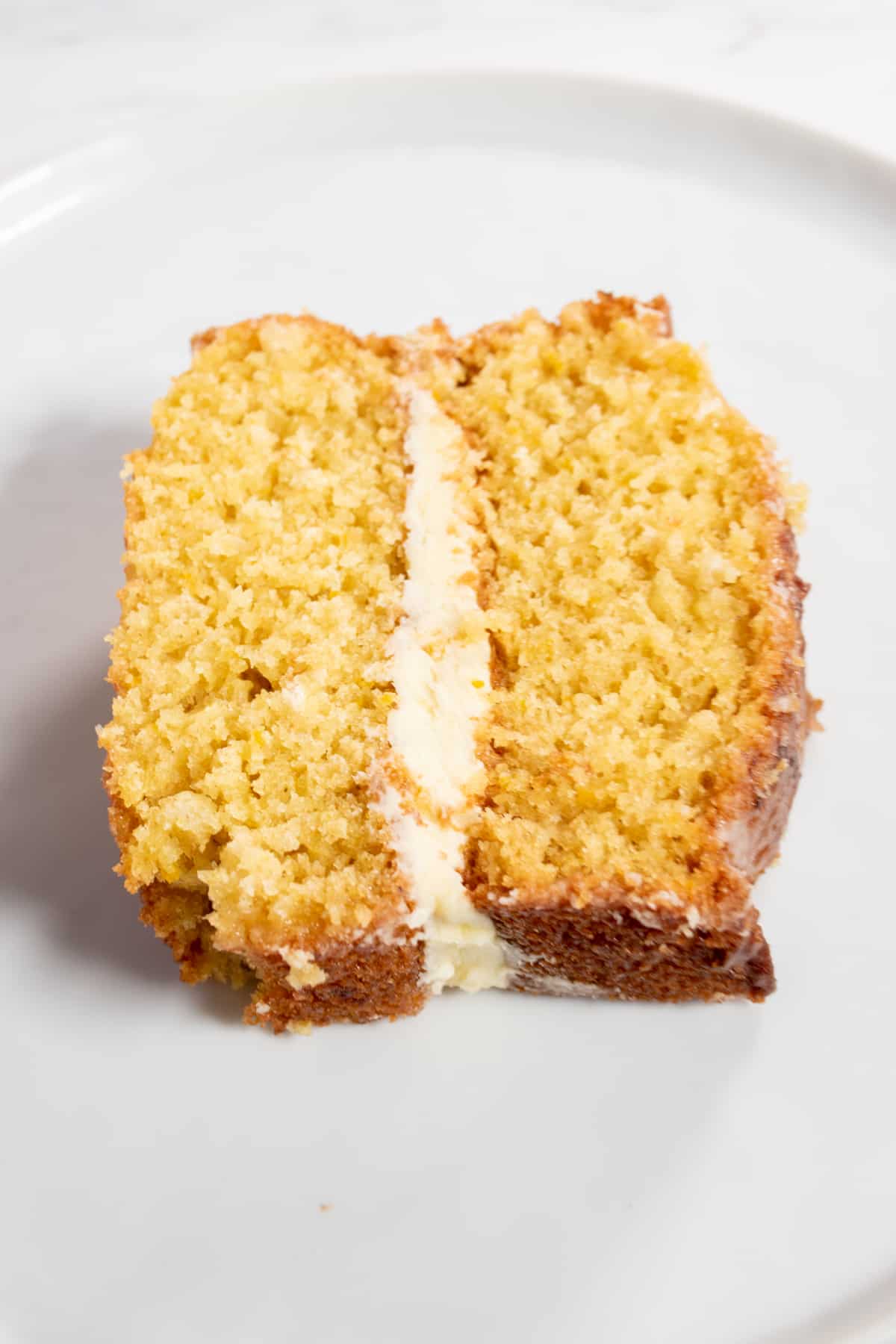 HOW TO MAKE MY EGGLESS SICILIAN ORANGE CAKE LOAF
For the full method and ingredient amounts, please refer to the recipe card at the bottom of this post. This is a quick overview.
STEP BY STEP INSTRUCTIONS
STEP ONE
Mix the apple cider vinegar into the soy milk until it curdles.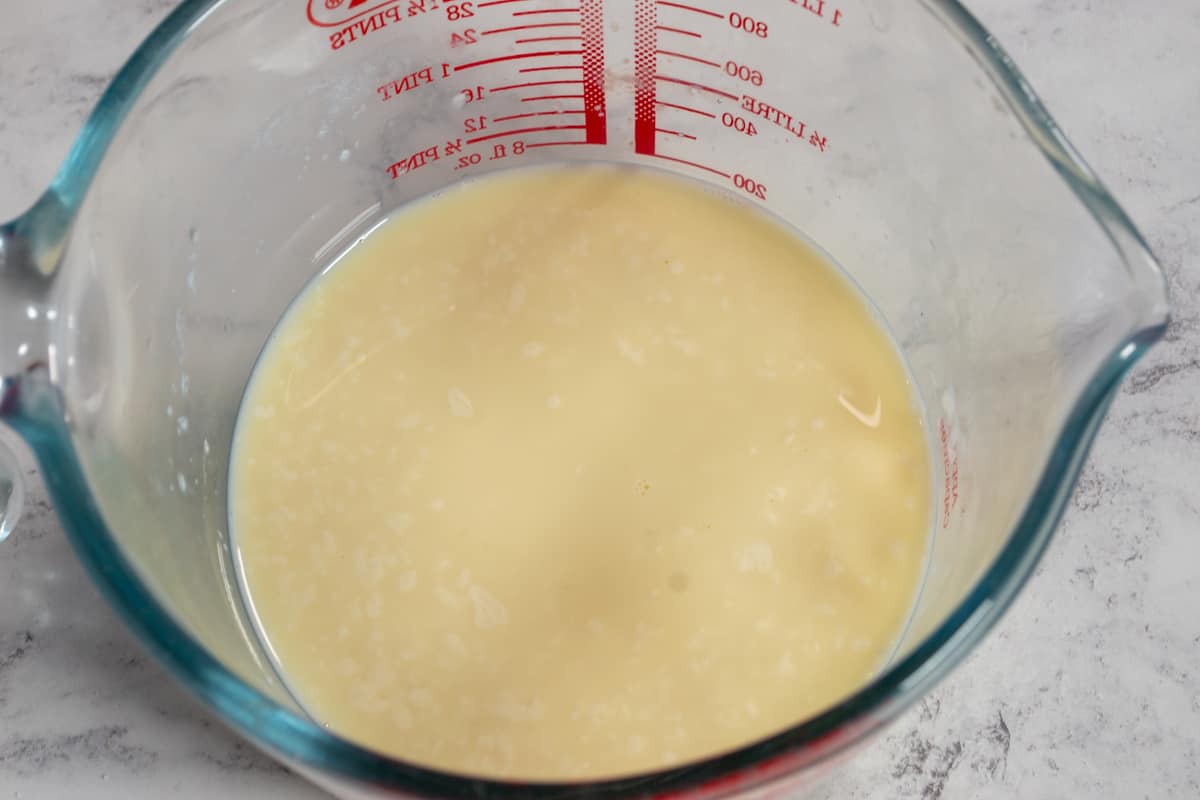 STEP TWO
Combine your dry ingredients in a large bowl.
STEP THREE
Pour in the curdled 'buttermilk'.
STEP FOUR
After you have poured the 'buttermilk', add in the remaining wet ingredients.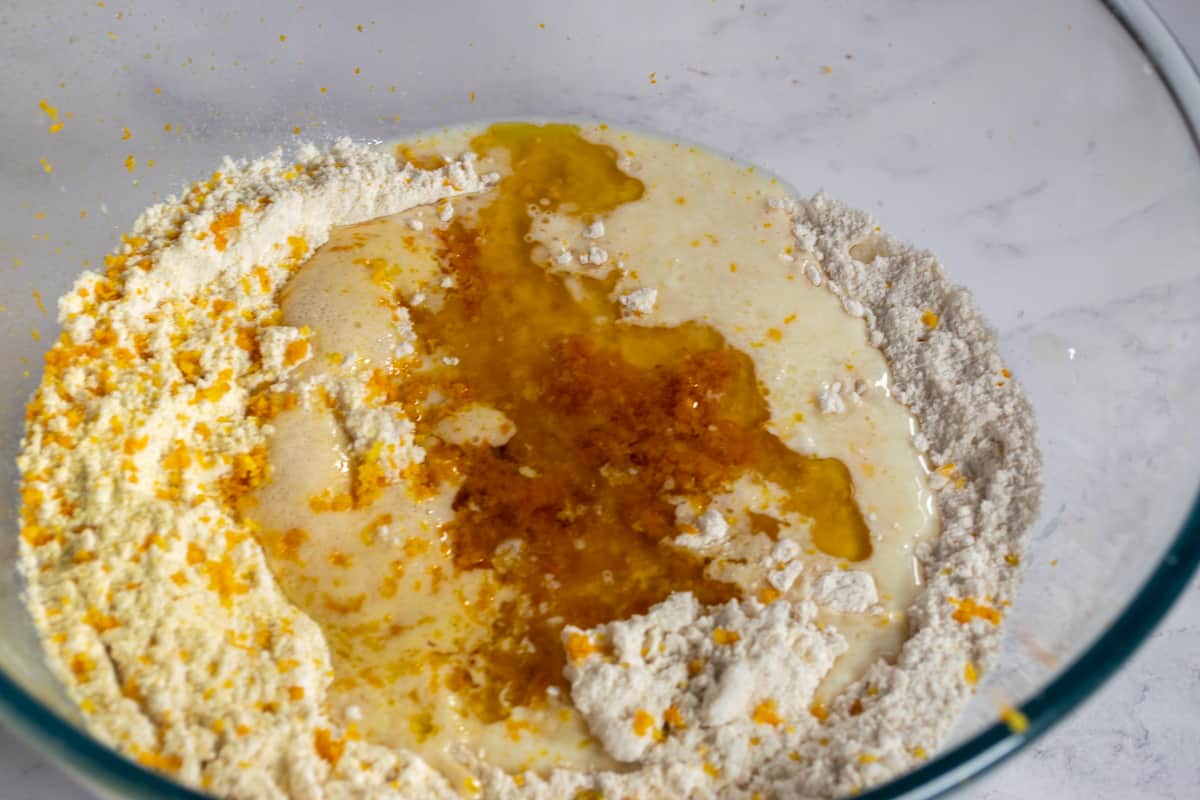 STEP FIVE
Next, fold the dry ingredients into your wet ingredients. Don't mix at all. Keep folding until everything is smoothly combined and there are no pockets of flour.
STEP SIX
Equally, pour the folded mixture into two greased loaf pans. Bake in a preheated oven for 20 minutes.
STEP SEVEN
Remove your cake halves from the oven and allow them to cool fully.
For instructions on how to make the glaze and buttercream frosting, see the full method on the recipe card at the bottom of the page.
TIPS FOR MAKING AN EGGLESS CAKE
Pre-heat your oven for at least 15-20 minutes before you start baking. Don't rush to get your cake in the oven before it has reached the required temperature. You want the oven to have reached the stated temperature before you place the cake batter in the oven. This way the cake will bake perfectly.
Use two loaf pans (20cm x 10cm). This will serve you well for the amount of buttercream suggested in this recipe. You should have just enough for the size of the cakes.
Make vegan buttermilk instead of adding ingredients separately. You can make vegan 'buttermilk' if you mix a little bit of apple cider vinegar into soy milk. In comparison to plant milk alone, buttermilk possesses acidity. This gives a vegan cake a much lighter texture and a better crumb. Buttermilk also helps to break down gluten.
Instead of mixing, fold instead. When you have added your dry ingredients into your wet ingredients don't instinctively mix it. Many cake bakers will tell you to avoid "over-mixing". For my cakes, I prefer to avoid mixing at all. Grab a wooden spoon and gently fold the mixture over itself until there are no pockets of flour. This will produce a super light cake so be patient!
Each oven is different! Some ovens are old and some are newer so the accuracy of some may be slightly off. When a skewer/toothpick comes out of your cake nice and clean, you know it is ready to come out.
FREQUENTLY ASKED QUESTIONS
Can you freeze eggless cakes?
I do not advise freezing eggless cakes, although you can do for up to 3 months if absolutely necessary. Freezing negatively affects the texture of the cake. If you're storing for the shorter term, refrigerate or store at room temperature.
Why is my orange cake dry?
The orange juice in the cake keeps the cake moist so this means that the temperature of the oven is too high or the cake was left in the oven for too long.
HOW TO STORE MY EGGLESS SICILIAN ORANGE CAKE LOAF
I recommend storing this cake in an airtight container at room temperature for up to three days or in the fridge for up to 4 days (also in an airtight container).
Eggless Sicilian Orange Cake Loaf
This vegan orange cake is so soft. The orange flavour is just right. Hope you enjoy! 
Print
Pin
Rate
Ingredients
For the cake:
200

ml

soy milk

1

teaspoon

apple cider vinegar

200

g

all-purpose flour

sifted

150

g

granulated sugar

2

teaspoons

baking powder

0.5

teaspoon

baking soda

1

teaspoon

salt

50

ml

rapeseed/canola oil

1

teaspoon

vanilla extract

50

ml

freshly squeezed orange juice*

see notes

Zest of 1 medium orange
For the vegan buttercream:
110

g

vegan butter block*

see notes

120

g

powdered sugar*

see notes
For the orange glaze:
100

g

powdered sugar

3-4

Tablespoons

freshly squeezed orange juice*

see notes
Instructions
Sicilian Orange Cake:
Pre-heat your oven to 177 Celsius (350 Fahrenheit). Grease two 20cm x 10cm cake loaf tins with vegan butter then set aside. 

Make your vegan buttermilk. Measure out the soy milk then add the apple cider vinegar to it. Give it a mix then set aside for 7-8 minutes until it curdles. Measure out the other ingredients while you wait.

To a large mixing bowl, add the flour, sugar, baking powder, baking soda & salt. Mix well. 

Next, pour in the curdled soy milk, oil, vanilla, orange juice & orange zest. Don't mix at all. Using a wooden spoon, fold the ingredients together by slowly scooping the mixture over itself. Keep folding the dry into the wet until there are no more pockets of flour. This takes a little longer than mixing but it results in a much better cake. Patience is key! 

Equally divide the cake batter between the two greased loaf tins and bake in the preheated oven for 20 minutes. A skewer should come out clean at this point. 

Remove your cakes from the oven and let them cool in the tins for 15 minutes. Then remove the cakes from the tins and transfer them to a cooling rack to cool fully. Don't apply anything to the cakes until they have completely cooled down.
Vegan buttercream:
Add the vegan butter block to a stand mixer or a large bowl and cream for 2 minutes.

Next add half of the powdered sugar. Beat the buttercream mixture until it is fully combined and has began to thicken. Then add the rest of the powdered sugar. Beat again until your buttercream is nice and thick. 

Spread the buttercream in between the cake halves. 
Orange Glaze:
Add the powdered sugar to a medium bowl, then pour in the freshly squeezed orange juice one Tablespoon at a time. I recommend 3-4 tablespoons but you can choose your desired consistency.
Notes
 For the best tasting cake and glaze please use freshly squeezed orange juice instead of bottled. 
Use a block of vegan butter instead of spread. I love to use the Flora plant butter block and the Naturli vegan block. These create a much thicker vegan buttercream than a spread.
Not all powdered sugar is vegan. Be sure to check.