Fluffy Raspberry Jelly Donuts
Donuts might just be the greatest treat in the world. It takes a lot to beat them. Especially raspberry filled yeast donuts, which are what this recipe is all about. You've got to try them! If you love dough-based treats, you should totally try my homemade soft pretzel sticks recipe too.
Prefer To Watch Instead?
Ingredients For This Recipe
Warm water
Instant yeast
Granulated sugar
All-purpose flour
Vital wheat gluten - really helps the texture!
Salt
Canola oil (rapeseed oil) - it has a high smoke point and a mild flavour.
Powdered sugar
Water
Raspberry jelly (jam)
How To Make Vegan Raspberry Filled Donuts
For the full method and ingredient amounts, please refer to the recipe card at the bottom of this post.
Step By Step Instructions
STEP ONE
Add the warm water, yeast and sugar to a stand mixer. Mix well.
STEP TWO
Mix the flours.
STEP THREE
Add the flours to the wet mixture. Turn on the stand mixer and let it knead.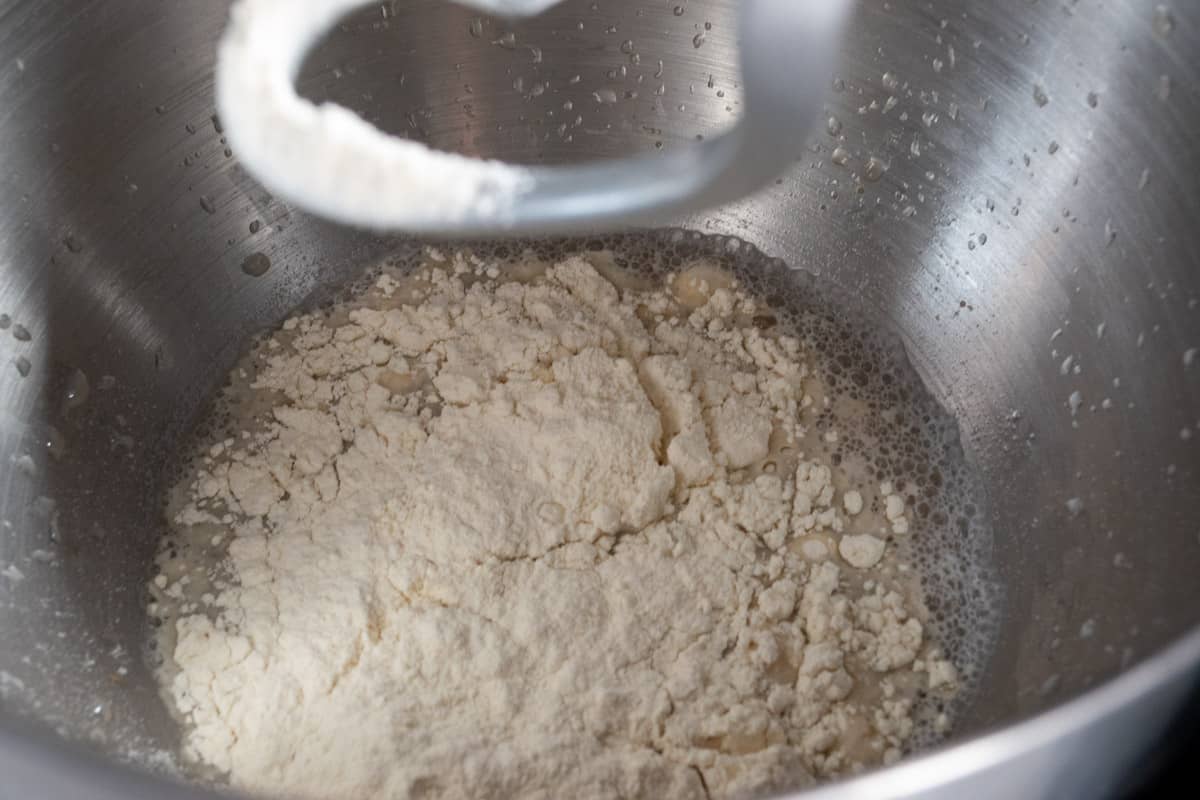 STEP FOUR
Cover the dough and let it rise.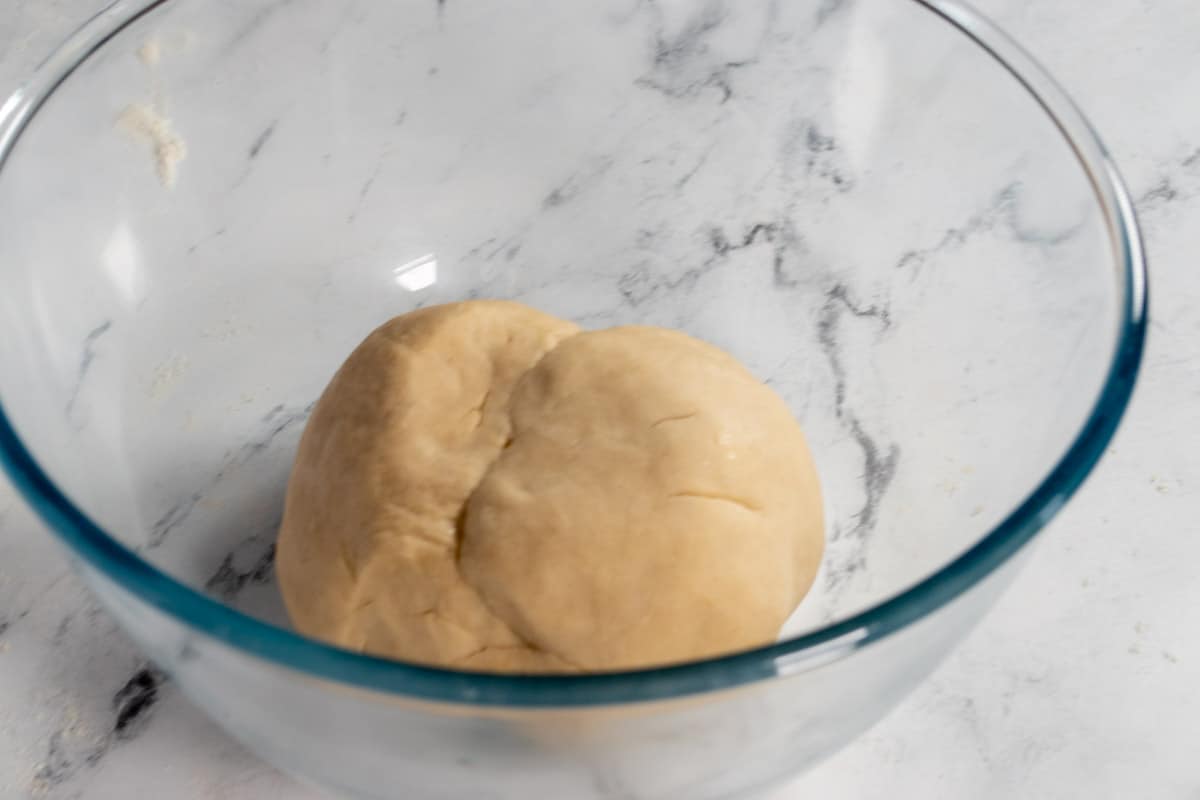 STEP FIVE
Take out the risen dough.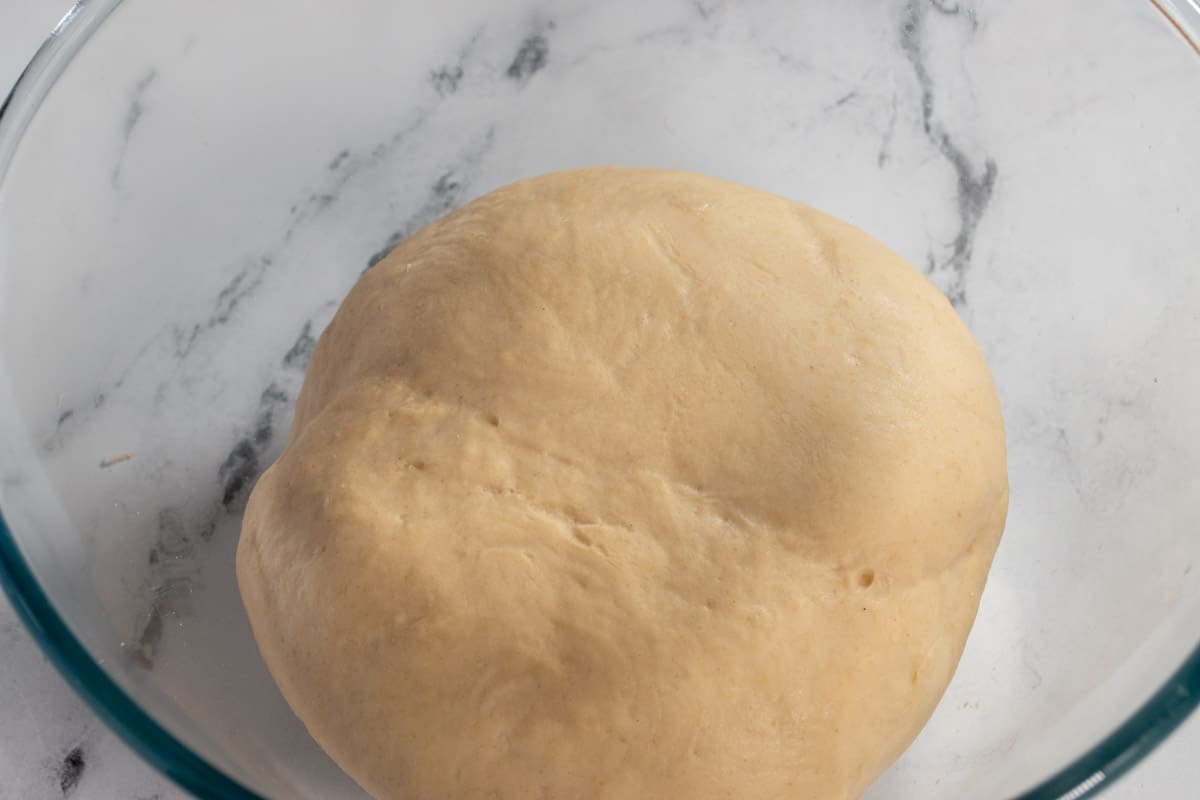 STEP SIX
Cut out the donuts.
STEP SEVEN
Cover again and let them rise a second time.
STEP EIGHT
Make the glaze while you are waiting for the donuts to rise.
STEP NINE
Transfer the donuts to the oil. Time to fry!
STEP TEN
Dip the warm donuts into the prepared glaze.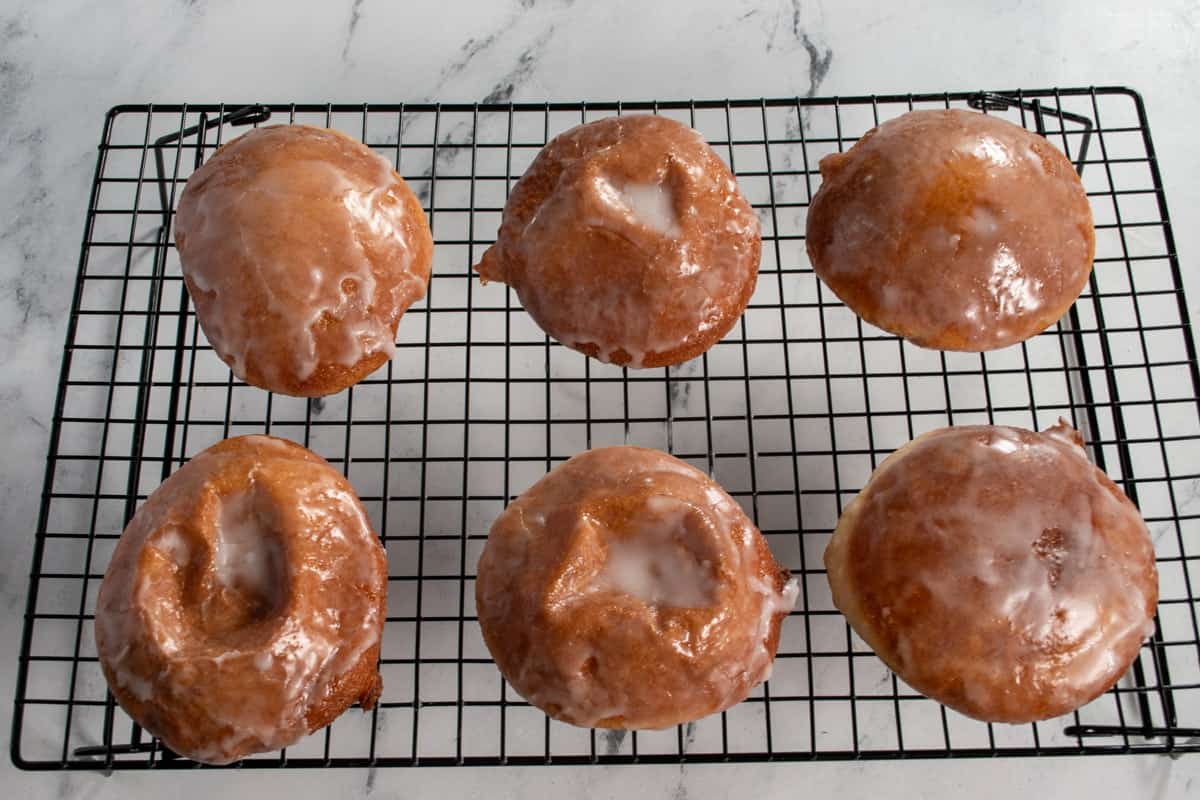 STEP ELEVEN
Fill with raspberry jelly (jam).
Tips For Making Perfect Vegan Donuts
Don't leave out the vital wheat gluten.
This amazing flour strengthens the dough and gives it elasticity. Some people like to use bread flour which has a similar effect but I love to use vital wheat gluten as it always gives good results.
Let your dough rise twice.
So that your yeast donuts are EXTRA fluffy, let your dough rise after kneading AND after cutting them out.
Glaze the donuts while they are warm.
It's easier to glaze donuts when they are nice and warm. It also creates a thinner, even glaze. If you don't like glaze covering your vegan donuts, you could make them into powdered donuts instead!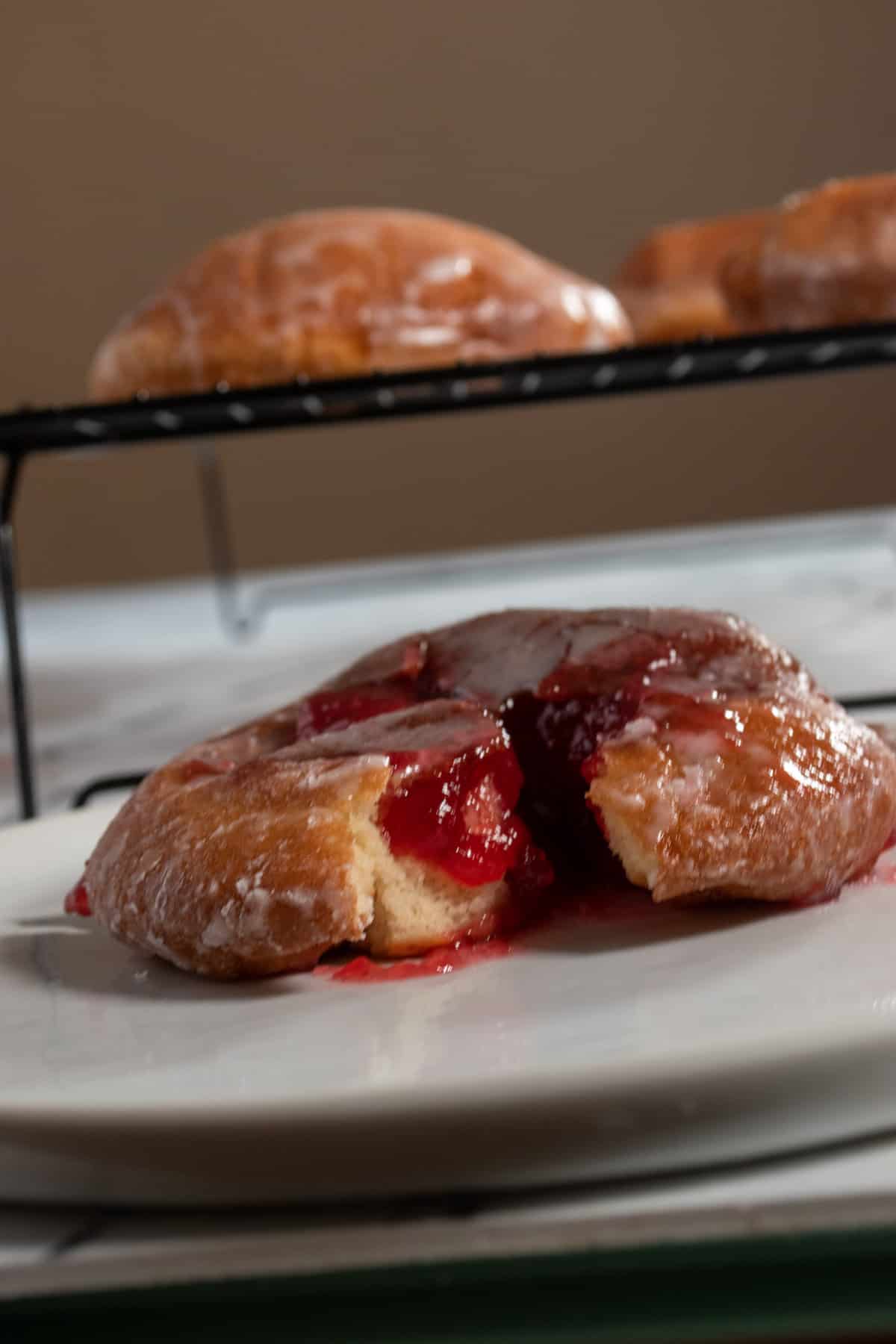 Why Yeast Donuts Are Better Than Cake Donuts
Of course, this is just my opinion but there is something so rewarding about the process when making yeast donuts. They take longer to make but you end up with soft, fluffy treats which are like pillows. I love cake donuts to but ultimately, they're just cake.
Customise This Recipe
Use a different flavour of jelly (jam). If you don't like raspberry jelly, you can swap it for one that you do like OR you don't have to fill them at all.
Frequently Asked Questions
Why are my donuts not fluffy?
This is usually due to under proofed dough.
Why are my donuts raw in the middle?
This may be because your oil is too hot. The donuts will brown quickly and the centre will not cook.
Can You Freeze Yeast Donuts?
I always eat this recipe fresh so I haven't tested this for my recipe.
How To Store My Vegan Donuts
I advise that you eat these on the same day that you fried them. Ideally as soon as they have cooled and have been filled. My donuts don't have preservatives like store-bought ones so they don't last long. They soon become less fluffy.
More Tasty Recipes
Vegan Banana Chocolate Chip Muffins
Vegan Dark Chocolate Digestives
Print
Soft Vegan Raspberry Filled Donuts
---
Description
If you love vegan donuts look no further than these raspberry filled donuts which are full of raspberry jelly and glazed on the outside.
---
For the donuts:
190

ml

warm water (43 Celsius, 110 Fahrenheit)

1 teaspoon

instant yeast* (see notes)

35

g

granulated sugar

320

g

all-purpose flour

2.5 teaspoons

vital wheat gluten

1 teaspoon

salt

1

litres

canola oil (rapeseed), for frying
For the glaze:
150

g

powdered sugar
Water (to taste)
For the filling:
Raspberry jam (jelly) (to taste)
---
Instructions
Make the donut dough:
In a large bowl, mix the instant yeast with the warm water.
Next, add in the sugar. Whisk until it dissolves into the water.
In a separate bowl, combine the all-purpose flour and the vital wheat gluten.
Pour the wet mixture into your stand mixer bowl. Use the dough hook attachment. Mix on a low speed, gradually adding the flour mixture, a quarter cup at a time. A few moments later, when the flour begins to combine, pour in the salt. You may not use all of the flour. Just add enough to form a soft dough that is a little sticky but not sticking to the bowl.
Continue to knead on a medium-low speed for a further 5 minutes. 
Let the dough rise:
After 5 minutes is up, sprinkle some flour onto your donut dough. Place it into a large bowl and cover with a kitchen towel. Let the dough rest in a warm location for 1 hour. It will double in size.
Line a large baking tray or two regular baking trays with parchment paper. Dust it with flour. Set aside.
Cut out your donuts:
Carefully take your risen dough out from the bowl and place it onto a lightly floured surface. Roll the dough out to 1cm thickness.
Use a cookie cutter to cut out your donuts. I used a round, 8.5cm diameter cookie cutter. Re-roll the dough until you have used all of it.
Let the dough rise (again):
Place your cut donuts onto your lined baking tray, 1cm apart. Cover again with a kitchen towel or plastic wrap. Place them in a warm location for a further 60 minutes. They will double in size again.
Make the glaze:
While the donuts are rising again, make your glaze by adding the water 1 teaspoon at a time until it reaches a consistency that you like. I like the glaze to be quite thin.
Fry the donuts:
When your donut dough has risen, add the canola oil to your deep fryer, large saucepan or wok. Use a thermometer to keep track of the temperature. Aim for 180 Celsius (356 Fahrenheit) for best results. 
Prepare a wire rack, and ideally, a metal slotted spoon for flipping your donuts and metal tongs for removing them from the oil.
Use the slotted spoon to carefully lower the donuts (one at a time) into the hot oil. The donuts will take about 45 seconds for the first side to become golden brown. Flip them and cook for a further 45 seconds on the second side. Use the tongs to remove the donuts. Place them on the wire rack to drain.
Glaze your donuts while they are warm:
Dip the drained donuts into the prepared glaze on both sides. Let them cool for 10 minutes.
Fill your donuts:
Finally, add the raspberry jelly (jam) to a filling syringe. Fill the donuts. Alternatively, use a large skewer to make holes in the side of the donuts and use a piping bag to fill your donuts with the jelly.
Notes
If you are using dry active or fresh yeast, you will need to do the conversions yourself as I haven't tested those. 
Prep Time:

2 hours 30 minutes

Cook Time:

10 minutes

Category:

Dough

Method:

Frying

Cuisine:

Raspberry Filled Donuts
Nutrition
Serving Size:

1 Donut

Calories:

288

Sugar:

24 g

Sodium:

488.2 mg

Fat:

2.3 g

Carbohydrates:

61.2 g

Protein:

5.3 g

Cholesterol:

0 mg
Keywords: vegan donuts, vegan doughnuts, jelly donuts, raspberry donuts, yeast donuts, donuts recipe