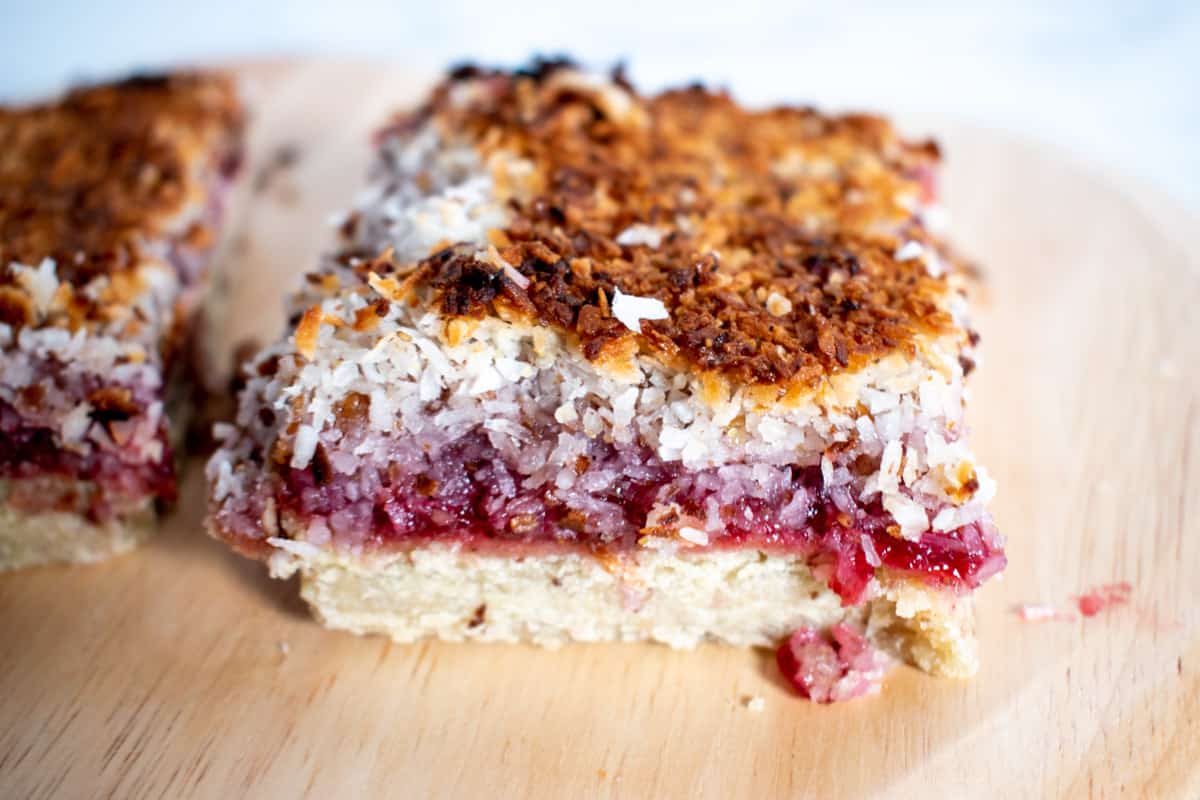 Hello everybody! If you love your vegan baking to be quick, simple and most importantly, delicious, you are in the right place. These raspberry and coconut slices are filled with sweetness and all the yummy sensations that you need at the forefront of your taste buds.
If you are from the U.K, you'll be very familiar with these cakey treats which are usually in the form of a traybake. There are similarities between these cakes and the Lamington tarts that you'll find over in Australia and New Zealand. I personally remember making these at primary school and they've remained a favourite of mine ever since. Check out my vegan lamingtons if you like the sound of them.
Of course, if coconut isn't your go-to vegan cake topping, not to worry. This recipe accommodates for literally anything that can neutralise the sweetness of the jam a little such as, nuts. How about chopped hazelnuts? Walnuts? You could even try something like pistachios if you like!
No matter how you choose to have this vegan jam and coconut tray bake, i'm confident that you'll love it! Tag @vegan_treats_blogger on Instagram if you make them.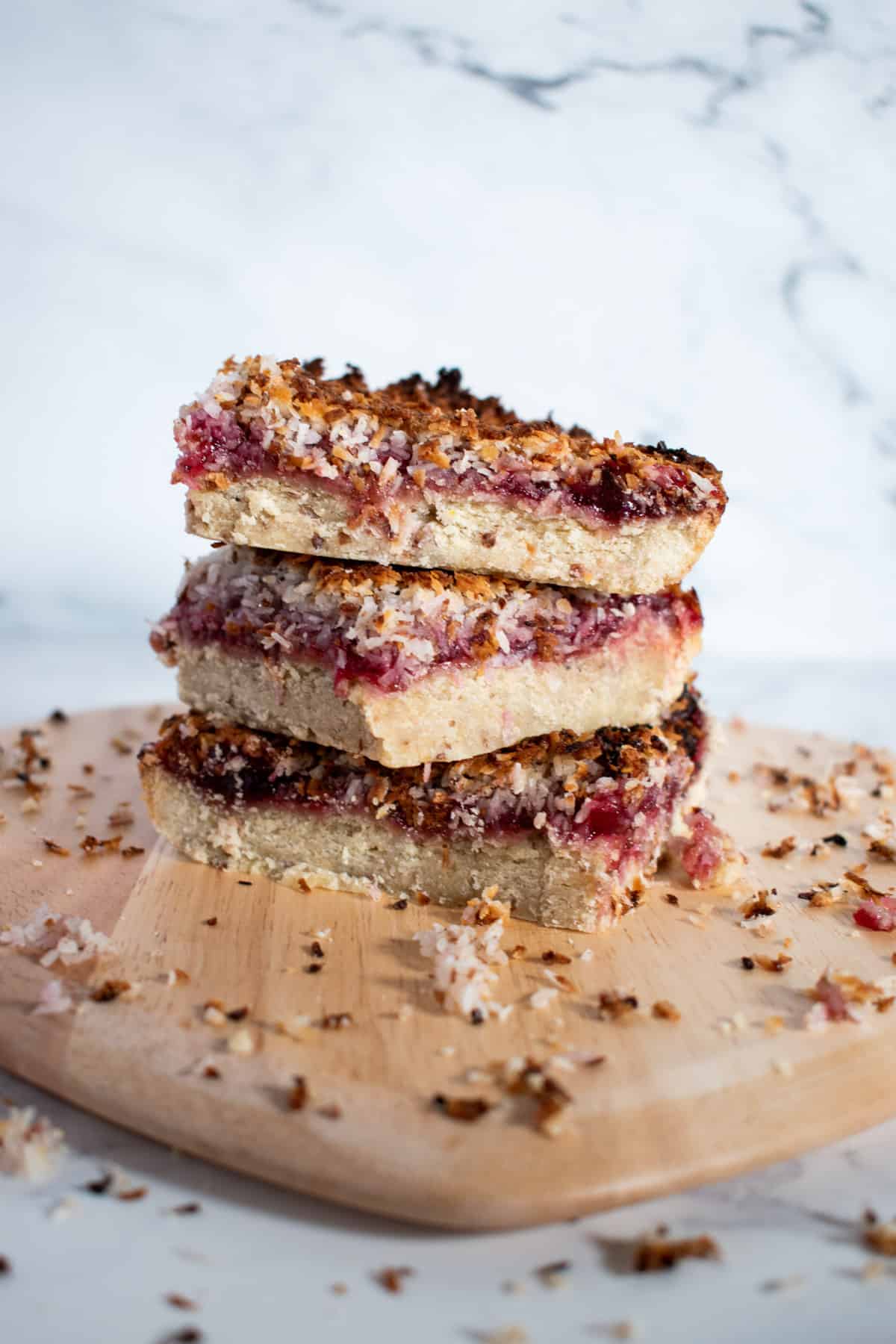 What Ingredients Do You Need For These Vegan Raspberry And Coconut Slices?
all purpose flour/plain flour
caster sugar
vegan butter
vanilla
flax seed meal
raspberry jam
desiccated coconut
Tips For Making This Vegan Tray Bake Happen (For The Best Outcome)
Eat your treat while it is at its optimum deliciousness. Yes, many vegan desserts can sit out on the kitchen side for hours after being baked and still taste perfectly fresh. However, having made these raspberry and coconut slices several times, I can confidently confirm that these are best eaten almost immediately. Basically as soon as the cake has cooled in the tray a little. I mean when it comes to tray bakes and pudding cakes, who wouldn't like it nice and warm? When it becomes stone cold, it loses much of its pizzazz. I recommend serving with warm custard or even a contrasting cold vegan single cream. Neither option will disappoint!
Make sure that your base is as soft/crunchy as you prefer. When baking the base, I appreciate that no oven is perfect and that different ovens may heat to slightly different temperatures depending on their age etc. In the recipe, I mention that the base requires roughly 15 minutes to bake but this could be a little more or slightly less depending on your oven. I also mention that the base should be between 0.5 cm and 1 cm thick. After making these a few times, I have since decided that these vegan treats taste even better with a slightly crunchier base and that 0.5 cm is the optimal width. On the other hand, if you like your base a little softer and 'doughier' then perhaps the 1cm width is better for you.
This recipe is truly delightful and all you need to do is:
Mix your base ingredients.
Form a dough.
Place in a baking pan and bake.
Spread jam over the base.
Mix together the topping ingredients.
Cover the jam layer and bake again.
Let it cool a little and enjoy!
CRUMBLY, COMFORTING AND SWEET
The great thing about these yummy desserts is that the jam really dominates. Sometimes the danger with these kinds of desserts is that they can become incredibly dry and therefore, a little unappetising. This made me want to be generous with the amount of jam.
The jam layer is thick and does its job of keeping the slice juicy but not at all overwhelming. If the jam measurement is altered either way, it could easily become overwhelming so I highly recommend sticking to the amount. Feel free to use store-bought jam or you can make your own if you wish.
Helpful Tools For Making A Vegan Raspberry And Coconut Tray Bake
Medium-sized bowl
Whisk
30cm x 20cm baking pan (5cm deep)
Vegan Raspberry & Coconut Slices FAQ's:
Can I change the raspberry jam filling?
Of course you can! You change the jam/jelly flavour or you can even change the filling altogether. Try marmalade or a vegan chocolate spread!
Can I use chia 'eggs' instead of flax 'eggs'?
Yes! You can substitute them 1:1.
Can I leave my base in the oven longer?
Every oven is different, so with this recipe, you can leave the base in the oven until it's nicely golden brown. Even if this slightly exceeds the recommended time.
PREFER TO WATCH INSTEAD?
Vegan Raspberry & Coconut Slices
A crumbly and sweet traybake treat is waiting for you. It's so easy to make and is ready in no time! Hope you enjoy it, everyone!
Print
Pin
Rate
Ingredients
Base: 
250

g

all purpose flour/plain flour

125

g

caster/granulated sugar

1

teaspoon

vanilla

120

g

vegan butter

melted

1

flax egg

1 tablespoon ground flaxseed meal mixed with 3 tablespoon water
Filling:
300

g

store-bought jam/jelly
Coconut Meringue Topping:
2

flax eggs

2x 1 tablespoon ground flaxseed meal mixed with 3 tablespoon water

40

g

caster sugar

120

g

desiccated coconut
Instructions
Preheat your oven to 180 Celsius (350F). 

Grease and line a 5cm deep, (roughly) 30cm x 20cm baking pan with parchment paper. 

For the base: In a medium-sized mixing bowl, combine your flour, sugar, vanilla and melted vegan butter with a whisk and mix well until it becomes gritty.

Add in one flax 'egg' and mould it all into a dough. 

Transfer your dough to the prepared baking pan and press it into the base so that it is firm, flat and even. Press between 0.5cm and 1cm thick, depending on how crunchy or soft you like your bases.

Bake in the oven for roughly 15 minutes, or until the perimeter of the dough is golden brown. Every oven is different so it may need slightly longer. Leave your oven on as you'll need it again soon.

For the filling and topping: Spread a thick layer of your raspberry jam/jelly over the top of the warm base. You can use less if you feel that it is too much.

In a medium-sized bowl, whisk the other two flax 'eggs' with the rest of the sugar for twenty seconds or so. Then mix in the desiccated coconut.

Spread the coconut mixture over the jam layer so that it is fully covered. 

Bake your treat in the oven again for a further (roughly 15-20 minutes), or until the coconut meringue is golden brown. Keep checking on it, so that the coconut doesn't burn. Some ovens are simply more powerful/inaccurate than others.

Allow your raspberry and coconut slices to cool completely in the baking pan. Cut into the slice sizes that you wish for and enjoy!
Notes
STORAGE: These treats will last a couple weeks in the freezer or about a week in the fridge. However, I don't recommend this as these treats are best served warm and by cooling/freezing, you unfortunately won't have the same experience. 
Nutrition
Calories:
448
kcal
|
Carbohydrates:
1
g
|
Protein:
1
g
|
Fat:
1
g
|
Saturated Fat:
1
g
|
Polyunsaturated Fat:
1
g
|
Trans Fat:
1
g
|
Cholesterol:
1
mg
|
Sodium:
1
mg
|
Fiber:
1
g
|
Sugar:
1
g
YOU MAY ALSO LIKE THESE OTHER BAKES: