Soft & Sweet Yeast Donuts
Here in the U.K, we are very fortunate to have quite a few vegan options when we go to Krispy Kreme but I'm totally aware that most places in the world haven't received this amazing experience yet. If you want a copycat recipe that makes vegan Krispy Kreme donuts, here it is.
These treats are super soft like the real thing. If you love donuts, why not also try some vegan raspberry filled donuts?
Prefer To Watch Instead?
Ingredients For This Recipe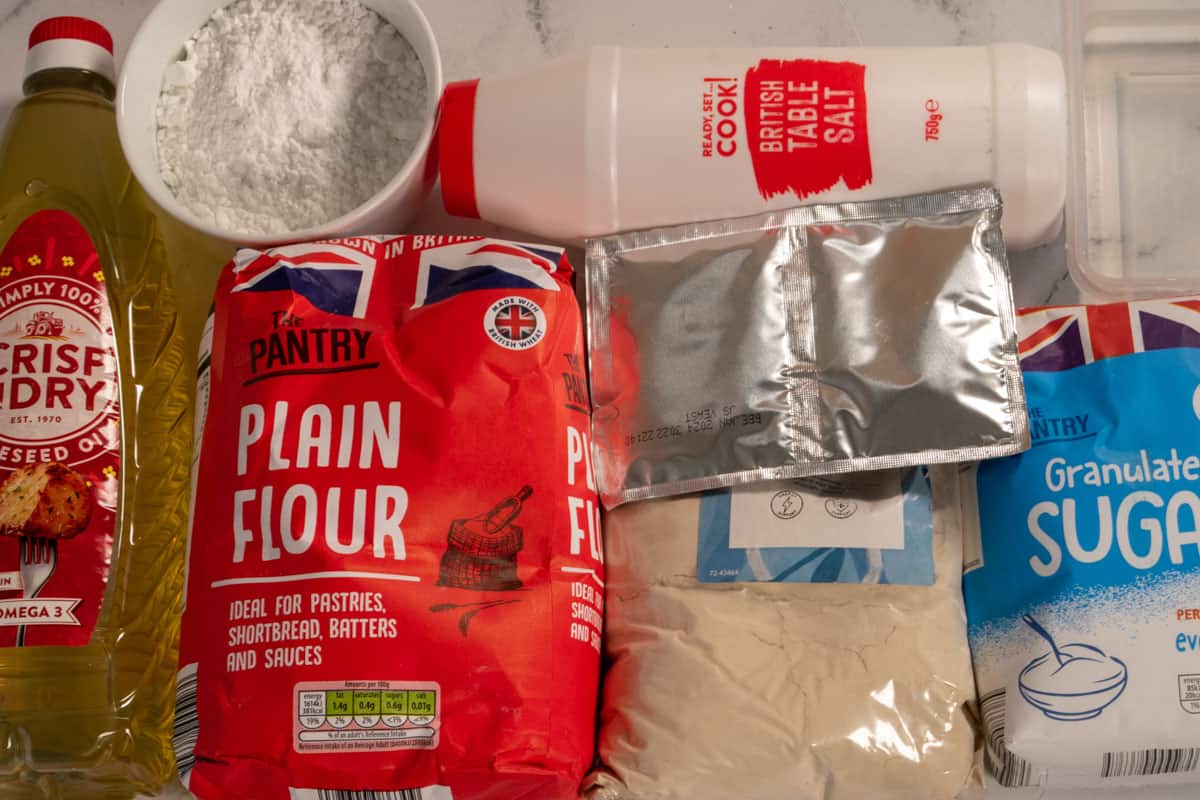 Warm water - make sure that the water isn't too hot or else it will kill the yeast.
Instant yeast - this is the same as fast action yeast.
Granulated sugar
All-purpose flour
Vital wheat gluten - increases the gluten content and therefore, the texture.
Salt
Canola oil - neutral tasting oil like vegetable is also good.
Powdered sugar
How To Make Vegan Yeast Donuts
STEP-BY-STEP INSTRUCTIONS
For the full method and ingredient amounts, please refer to the recipe card at the bottom of this post.
1: Combine the yeast, water and sugar. Pour into the stand mixer.
2: Mix together the two flours.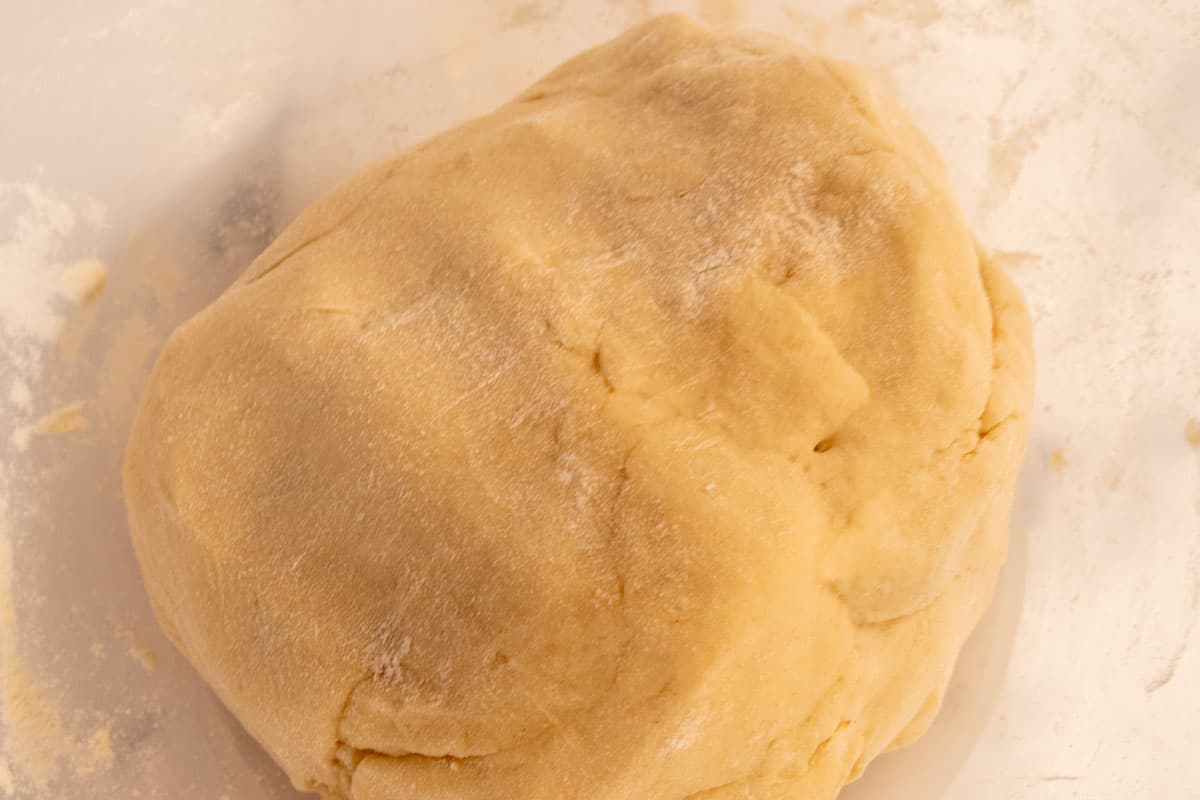 3: Add the flour mixture to the wet and make the dough inside the mixer.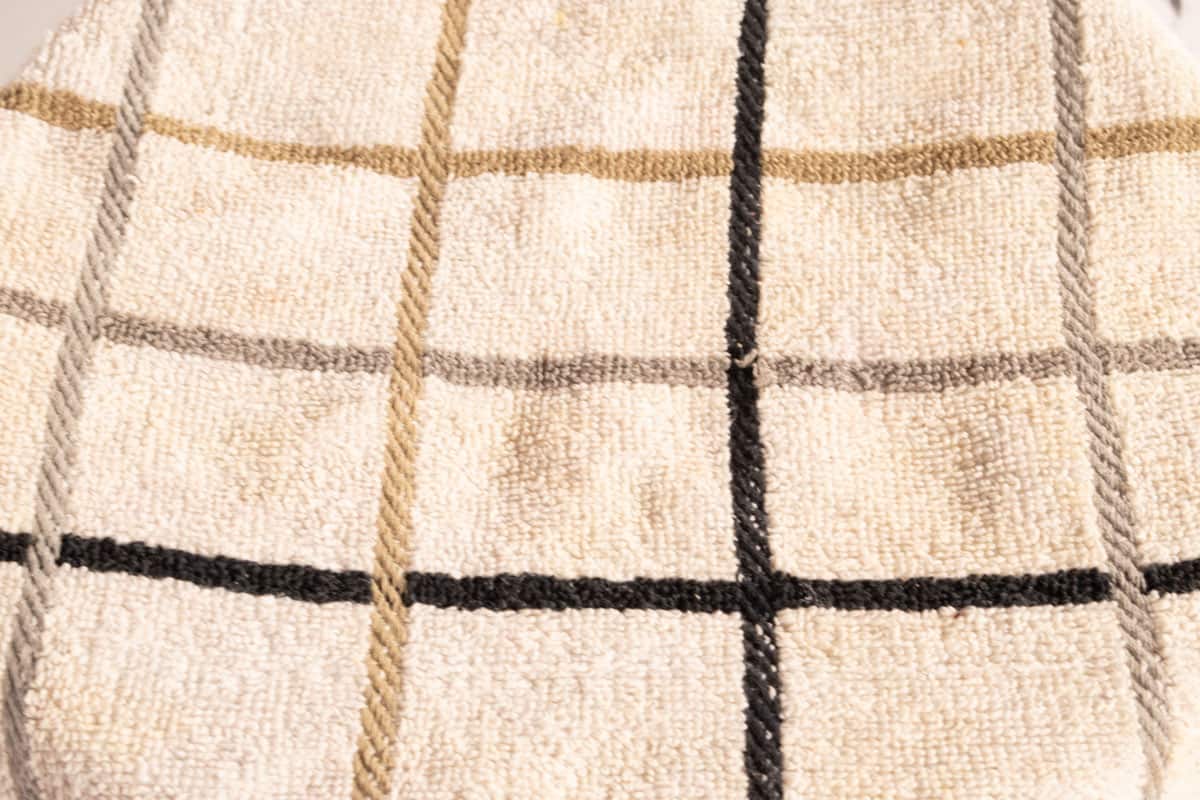 4: Let the dough rise.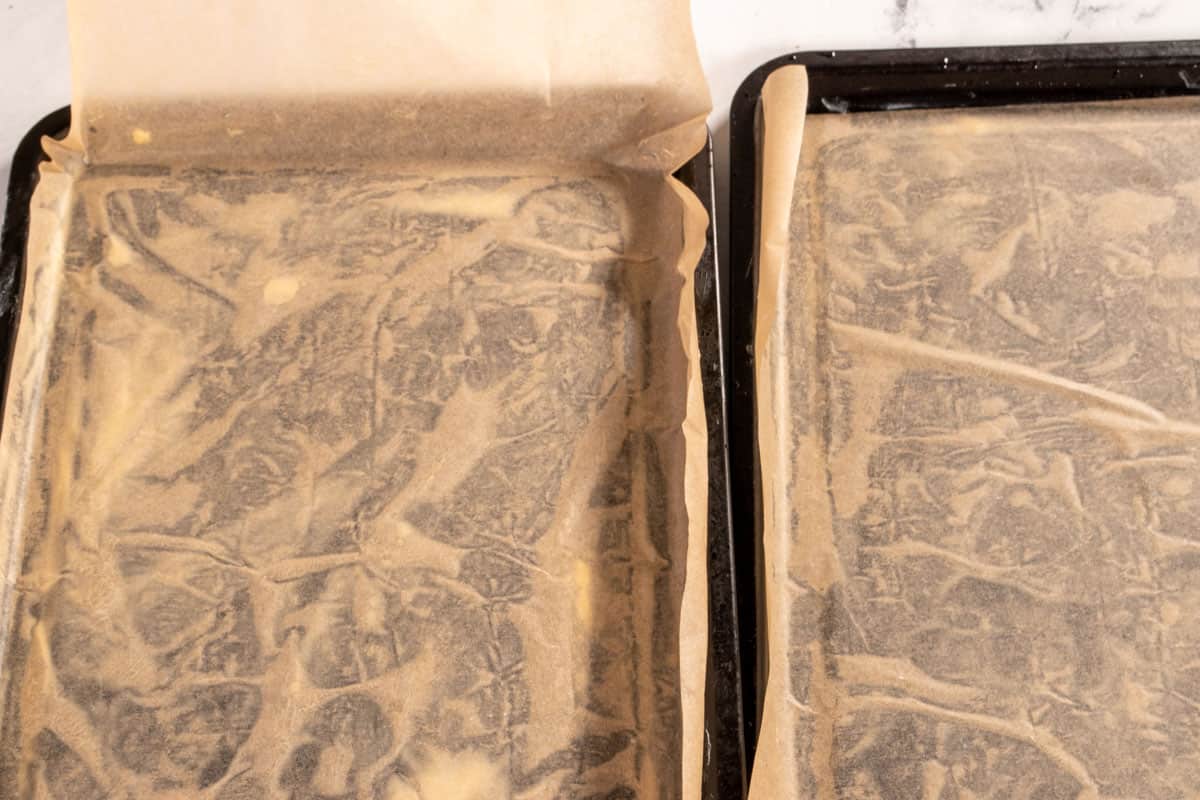 5: Line two regular baking tins with parchment paper.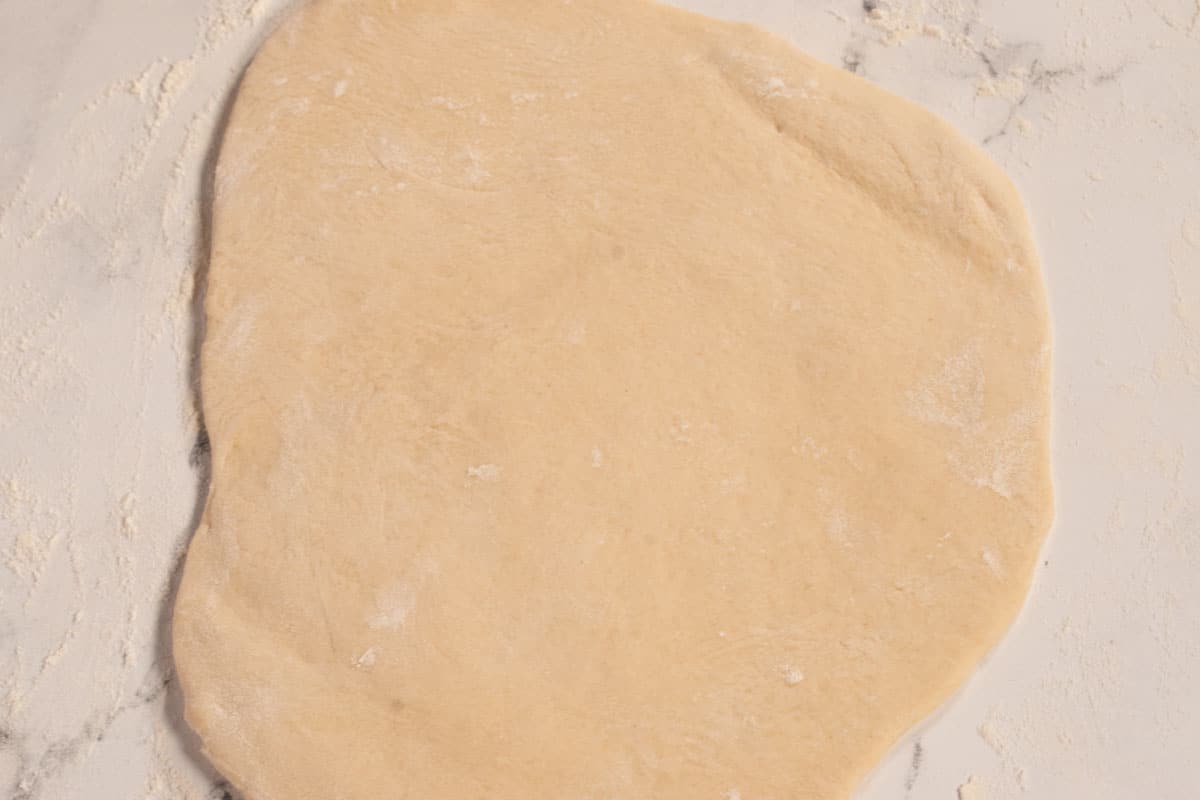 6: Roll out the risen dough.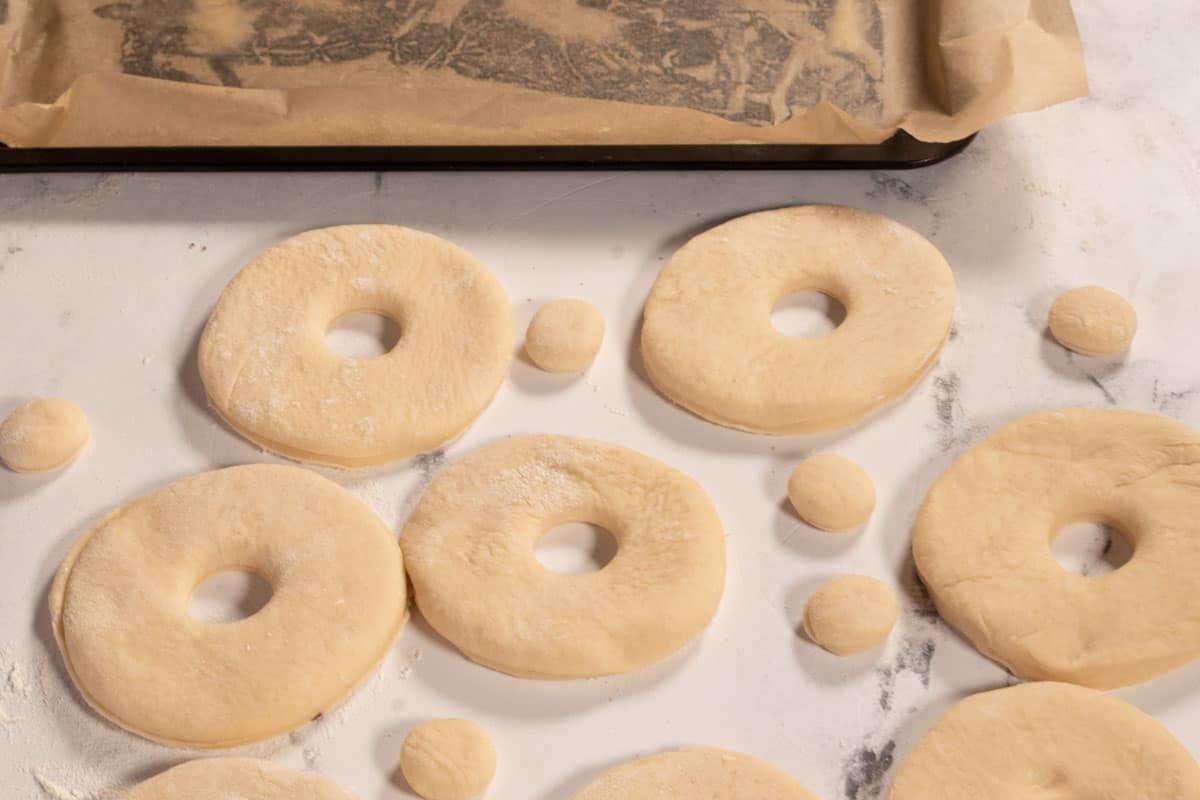 7: Cut out the donuts.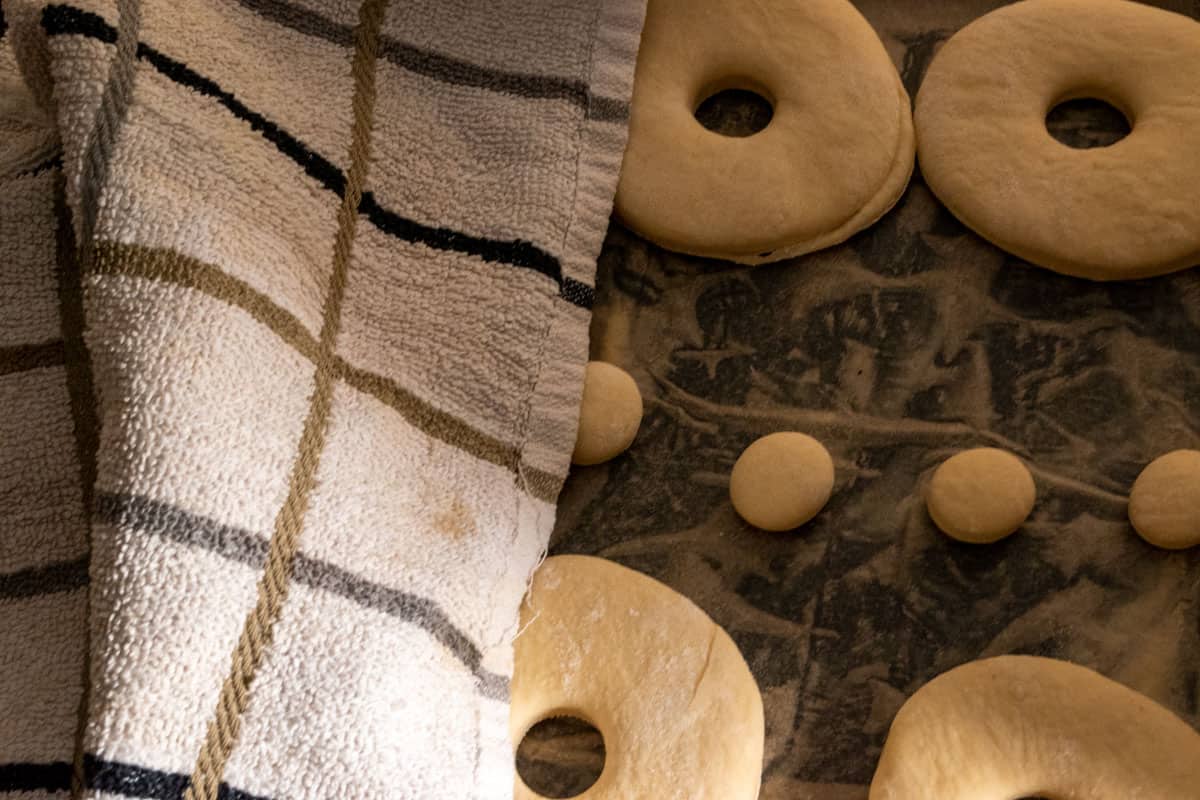 8: Let the donuts rise for a second time.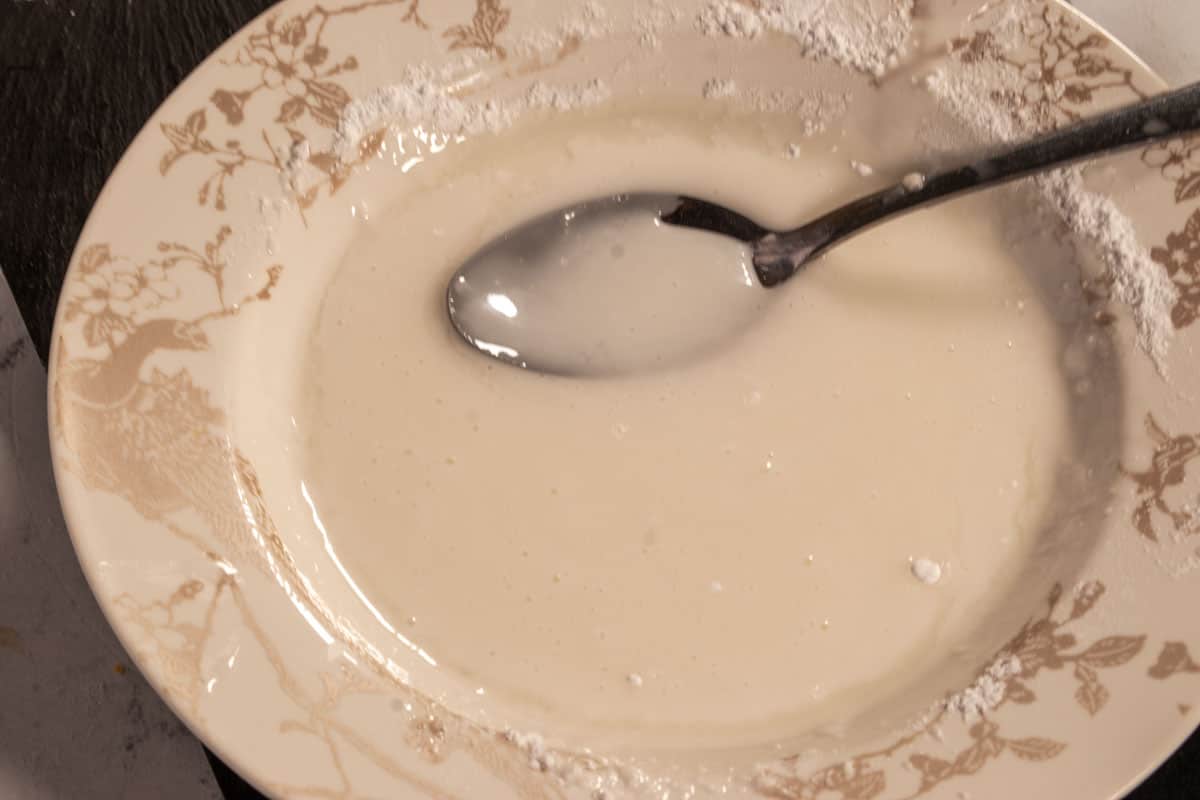 9: Make the donut glaze.
10: Fry the risen donuts on both sides until golden brown.
11: Glaze the donuts and serve.
Expert Tips & Tricks
You Don't Need To Proof The Yeast
As we are using instant yeast for this recipe, you can simply mix with the warm water and sugar. There is no need to be waiting around for any chemical reactions like when you use ordinary yeast. Make sure that you don't buy dry active yeast as this is different.
Fry At The Correct Temperature
These donuts will cook quick. In fact they need less than a minute on each side, so make sure that you fry them at 180 Celsius (356 F) so that they don't burn. This temperature will give them a golden brown colour.
Can I Make These Donuts In Advance?
Homemade yeast donuts are made without preservatives so they don't tend to last very long. Before you know it, they've gone a little stale and they're not as enjoyable.
These are definitely best eaten on the day that they're made but if you happen to have any leftover from the previous day or two, warm them up for 10 seconds in the microwave and they will soften.
Variations & Substitutions
Fill the donuts. If you'd like to fill these donuts, don't cut out the centre. Use a baking syringe to add things such as, jam, peanut butter, Biscoff and melted chocolate to the centre.
Frequently Asked Questions
Can I freeze these donuts?
I suggest that you eat these donuts the day that they are made for the best texture. If you'd like to freeze them, let them cool then place them in the freezer on a baking tray until solid. Then place the frozen donuts into freezer bags and store for 1-2 months. Let them defrost at room temperature, then warm them up in the microwave for 10 seconds.
Are Krispy Kreme Donuts vegan?
Ordinary Krispy Kreme donuts aren't vegan but they have released a few vegan variations here in the UK such as a vegan version of the original glazed.
What are vegan donuts made from?
Vegan and non-vegan donuts share many ingredients such as flour, yeast and sugar. My recipe omits the dairy milk, eggs and butter that non-vegan donuts may contain.
Are yeast donuts vegan?
Regular yeast donuts are not vegan but they can easily be made plant-based with a few substitutions.
Storage Tips
I advise that you eat these donuts warm as soon as you've made them as this is when they are the softest. If you can't eat them straight away or on the same day, cover them with clingfilm and store at room temperature for up to 24 hours.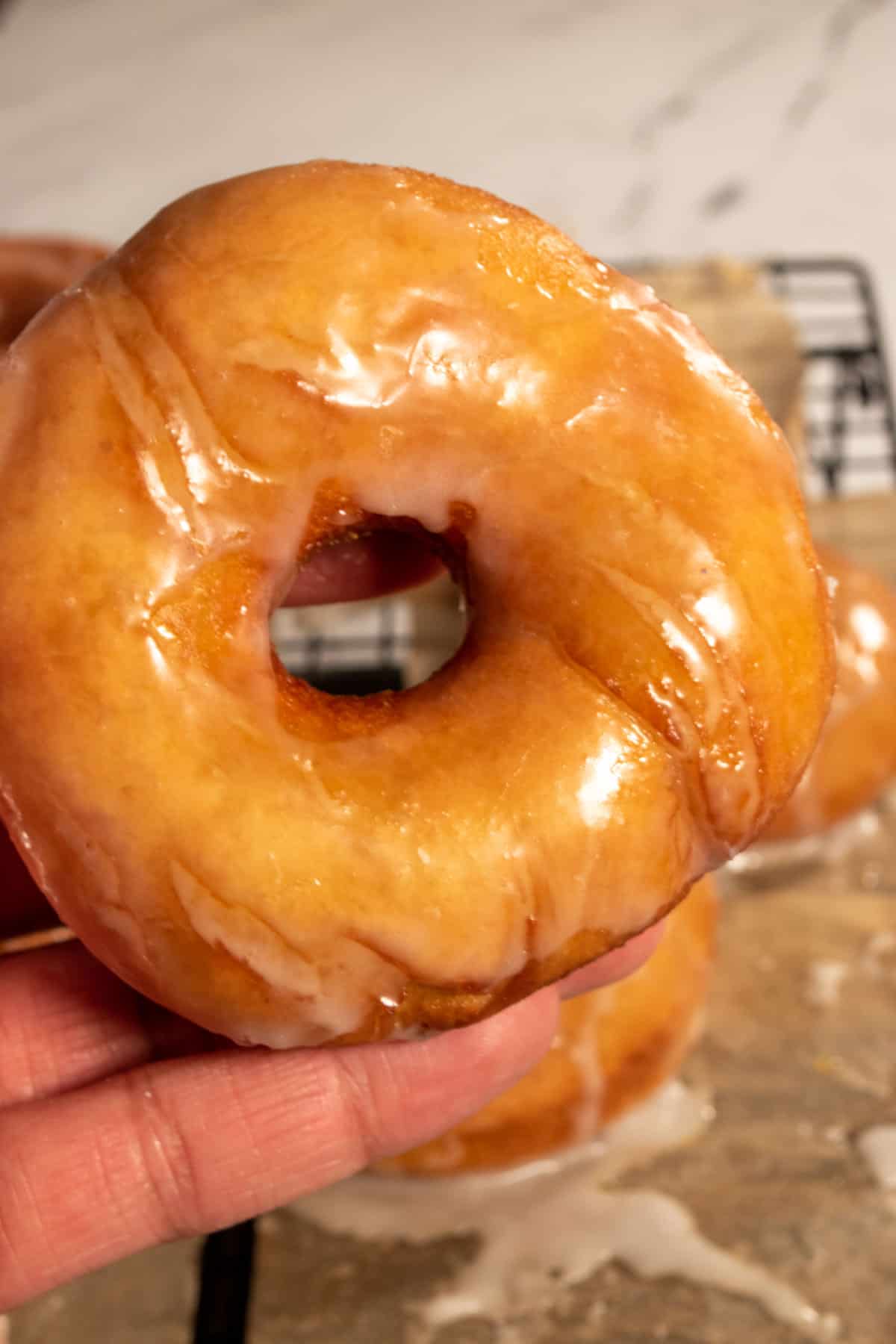 More Recipes That You Will Love
Print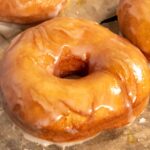 Vegan Krispy Kreme Style Glazed Donuts (Yeast)
---
Description
My copycat version of vegan Krispy Kreme donuts are so soft just like the original. They're dipped into a smooth glaze and served warm.
---
For the donuts:
190

ml

warm water (43 Celsius or 110 Fahrenheit)

1 teaspoon

instant yeast

35

g

granulated sugar

320

g

all-purpose flour

2.5 teaspoons

vital wheat gluten

1 teaspoon

salt

1

litre

canola oil (rapeseed), for frying
For the glaze:
150

g

powdered sugar (sifted)
Water (to taste)
---
Instructions
Make the donut dough:
In a bowl, mix the instant yeast with the warm water and sugar. Stir until the sugar dissolves.
In a large mixing bowl, combine your all-purpose flour and the vital wheat gluten.
To a stand mixer with the dough hook attachment, pour in the wet mixture. Switch it onto a low speed. Gradually add in the flour mixture a quarter cup at a time. Once the flour begins to combine, pour in the salt. You may not use all the flour. Add just enough to form a soft dough that is a little sticky but not sticking to the stand mixer bowl.
Let the dough continue to knead inside the stand mixer on a medium-low speed for another 5 minutes.
Let the dough rise:
Take the dough out from the stand mixer. Sprinkle a little extra flour onto the dough and place it into a large bowl. Cover for 1 hour with a kitchen towel or plastic wrap and place in a warm place to rise. The dough will double in size.
Line two regular baking trays with parchment paper and dust them with some flour. Set aside.
Cut out the dough:
Remove the risen dough from the bowl and place it onto a lightly floured flat surface. Carefully, roll out the donut dough so that it is about 1cm in thickness.
Use a round cookie cutter to cut out the donuts. Also use a small cutter to remove the centres. I used an 8.5cm diameter cookie cutter and a 2cm cookie cutter. Re-roll the dough when there is no more space to cut them out. Repeat until all of the dough has been used.
Second rise:
Very gently, place each of the cut donuts onto the prepared baking trays at least 1cm apart. Cover them once again with a clean kitchen towel or plastic wrap and place them back in a warm location for another hour. They will double in size again.
Make the glaze:
As the donuts finish their second rise, make you glaze. Add water to the powdered sugar one teaspoon at a time until you achieve the consistency that you want.
Fry the donuts:
Prepare a large wire rack lined with paper towels.
Pour the canola oil into a large saucepan, wok or deep fryer. Use a thermometer to keep track of the temperature. Aim for 180 Celsius (356 Fahrenheit) for a golden-brown colour.
Use a slotted spoon to slowly lower each donut (one at a time) into the hot oil. Fry the donuts for roughly 45 seconds on the first side then flip and cook for a further 45 seconds on the other side. They should be golden.
Use metal tongs to remove the donuts, then place them onto the prepared wire rack to drain.
Glaze your donuts while they are warm:
Dip your warm donuts into the glaze on both sides. Let them cool for 10 minutes and enjoy.
Prep Time:

2 hours 15 minutes

Cook Time:

5 minutes

Category:

Dough

Method:

Frying

Cuisine:

Vegan Krispy Kreme Donuts
Nutrition
Serving Size:

1 Donut

Calories:

240

Sugar:

22.8 g

Sodium:

293.3 mg

Fat:

0.4 g

Carbohydrates:

54.5 g

Protein:

4.4 g

Cholesterol:

0 mg
Keywords: krispy kreme, vegan krispy kreme, vegan donuts, vegan doughnuts, vegan treats, vegan desserts