Have you ever tried vegan fudge stripe cookies? If you haven't always been vegan or plant-based, you may have tried the originals before. The classic fudge stripes are made by a brand called Keebler and are primarily sold in the United States.
This easy shortbread recipe features a copycat version which is completely dairy-free, gives you those gorgeous, buttery shortbread flavors that everyone loves. They also take less than 15 minutes to bake inside the oven.
If these cookies have been some of your favorite treats in the past and you'd like to have a go at making some yourself, this recipe is the one you need. It's calling your name. They're so delicious.
For more cookie inspiration, why not also try my vegan melted snowman cookies, vegan dark chocolate digestives and vegan oreo cookies too, which are all amazing in their own ways.
Jump to:
Why You Will Love These Cookies
Great Texture - The softened vegan butter that is added to the shortbread dough in this recipe gives the shortbread such an amazing texture makes these very similar to vegan chocolate shortbread cookies. When you take a bite through one of these super soft and light cookies it is truly heavenly. I can't wait for you give these a try!
Copycat - One of the great things about this shortbread cookie recipe is that it is based off a popular snack. Copycat recipes are often some of my favorites to make. I enjoy hearing people's reactions in regards to how similar the remake is to the originals. Some other veganized treats that you'll love are my vegan krispy kreme style glazed donuts which I can't stop making right now.
Wonderful Topping - The best and tastiest feature in this recipe has to be the fudge stripes which are drizzled on top on the shortbread. The chocolate is mixed with melted vegan butter and it tastes so good.
Allergy Friendly & Plant Based - This vegan fudge stripe shortbread cookies recipe is wholly vegan and dairy free.
Ingredient Notes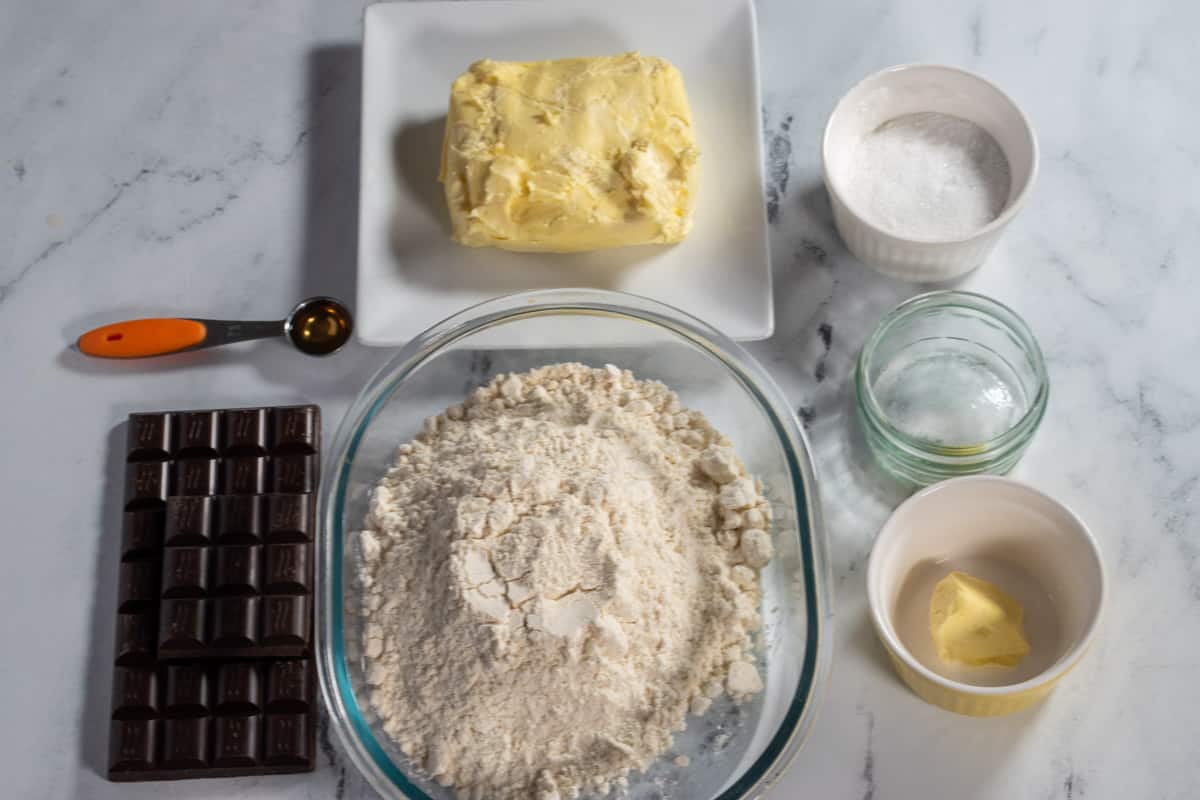 All-purpose flour - Actual fudge stripe cookies are partly made with plain flour so I thought that it would be best to do the same. It gave them a beautiful consistency I don't advise that you use any other types.
Caster sugar - This ingredient may be called superfine sugar in some countries. The great thing about this classic white sugar is that it dissolves in the vegan butter beautifully. It also gives them that classic, soft crunch that you want.
Vegan butter block - You'll need vegan butter for two separate parts of this fudge stripe recipe. Firstly you need it for the cookies themselves and therefore, needs to be added to the dough. The 'buttery' taste is the most iconic part of the shortbread can't be left out! Secondly, a small amount of vegan butter will be added to the melted chocolate to give it a 'chocolate fudge' taste. I advise that you use a block of dairy-free butter instead of margarine as the texture is more suitable.
Dairy free dark chocolate - As you will be melting the chocolate, using baking-specific vegan dark chocolate will help you out massively. Certain kinds of chocolate such as, dairy-free dark chocolate chips are NOT what you need. These are often made from extremely low quality chocolate. When you attempt to melt them, they become clumpy and uneven. See my vegan chocolate peanut butter almond bars and vegan mocha cake recipes if you want examples of how to melt chocolate properly.
See recipe card for full information on individual ingredients and quantities.
Substitutions & Variations
If you don't like vegan dark chocolates very much, don't worry. You can also use a vegan milk chocolate of your choice instead like I did in my vegan black forest cake and vegan chocolate french toast recipes. Dark chocolate is definitely hit and miss with many people so it's totally understandable. Dairy-free milk chocolate alternatives can be harder to come by in comparison to dark alternatives but these days, there are still many of choices out there in grocery stores.
Doubling the ingredient amounts for the cookies and the chocolate will yield twice as many cookies. You can make fudge stripe sandwiches if you only make holes in HALF of the cookies. Add a layer of melted chocolate fudge to the 'hole-less' shortbread cookies then place a cookie with a hole over it so you can see the chocolate layer through it. You can still add the fudge stripe drizzle and dip the bottoms.
How To Make Vegan Fudge Stripe Cookies
For the full method, please refer to the recipe card at the bottom of this post.
1: Line two small baking trays with parchment paper.
2: Add the flour and sugar to a large bowl.
3: Next, add the vegan butter.
4: Use your hands to combine the ingredients until the mixture resembles breadcrumbs.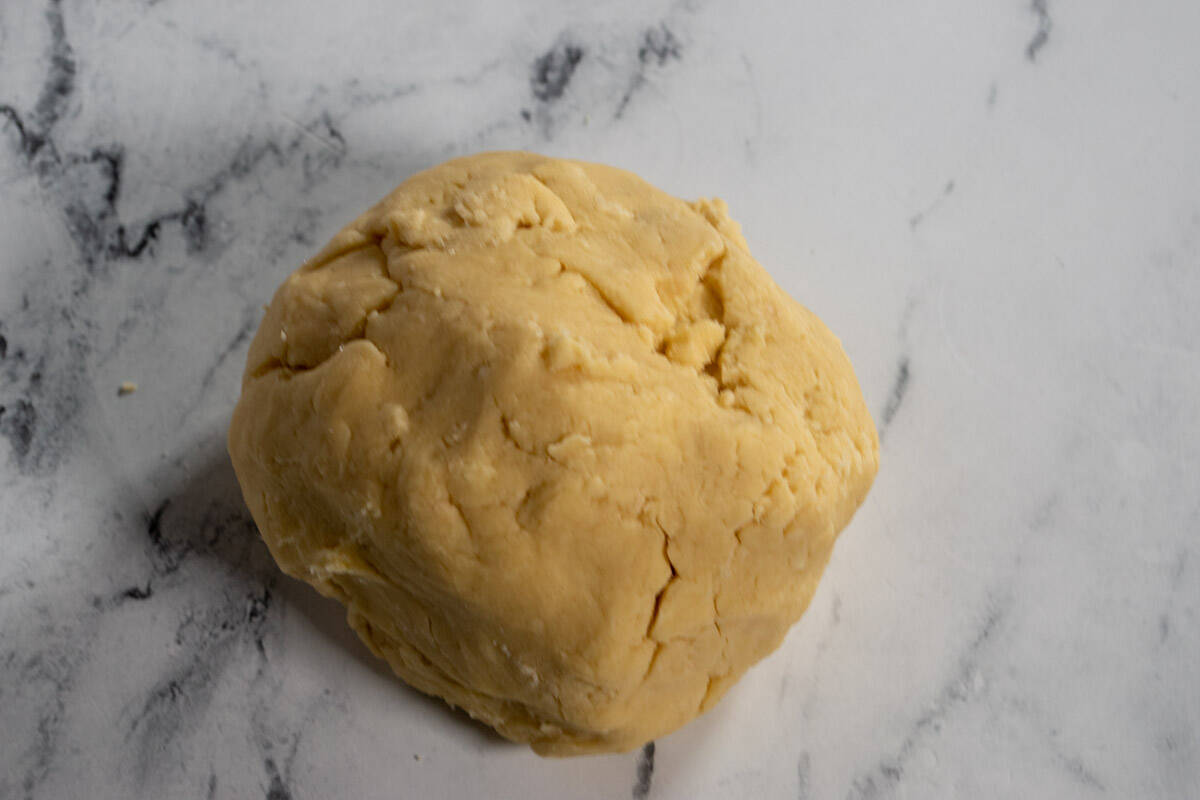 5: Squeeze the crumbs together to create a dough ball.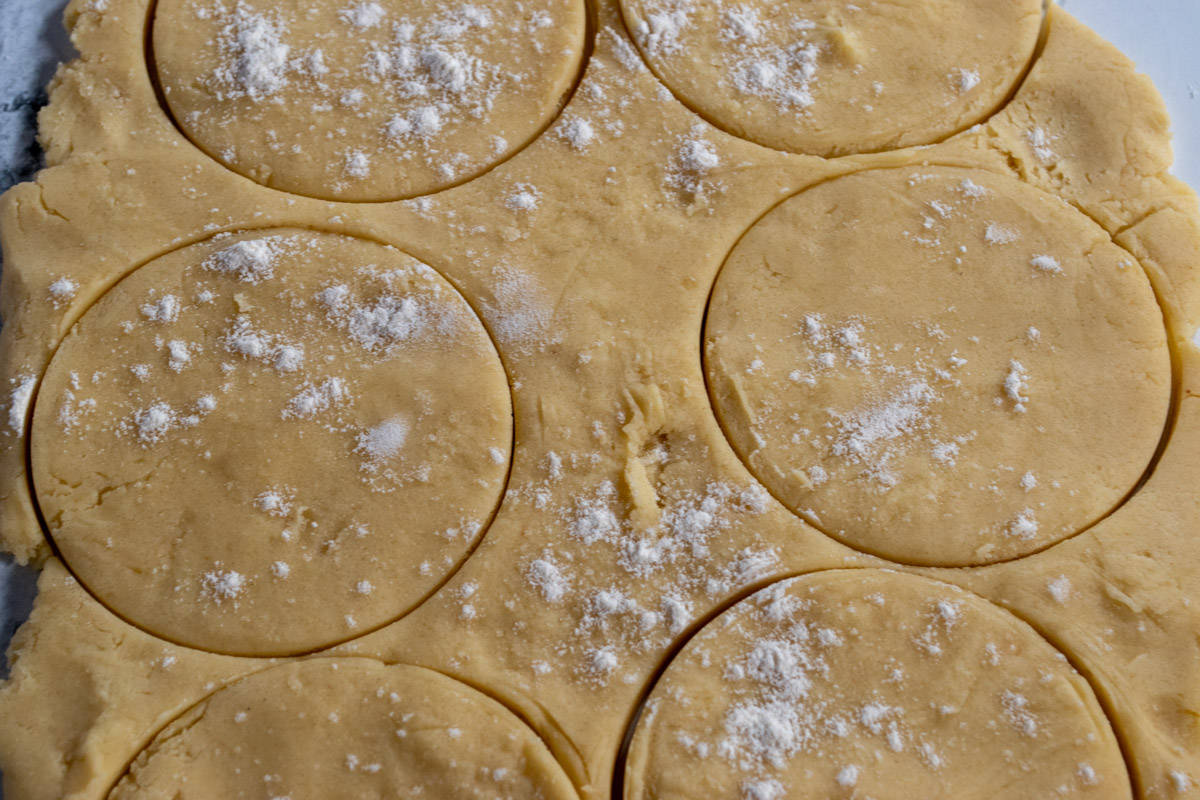 6: Roll out the dough and cut out your shortbread cookies. You can also cut out the little holes in the center at this stage too or wait until they're baked.
7: Bake the shortbread cookies.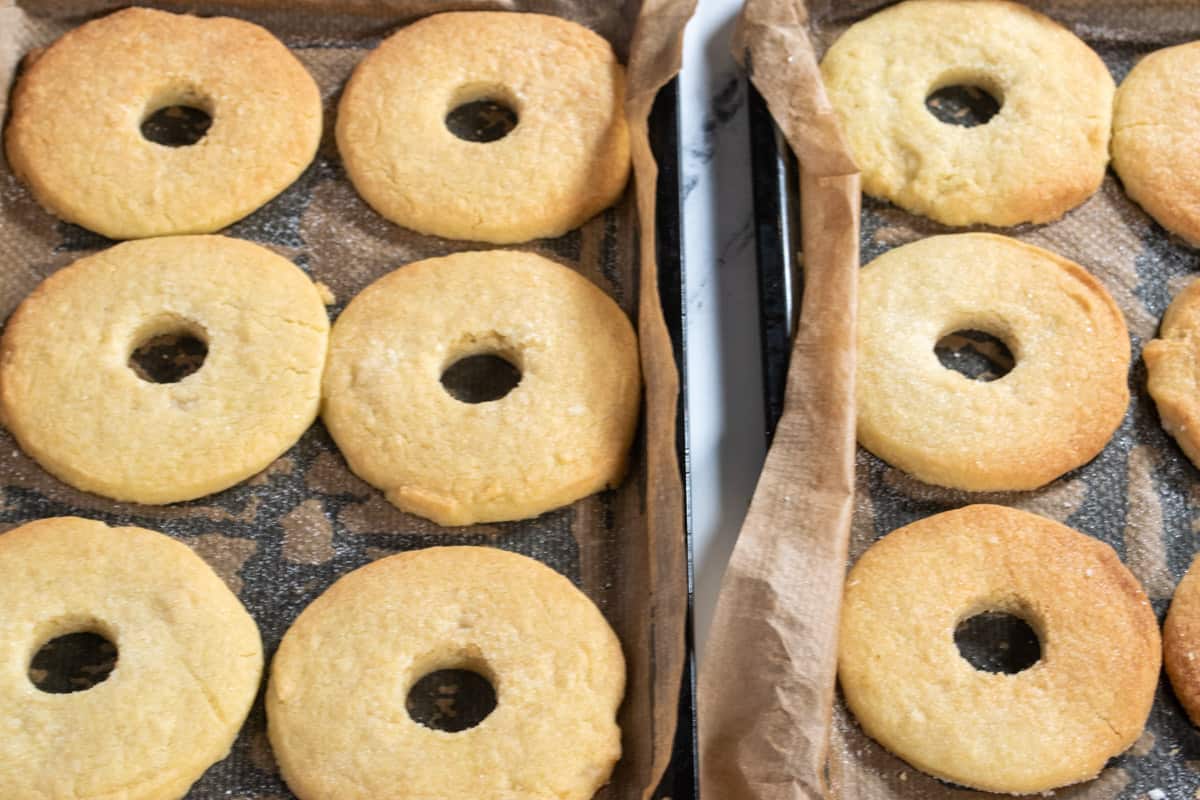 8: If you haven't already cut out the smaller holes in the middle, now is the time to do that (while they're warm).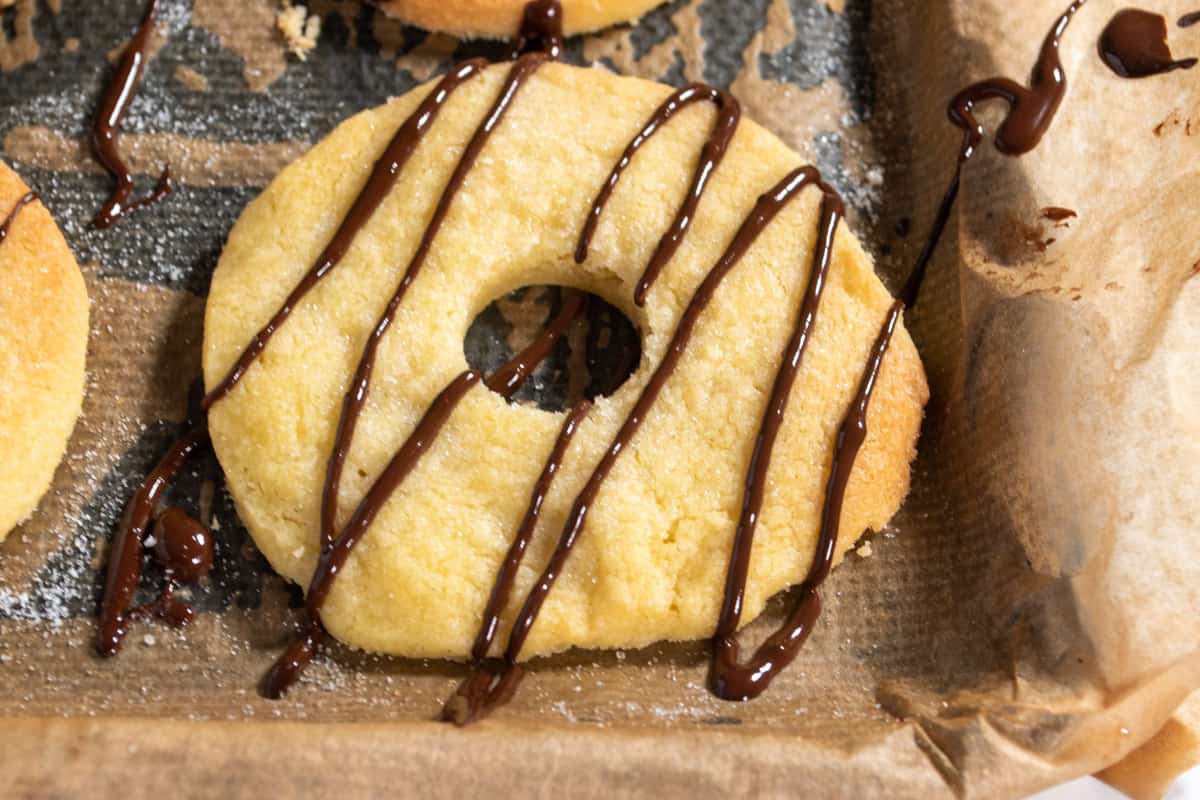 9: Drizzle the melted 'chocolate fudge' over the cookies.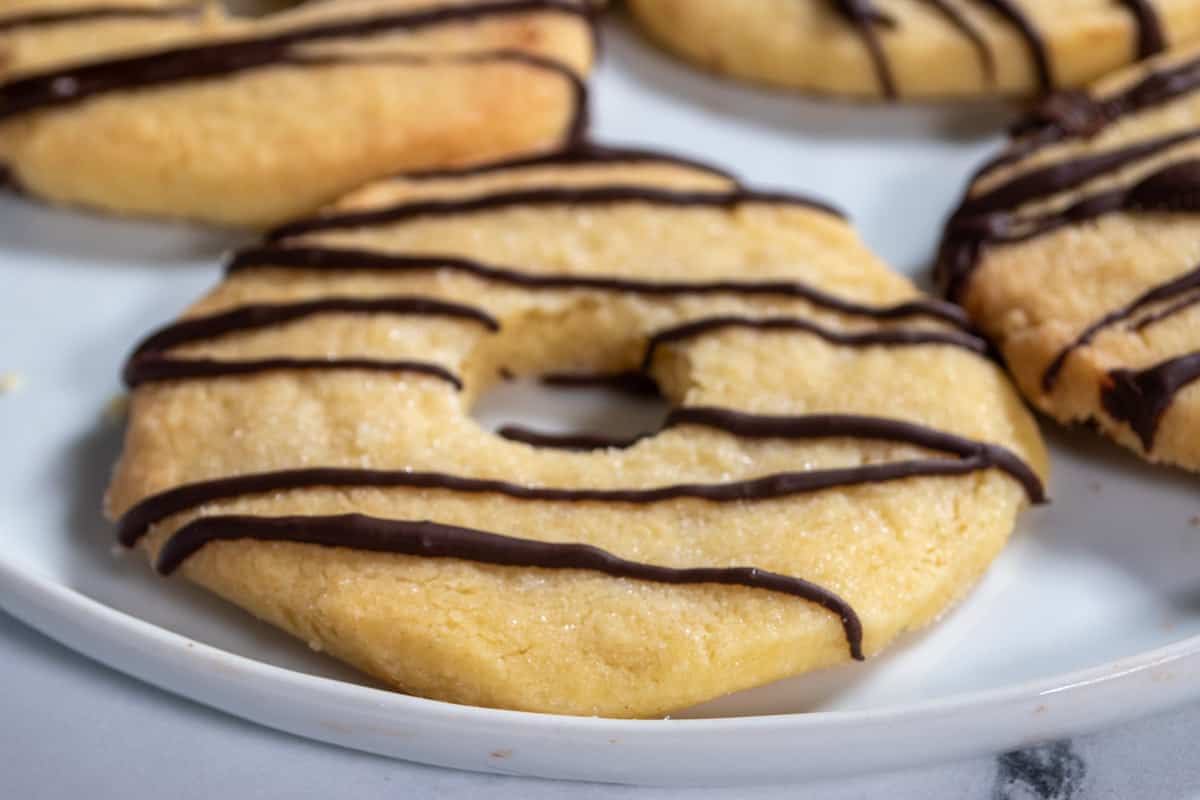 10: Place them into the refrigerator to set.
11: After the stripes have set, dip the bottoms too. Place in the fridge to set again.
Expert Tips
Be patient with the cookie dough - Take your time when moulding the shortbread crumbs together. Even though it may seem dry at first, the shortbread cookie dough will eventually come together. The vegan butter alternative contains more than enough moisture.
Don't over-bake the cookies - Shortbread bakes very quickly so keep an eye on the time. If they come out a little soft, don't worry. They'll set at room temperature. You can then place them into the fridge once they've cooled if you prefer them to be more on the firm side.
Recipe FAQs
What are fudge stripes?
Fudge stripe cookies are a popular treat made by Keebler. Keebler fudge stripes consist of a buttery shortbread, dipped chocolate bottoms and fudge stripes on top. I've made it optional for this recipe to dip the bottoms.
Are Keebler fudge stripe cookies vegan?
Unfortunately, they are not vegan. That's why I created this copycat, dairy-free recipe. I wanted to replicate them.
Can you freeze fudge stripe cookies?
You certainly can. Store in the freezer for up to 2 months. Place them in a container and separate them with parchment paper.
What is the difference between shortbread and sugar cookies?
They both have different ratios of ingredients, despite those ingredients being very similar. Sugar cookies tend to be firmer and lighter than shortbread, whereas shortbread is often quite crumbly.
How can I store homemade fudge stripes?
Store these cookies at room temperature in an airtight container for 4 days or store in the refrigerator for 10 days (also in an airtight container).
More Vegan Cookie Recipes
If you tried this Vegan Fudge Stripe Shortbread Cookies Recipe or any other recipe on my website, please leave a 🌟 star rating and let me know how you go in the 📝 comments below. I love hearing from you!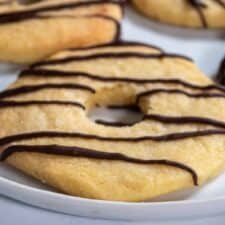 Easy Vegan Fudge Stripe Shortbread Cookies
I think you will love these copycat vegan fudge stripe cookies which are so much like the real thing. They're soft, buttery and so tasty.
Print
Pin
Rate
Ingredients
Shortbread Cookies:
300

g

all-purpose flour

sifted

80

g

caster sugar

250

g

vegan butter block

softened

1

teaspoon

vanilla extract

Pinch

of salt
Chocolate 'Fudge' Topping:
200

g

dairy free dark chocolate

chopped

0.5

teaspoon

vegan butter
Instructions
Preparation:
Preheat your oven to 160 Celsius.

Line two medium baking trays with parchment paper. Set aside. 
Making the shortbread dough:
In a large bowl, sift in your flour and sugar. Mix them together.

Next, add in the softened vegan butter, vanilla and salt.

Using your hands, combine the shortbread dough mixture until it resembles breadcrumbs.

Squeeze the 'crumbs' together until a smooth shortbread dough ball forms. Be patient at this stage the dough will eventually come together even though it is a little crumbly. 

Lightly dust a clean surface and your dough ball with a sprinkle of flour.

Use a rolling pin to roll out the dough so that it is roughly 1cm thick.

Cut out your cookies. Use an 8cm diameter, round cookie cutter. Then use a small 2.5cm cookie cutter to cut out a hole in the middle of each shortbread cookie. Don't waste any left-over dough. Keep re-rolling until you have used it all.

Place your shortbread cookies 1cm apart on your lined baking tray. Add an extra sprinkle of caster sugar on top of them.
Bake the shortbread cookies:
Bake the shortbread cookies in the center of your preheated oven for 13 minutes. The edges should become golden brown.

Take the cookies out of the oven and allow them to cool fully.
Make the 'chocolate fudge topping':
Melt one third of the chocolate using your preferred method until smooth. I like to use the double-boiling method, placing my chocolate in a metal mixing bowl over a steaming pan, stirring constantly. This way the chocolate won't burn.

Mix the vegan butter into the chocolate. Take the chocolate off the heat.

Add the melted chocolate to a piping bag. Snip the tip off the piping bag and drizzle stripes onto the top side of the cookies.

Place in the refrigerator for 20 minutes.

Melt the remaining (two thirds) of the chocolate.

Now that the shortbread has firmed in the fridge, carefully dip the bottom of each shortbread cookie into the warm melted chocolate, then place them back onto the lined baking tray face down (chocolate facing upwards).

Refrigerate them for 20 minutes again so that the chocolate can fully set.
Video
Notes
Take your time when moulding the shortbread crumbs together. Even though it may seem dry at first, the shortbread cookie dough will eventually come together. The vegan butter alternative contains more than enough moisture.
Shortbread bakes very quickly so keep an eye on the time. If they come out a little soft, don't worry. They'll set at room temperature. You can then place them into the fridge once they've cooled if you prefer them to be more on the firm side.
Nutrition
Calories:
368
kcal
|
Carbohydrates:
34
g
|
Protein:
4
g
|
Fat:
24
g
|
Saturated Fat:
8
g
|
Polyunsaturated Fat:
5
g
|
Monounsaturated Fat:
10
g
|
Trans Fat:
0.01
g
|
Cholesterol:
1
mg
|
Sodium:
202
mg
|
Potassium:
155
mg
|
Fiber:
2
g
|
Sugar:
11
g
|
Vitamin A:
760
IU
|
Vitamin C:
0.04
mg
|
Calcium:
22
mg
|
Iron:
3
mg