Who wants a big slice of my vegan chocolate peanut butter cake?!
I will never claim to be peanut butter's biggest fan but when it's combined with the sweetness of powdered sugar, it really does neutralise the taste.
If you love peanut butter in all of its forms then don't worry. You clearly love peanut butter desserts no matter what.
However, if you would prefer that nuttiness to be a little bit less nutty, check out this chocolate peanut butter cake.
If you just can't stop baking at the moment, I recommend that you also try my vegan banana chocolate chip muffins! They're so fluffy!
PREFER TO WATCH INSTEAD?
HOW TO MAKE PEANUT BUTTER CAKE
Below you can take a look at a quick overview of how to make my peanut butter cake. The full method is down on the recipe card. If you're looking for detailed steps, be sure to see it!
STEP ONE
In a large bowl, mix your dry ingredients. Then add in your wet but don't over-mix.
STEP TWO
Pour your cake batter into the two prepared cake pans and bake for 25 minutes or until a skewer comes out clean.
STEP THREE
While the cake halves are cooling, make the peanut butter frosting. In a large bowl, beat all the ingredients other than the powdered sugar and the plant milk. Mix until creamy then gradually add the powdered sugar. When the consistency is like breadcrumbs add the plant milk. Mix again until creamy.
STEP FOUR
If your cake is now cool, spread a thick layer of the peanut buttercream onto the flat side of one of the cakes. Spread some extra buttercream on top, then place the cake into the fridge for 30 minutes so that the filling can thicken a little.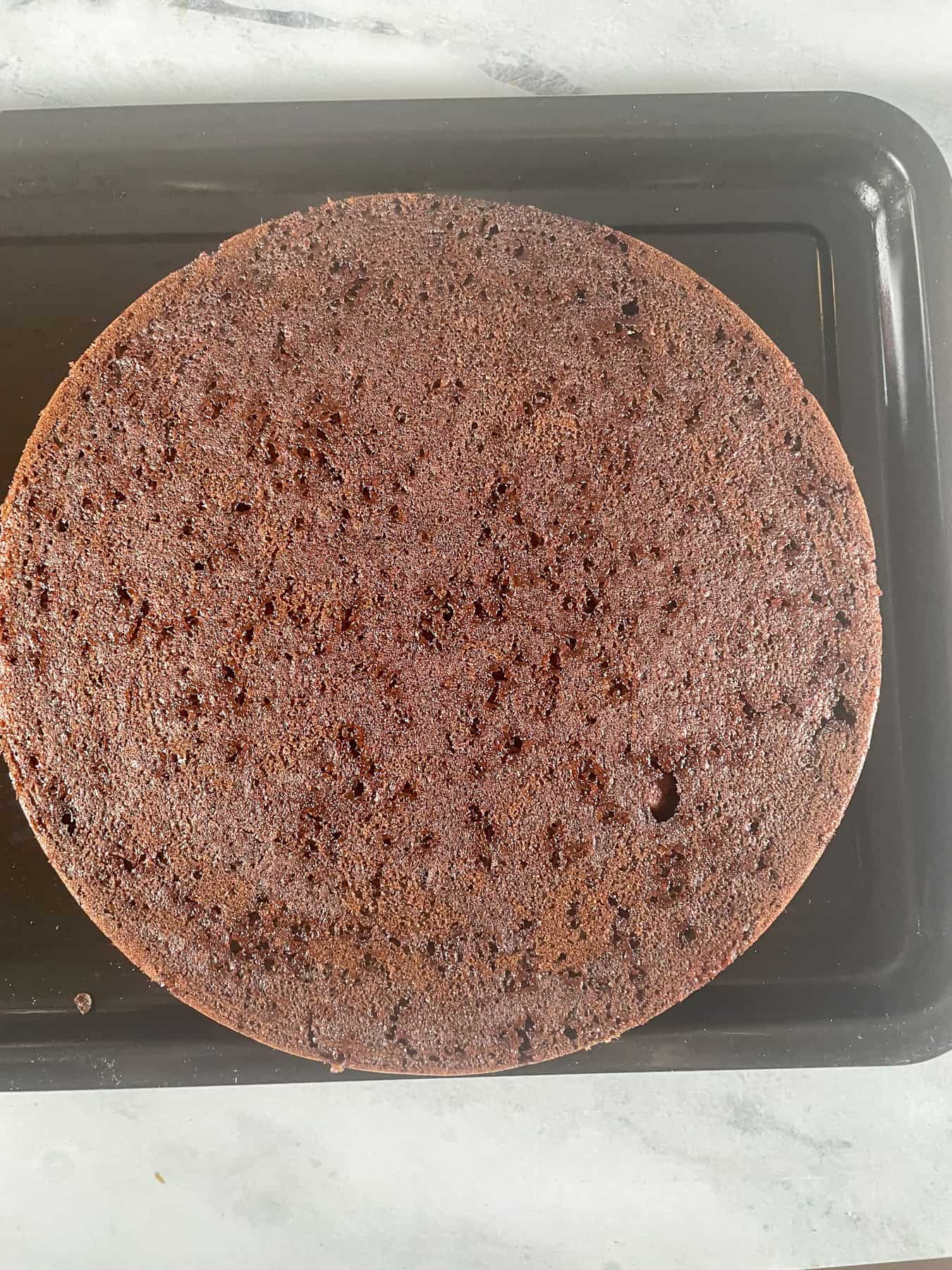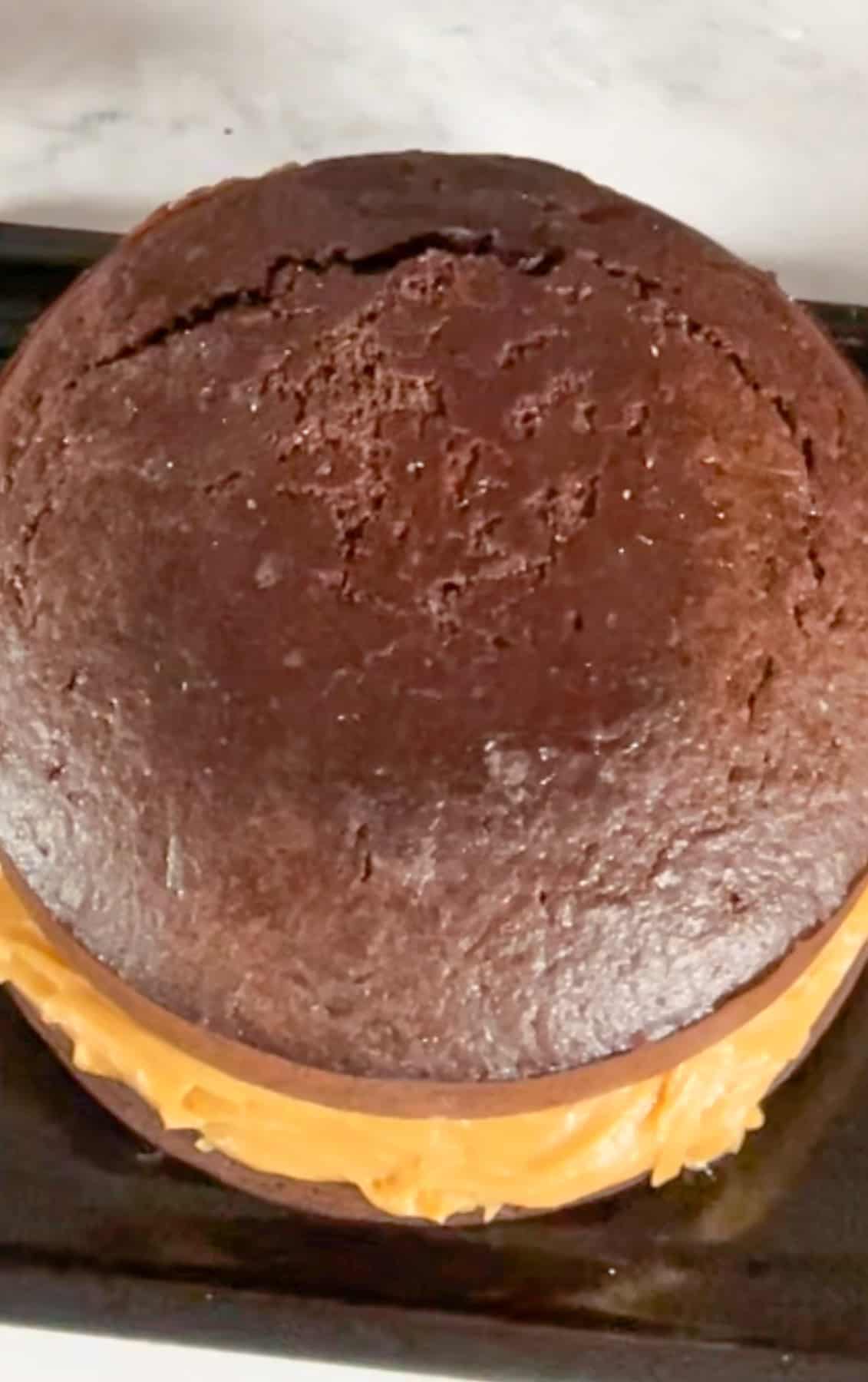 RECIPE TIPS
Grease your cake tin before you pour the batter in as this will make life so much easier for yourself when it's time to take the cake out. After a few taps the cake should come out nicely when the tin is greased.
Don't over-mix your cake batter as this can affect the texture of your cake. Mixing wet ingredients with flour activates the gluten but when you over-mix, this can be detrimental to your cake.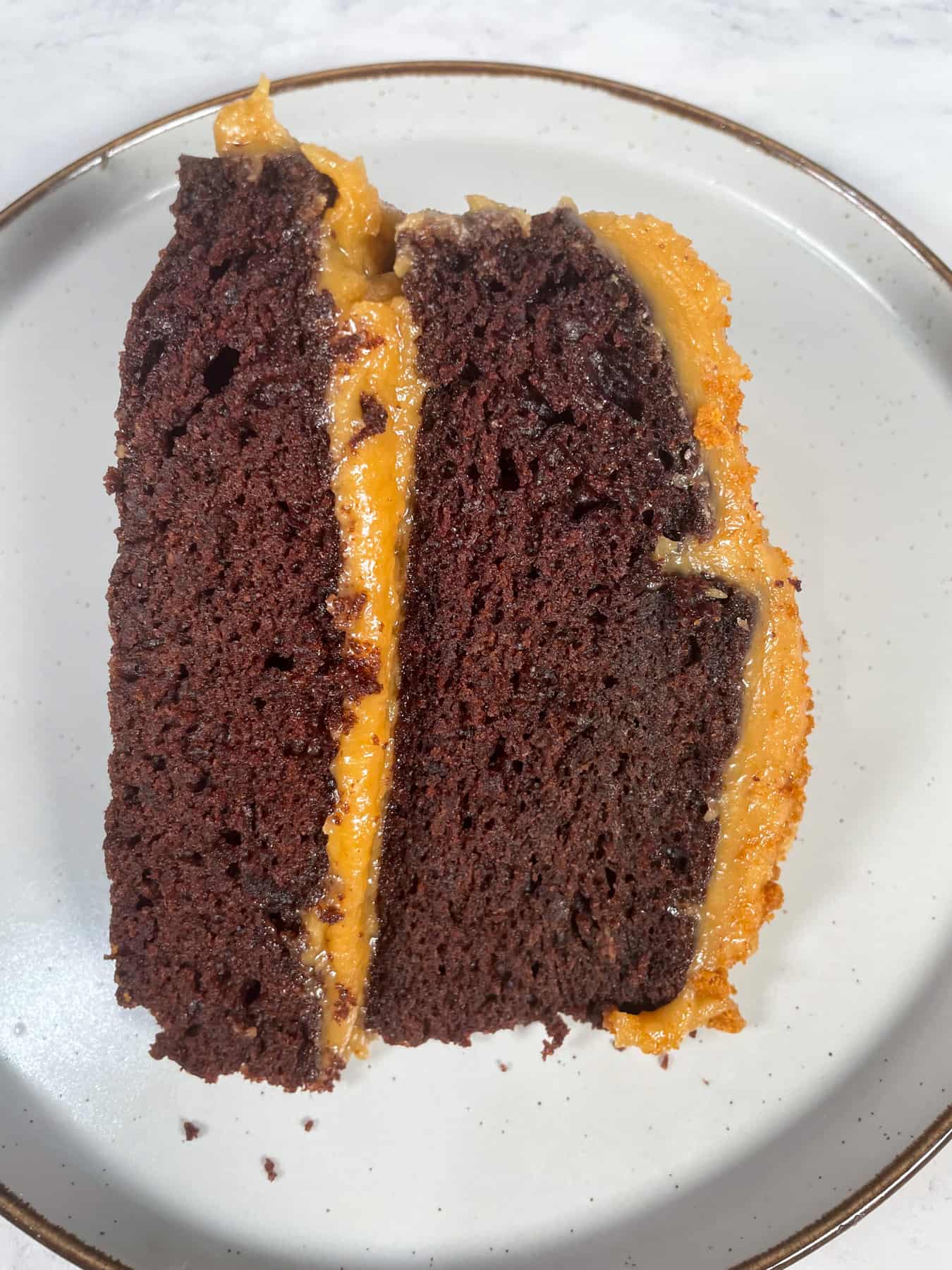 PEANUT BUTTER FROSTING
For the peanut butter frosting I used:
Peanut butter - I love using smooth peanut butter but crunchy always works fine.
Vegan Butter - I usually choose vegan butter blocks but for this peanut butter cake, I used Vitalite margarine which also works exceptionally well in baking.
Vanilla extract - Just a teaspoon.
Salt - Half a teaspoon this time.
Powdered Sugar - I know that 400g sounds like a lot. It honestly creates such a nice consistency after the plant milk has been added in. Neither too thick or too thin.
Plant Milk - This makes the buttercream super creamy.
HOW DO I ASSEMBLE THE CAKE?
After you have removed ones of the cakes from the tins, place it onto a flat surface. Next, you can spread the peanut buttercream onto the flat side of the cake.
Firstly, make sure that the cake has fully cooled down. Otherwise, the filling will begin to melt.
Secondly, don't spread too much of the buttercream onto the cake. This will cause most of it to ooze out when the second cake half is placed on top.
When you have placed the second cake over the buttercream, spread more of the filling on top of the cake. I say the more the merrier! You can also add your topping of choice.
VARIATIONS AND SUBSTITUTIONS
I used vegetable oil for my own peanut butter cake but I have found canola oil to work equally as well. Use it as a 1:1 substitute for vegetable oil if you prefer.
I used soy milk as it never lets me down but many plant milks will work in this recipe. You may prefer almond milk or oat milk. You will still get excellent results.
I haven't tried to make this recipe gluten-free yet but if you have gluten-related dietary restrictions, try substituting the all-purpose flour for gluten free flour 1:1. The texture will be more dense but I know that some people prefer that way.
Try using crunchy peanut butter instead for a crunchier experience.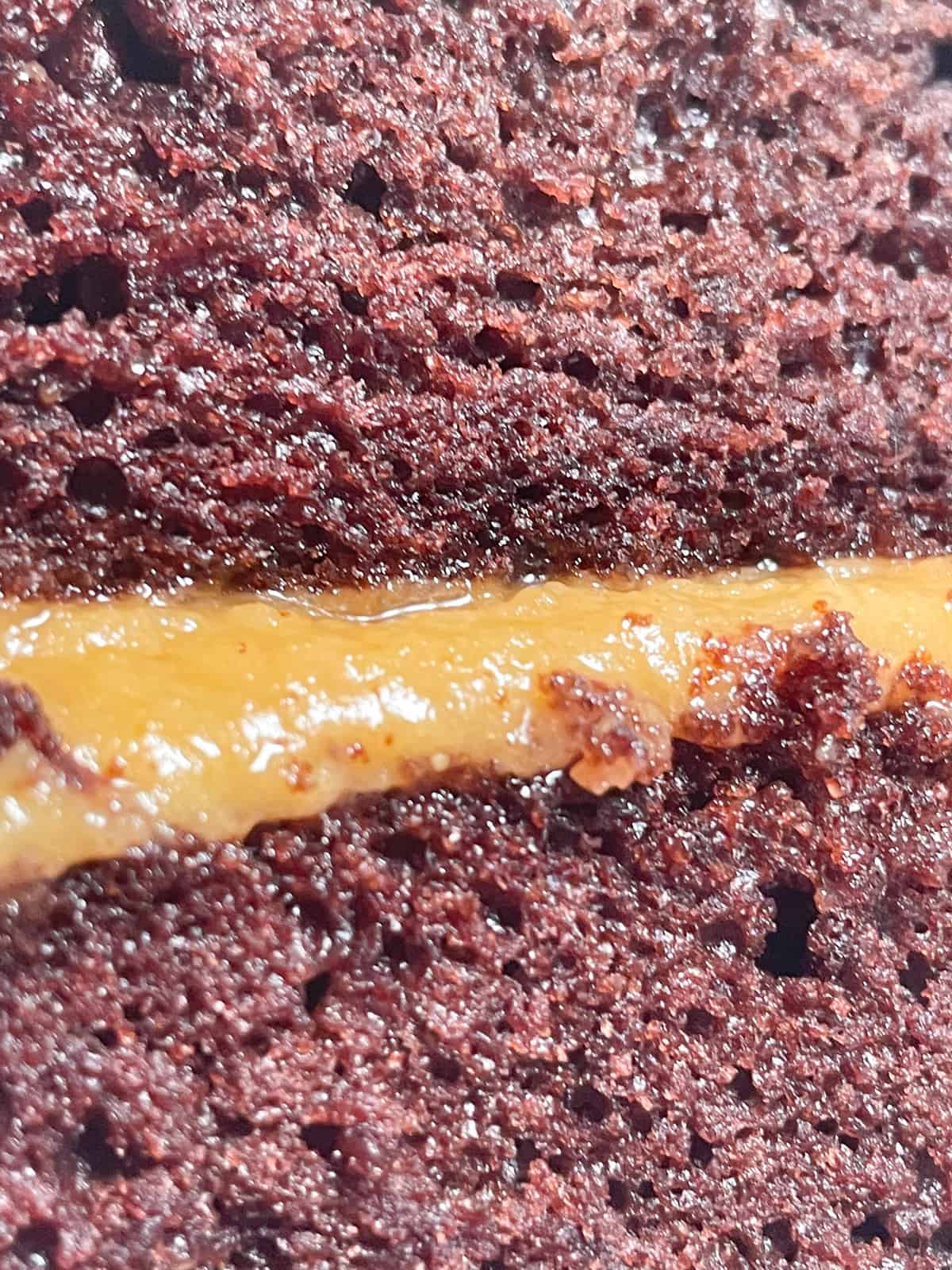 HOW TO STORE PEANUT BUTTER CAKE?
You can store this peanut butter cake in the refrigerator. Simply place a slice inside an airtight container and consume within 10 days. Let the cake sit at room temperature for 20-25 minutes before serving.
Alternatively, you can freeze your cake for up to 4 months. Again make sure each slice is inside an airtight container.
HELPFUL EQUIPMENT FOR THIS RECIPE
2x 7-inch, round cake tins.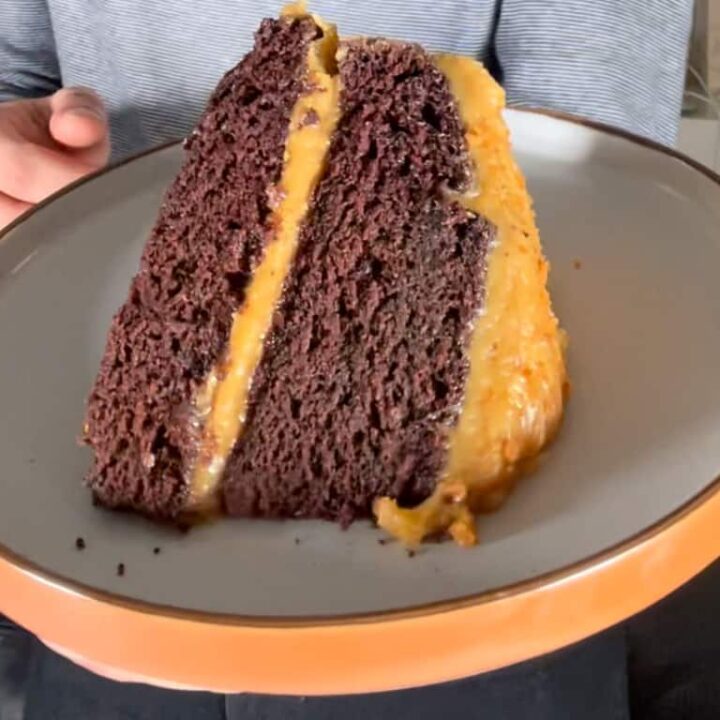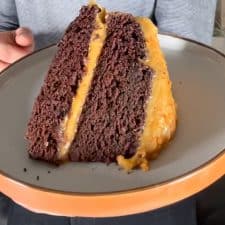 Vegan Chocolate Peanut Butter Cake
This peanut butter chocolate cake is fluffy and delicious. Enjoy!
Print
Pin
Rate
Ingredients
Dry Ingredients:
350

g

all-purpose flour

250

g

brown sugar

60

g

cocoa powder

1.5

teaspoons

salt

2

teaspoons

baking soda
Wet Ingredients:
450

ml

plant milk

2.5

teaspoons

apple cider vinegar

175

ml

vegetable oil
For The Peanut Buttercream Frosting:
300

g

smooth peanut butter

100

g

vegan butter

slightly softened

1

teaspoon

vanilla extract

0.5

teaspoon

salt

400

g

powdered sugar

sifted

100

ml

plant milk
Topping:
Biscoff cookie crumbs

optional
Instructions
Preparation:
Preheat your oven to 180 Celsius.

Grease two round, 7-inch cake tins and set aside.
Making the cakes:
In a large bowl, mix the flour, sugar, cocoa powder, salt and baking soda. 

Now, add in the plant milk, apple cider vinegar and vegetable oil. Mix again but don't over-mix. The flour should be just mixed in enough so that there are no lumps.

Divide the cake batter equally between the two pre-prepared cake tins. If you only have one tin, you can bake the cakes one at a time. 

Bake your chocolate cake halves in the oven for 25 minutes or until a skewer comes out clean. 

Take your cake halves out of the oven and let them cool fully. In the meantime, let's make the frosting!
Making the peanut buttercream frosting:
In a large bowl, beat together the smooth peanut butter, vegan butter, vanilla and salt until it's nice and creamy. 

Gradually, add in the powdered sugar and mix again until it's completely incorporated. The texture should be like breadcrumbs. 

Finally, pour in the plant milk. Mix for a further few minutes, until the buttercream is creamy and all of the lumps are gone. 
Layering the cake:
If the cake has now cooled, spread some of your peanut butter filling onto the flat side of one of the chocolate cakes. It's your choice as to how much you want in the middle but save some for the top!

Place your other cake half on top of the filling then, carefully assemble some more of the peanut buttercream on top of the cake. 

I topped my peanut buttercream with Biscoff cookie crumbs but this is optional

Place your cake in the fridge for 30 minutes so that the filling can thicken a little, then slice and serve. 
Notes
Store in the fridge for up to 10 days. Store in the freezer for up to 4 months.
MORE VEGAN CAKE RECIPES