A Classic Heart-Warming Fruity Dessert
This vegan blueberry cobbler recipe is one of the more comforting recipes on my blog in the sense that it is the type of recipe that I would want as a supper just before bed with either some vegan vanilla ice cream or warm custard.
The warm of the biscuit batter and the blueberries really puts me in a good place.
If you love a warm pudding, make sure you check out my vegan pudding cake too which is another favourite of mine.
Prefer To Watch Instead?
Ingredients For This Recipe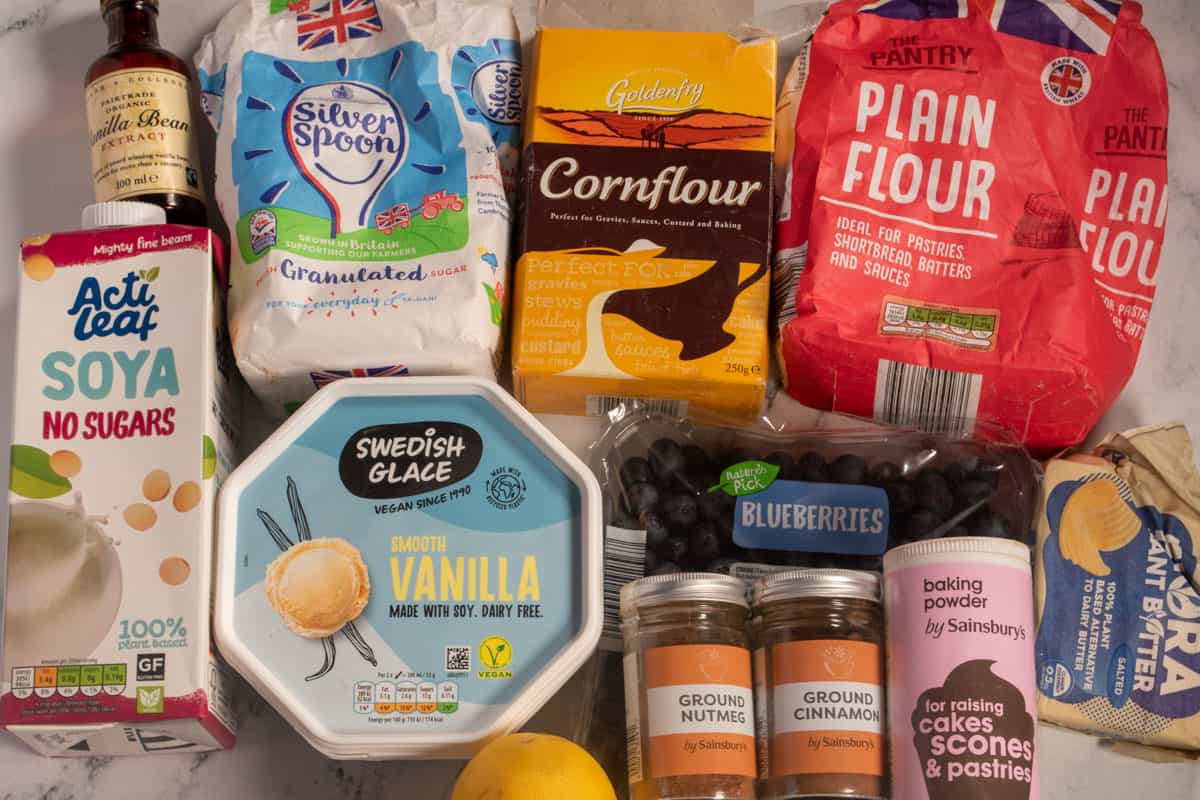 Blueberries
Granulated sugar
Lemon zest
Freshly squeezed lemon juice
Cornstarch
All-purpose flour - the main ingredient for the biscuit batter.
Baking powder
Salt
Ground nutmeg
Ground cinnamon
Vegan butter block - soften and add to batter mixture.
Vanilla extract
Soy milk
Vegan vanilla ice cream - to be served with the vegan blueberry cobbler.
How To Make A Vegan Blueberry Cobbler
Step-By-Step Instructions
For the full method and ingredient amounts, please refer to the recipe card at the bottom of this post.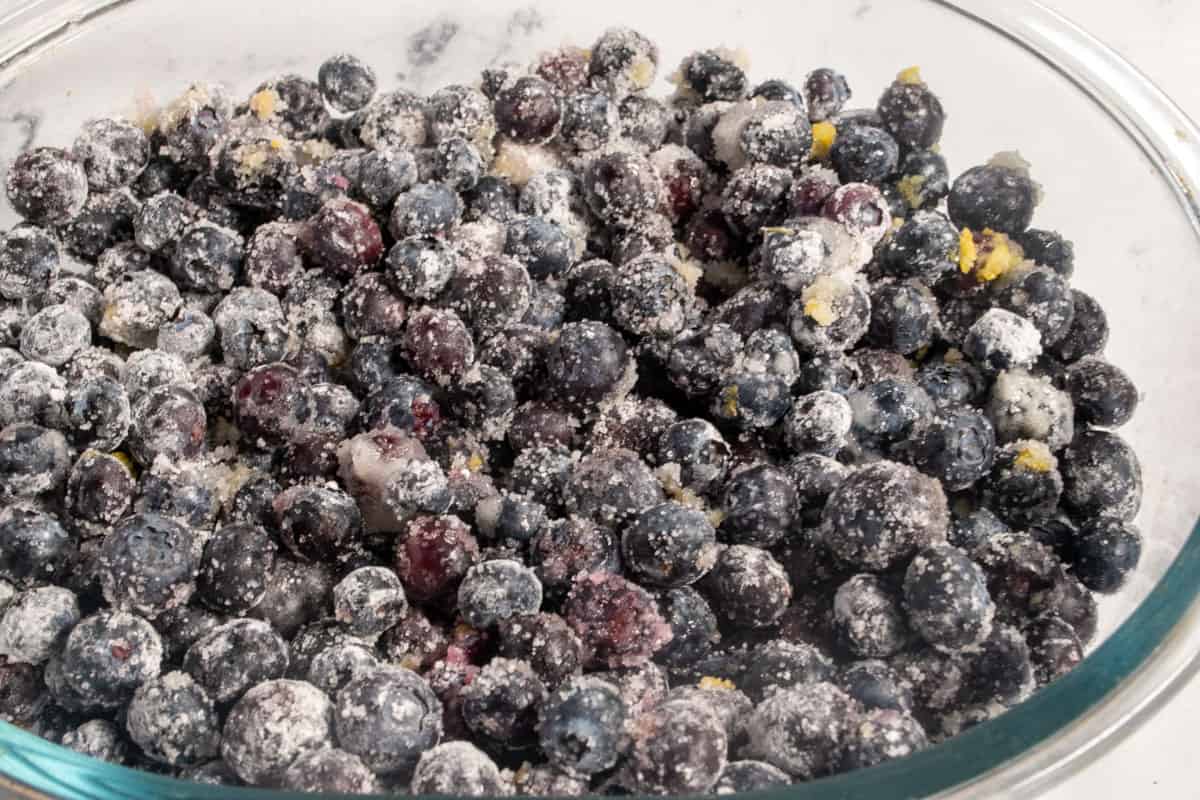 1: Mix together the blueberry filling ingredients then pour them into an ovenproof dish.
2: Combine the biscuit batter topping ingredients inside a large bowl.
3: Mould the topping into large flat pieces with your hands.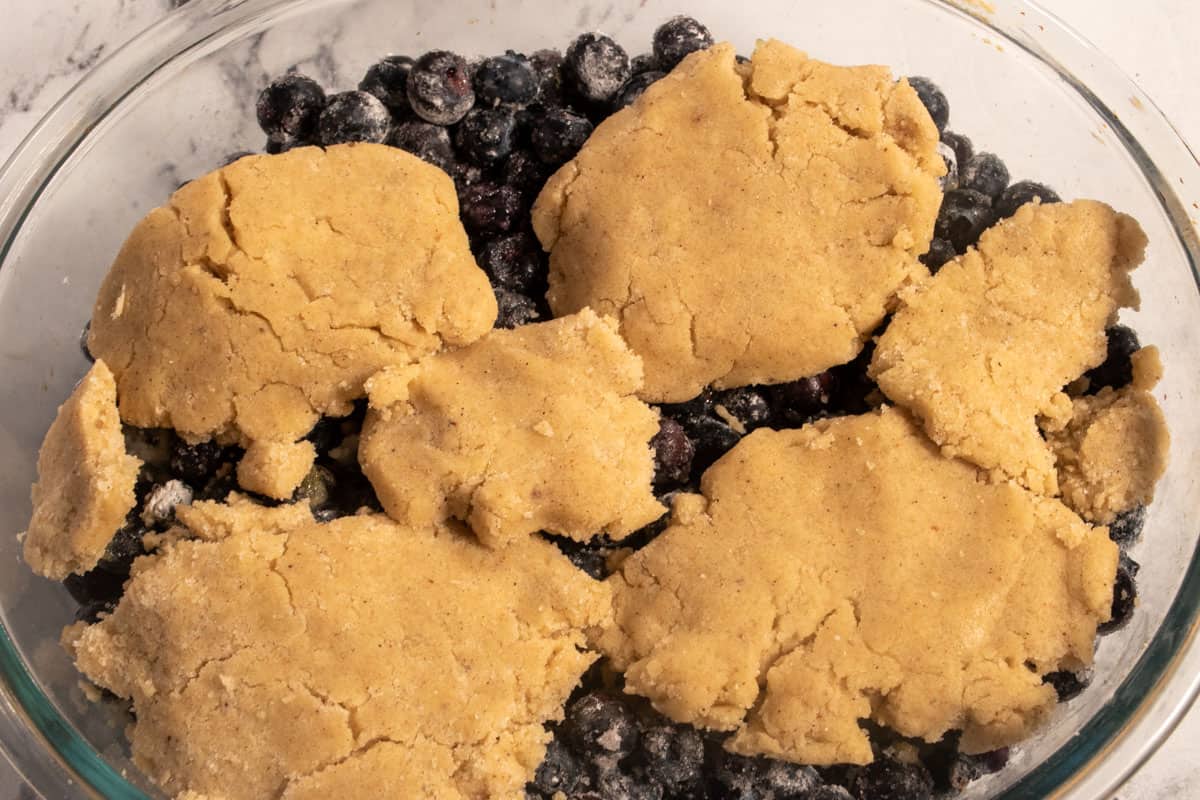 4: Add the topping to the blueberries.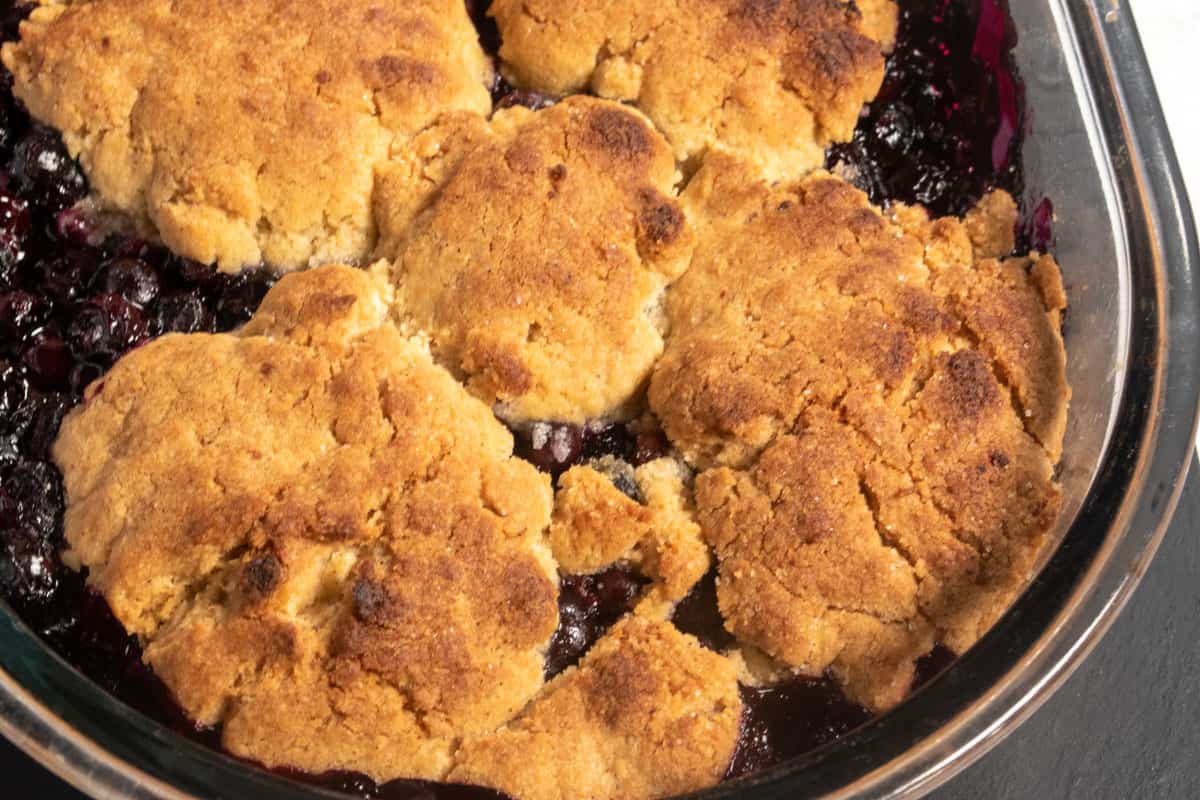 5: Bake the cobbler until the topping is golden brown on top.
Why You Will Love This Dessert
It is so easy to make.
This recipe is so comforting.
The cobbler is very adaptable.
Ingredients are easy to buy.
The recipe is fully vegan and dairy-free.
Tips For Making Blueberry Cobblers
Use Fresh Or Frozen Fruit
Although I used fresh blueberries this recipe, frozen can be a great option too. In fact, as the berries will be thawing as the cobbler cooks, this will make them even juicier!
Serve The Cobbler Warm
This dessert tastes far better when it is warm than it does when it is cold. I am almost certain that you will enjoy it far more when it is warm.
What Is A Cobbler?
A cobbler is a dessert which consists of a fruit filling which is poured into a baking dish and topped with biscuit or batter which happen to look a little bit like cobble stones.
The dessert is then baked until golden brown on top.
How To Assemble This Treat
Once you have combined the blueberry mixture, pour it into an oven-suitable dish (I use a pyrex one) then make the biscuit topping.
I cover most of the blueberries with the biscuit topping but it doesn't matter if it doesn't cover them completely.
Serving The Blueberry Cobbler
Let the cobbler cool for a short while when it comes out from the oven but make sure that you serve this pudding while it is nice and warm.
I recommend serving this blueberry cobbler with vegan vanilla ice cream as the coldness compliments the warm temperature of the treat nicely.
I also like to serve it with vegan custard sometimes which also tastes great.
Customisations & Substitutions
Use a different type of fruit. Not everyone likes blueberries so why not use a different type of berry instead 1:1? You can even mix multiple types of berries up if you can't decide what you want!
Frequently Asked Questions
Can I use frozen blueberries?
You can! If you prefer the blueberries to be even juicier this could be the option for you.
Can I use other types of berries?
Yes! This recipe also tastes great with berries such as blackberries, raspberries and even strawberries.
Why is my blueberry filling runny?
This is usually because not enough cornstarch has been added to the initial blueberry mixture.
How To Store Leftover Blueberry Cobbler
Make sure that you store this cobbler inside an airtight container, then place it into the fridge for up to 5 days. Reheat the cobbler at 150 Celsius so that the topping doesn't burn.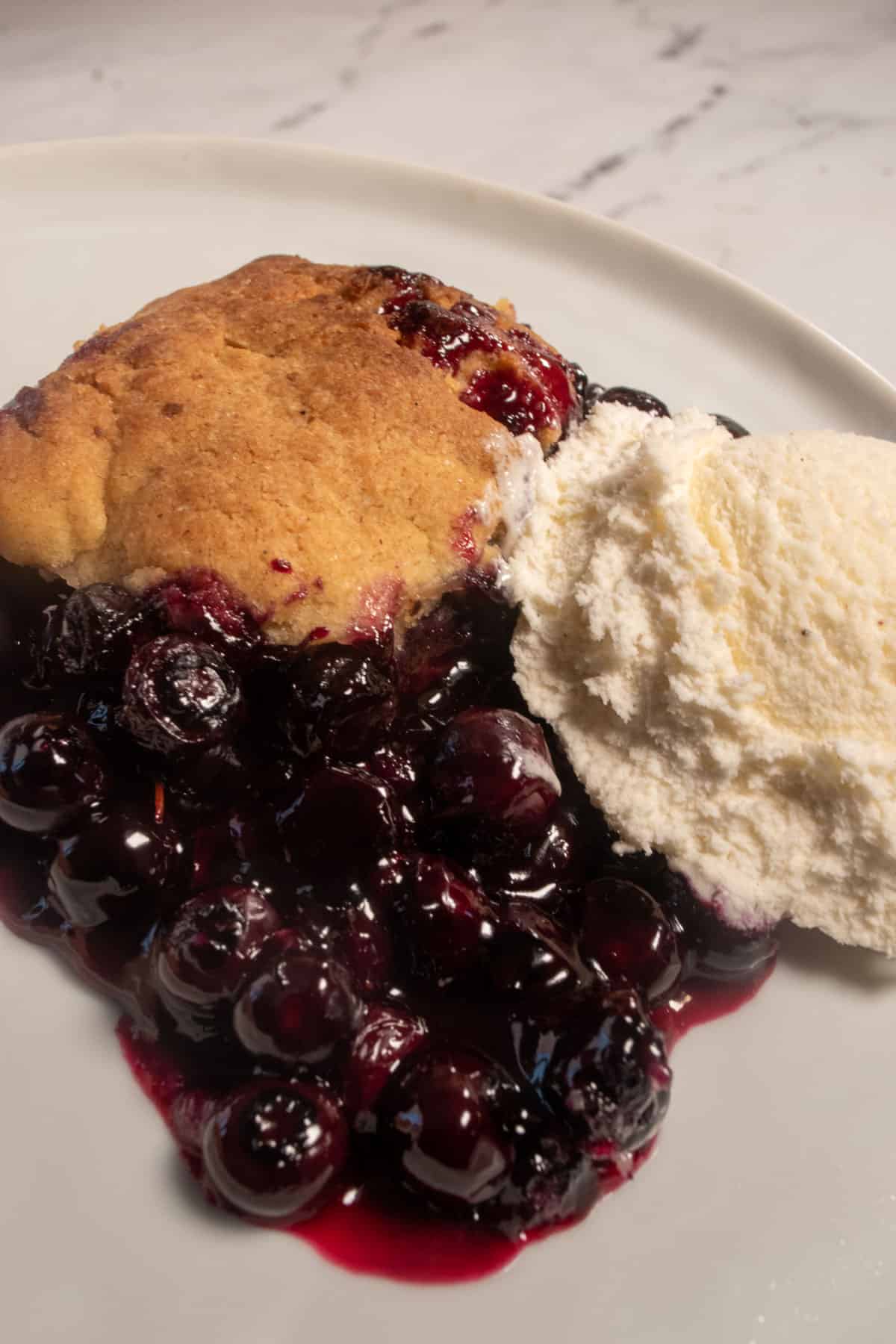 More Wholesome Recipes
Print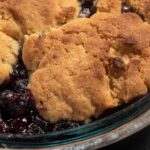 Crumbly Vegan Blueberry Cobbler
---
Description
This vegan blueberry cobbler recipe is so easy and comforting. You can't beat a homemade pudding and this treat ticks that box.
---
For the blueberry mixture: 
500

g

fresh or frozen blueberries

60

g

granulated sugar

1 teaspoon

lemon zest

1 teaspoon

freshly squeezed lemon juice

1 Tablespoon

cornstarch
For the cobbler batter:
100

g

granulated sugar

130

g

all-purpose flour

1 teaspoon

baking powder

0.25 teaspoon

salt

0.25 teaspoon

ground nutmeg

0.25 teaspoon

ground cinnamon

60

g

vegan butter block (softened)

1 teaspoon

vanilla extract

1 Tablespoon

soy milk
For serving:
---
Instructions
Preparation:
Preheat your oven to 177 Celsius (350F).
Make the blueberry mixture:
In a large bowl, mix the blueberries, granulated sugar, lemon zest, lemon juice and cornstarch. Make sure the blueberries are fully coated.
Pour the blueberry mixture into an 8x8 inch ovenproof dish.
Make the biscuit topping:
In the large bowl, combine the sugar, flour, baking powder, salt, nutmeg and cinnamon.
Separately, mix the softened vegan butter, vanilla and soy milk. Pour it into the dry ingredients bowl and fold to make a thick biscuit batter.
Use your hands to mould large, flat pieces of biscuit batter (see process shots) and place them over the blueberries inside the ovenproof dish. It doesn't need to look absolutely perfect as long as most of the berries are covered.
Bake the cobbler:
Bake your blueberry cobbler in the preheated oven for 30 minutes. The topping should be golden brown.
The blueberries will be hot and bubbly at this point so let it cool for 15 minutes or so. The blueberries will also thicken a little during the cooling process.
Serve the cobbler with vegan vanilla ice cream and enjoy.
Prep Time:

15 minutes

Cook Time:

30 minutes

Category:

Bakes

Method:

Baking

Cuisine:

Blueberry Cobbler
Nutrition
Serving Size:

1 Piece

Calories:

279

Sugar:

35.2 g

Sodium:

180.5 mg

Fat:

4.6 g

Carbohydrates:

57.9 g

Protein:

3.1 g

Cholesterol:

0 mg
Keywords: cobbler recipe, vegan cobbler, blueberry cobbler, berry cobbler, vegan baking, vegan pudding