Fluffy Sweet Loaf Cakes
I'm so happy with how this vegan black forest cake turned out. It is covered with creamy buttercream and a sweet cherry compote and it is honestly so delicious!
For more festive vegan cake inspiration check out my vegan gingerbread cake too.
Prefer To Watch Instead?
Ingredients For This Recipe
Soy milk
Apple cider vinegar
All-purpose flour
Cocoa powder
Brown sugar
Baking powder
Baking soda
Salt
Canola oil - this is the same as rapeseed oil
Vanilla extract
Maple syrup - gives it that extra bit of sweetness
Fresh cherries - make sure that they're pitted
Cornstarch
Water
Vegan butter block
Powdered sugar
Vegan chocolate bar - for grating on top of the cake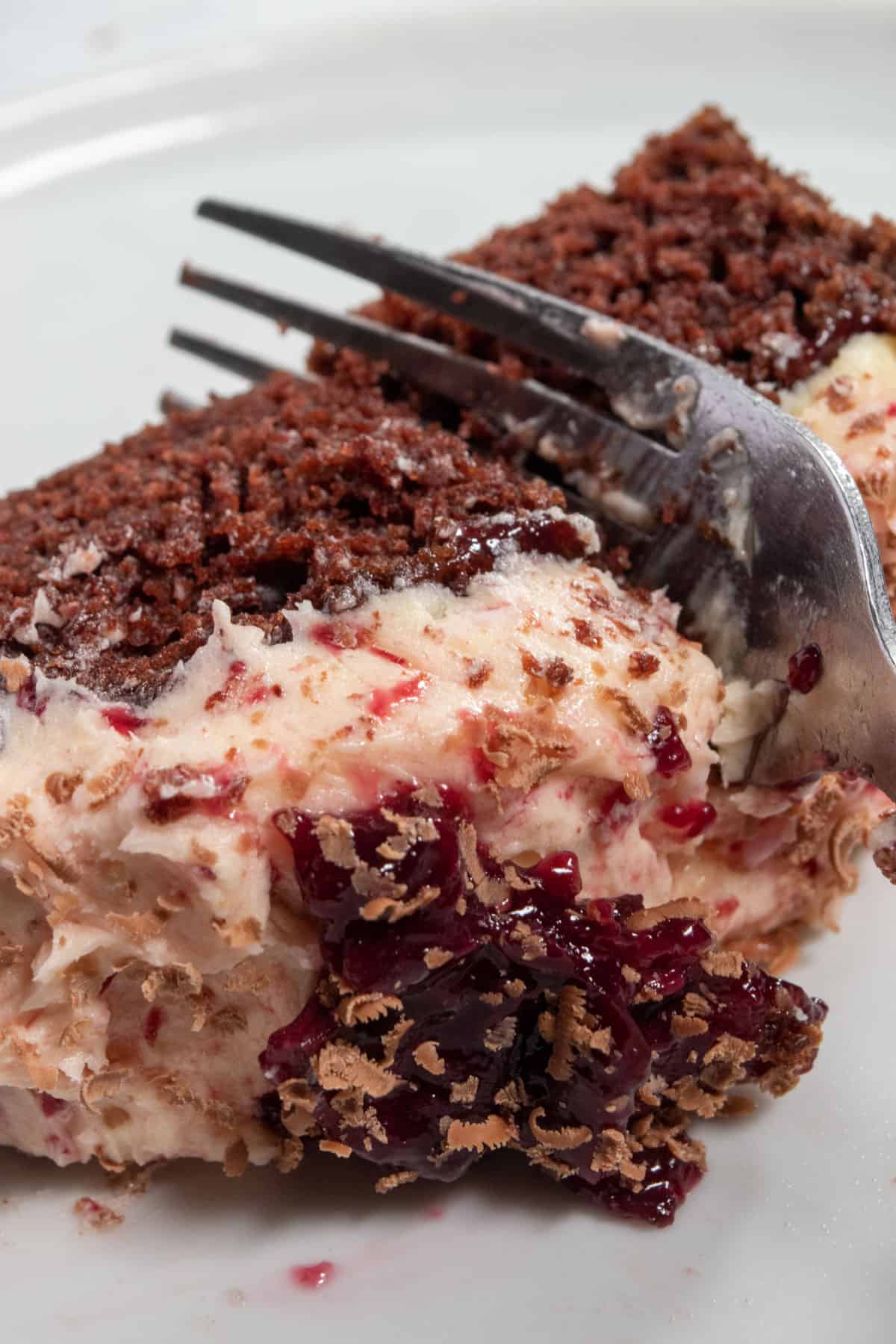 How To Make Vegan Black Forest Cake
Step By Step Instructions
For the full method and ingredient amounts, please refer to the recipe card at the bottom of this post.
Step One
Grease two loaf cake tins with vegan butter. Set aside.
Step Two
Make the vegan buttermilk.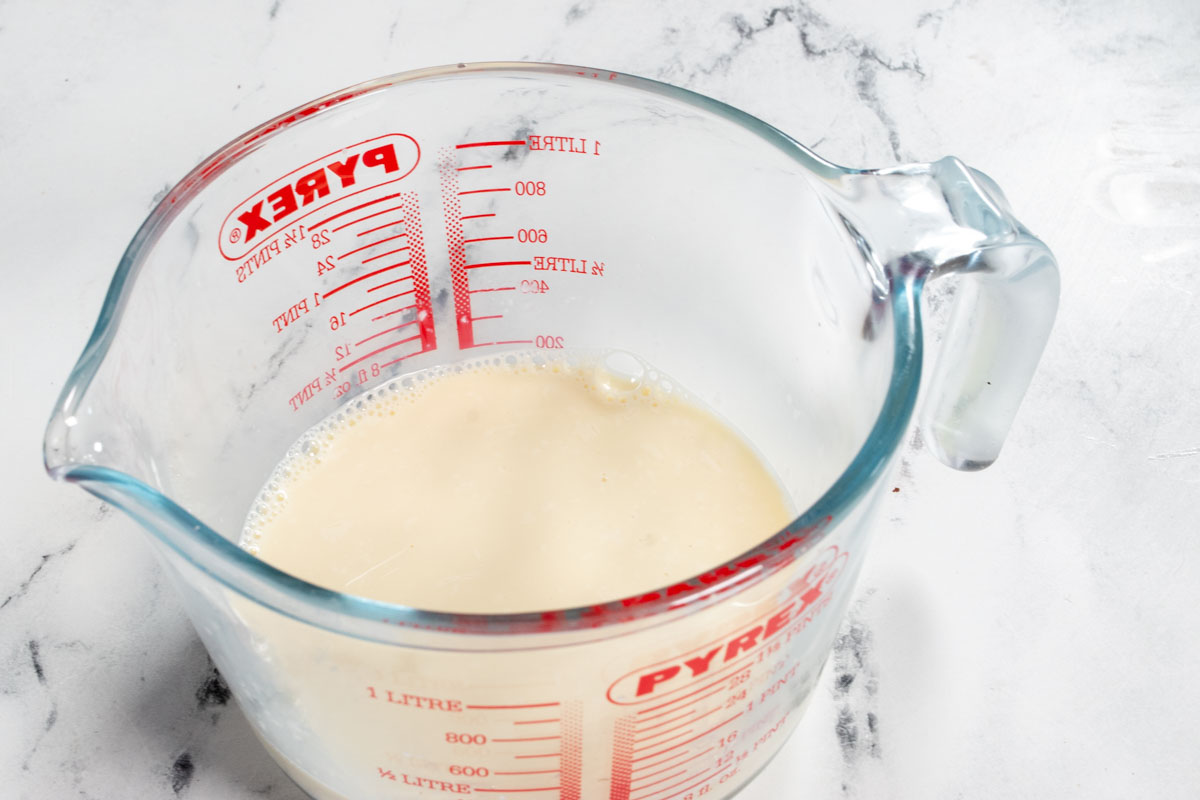 Step Three
Combine the dry ingredients in a large bowl.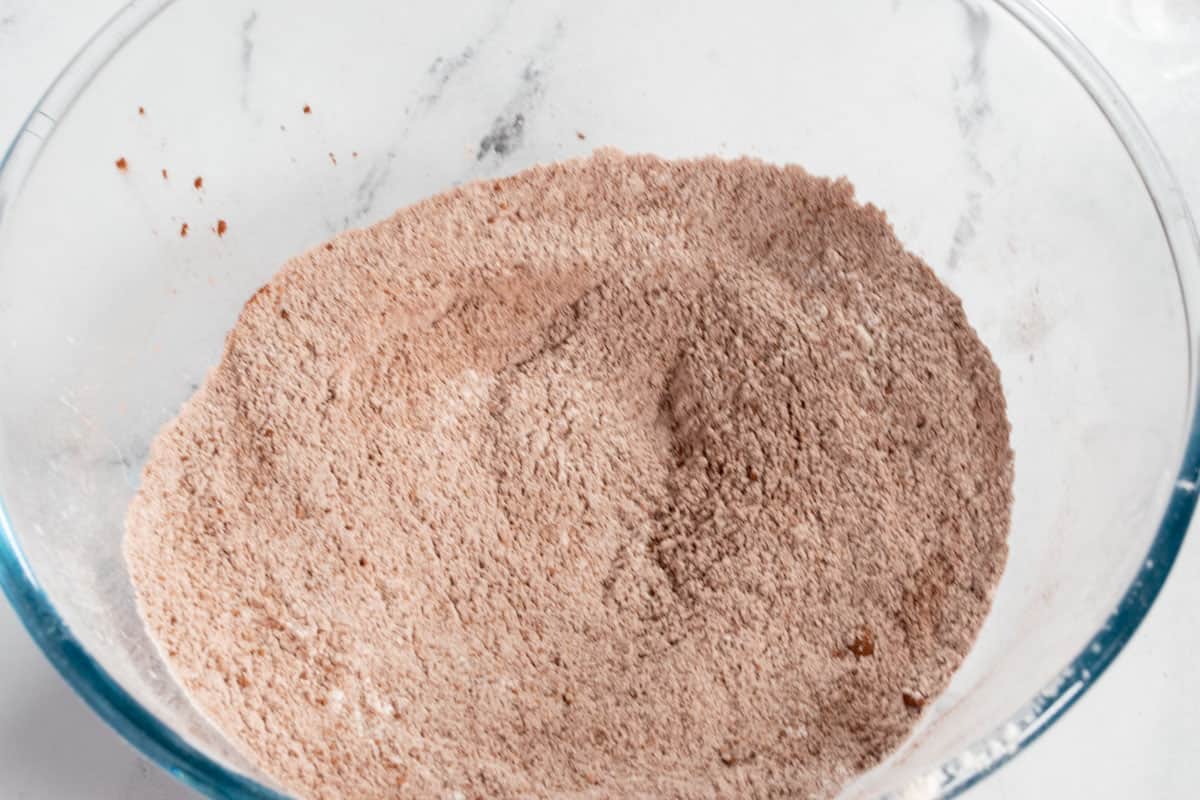 Step Four
Pour into your wet ingredients.
Step Five
Fold the dry ingredients into the wet ingredients.
Step Six
Pour the cake batter into the two loaf cake tins. Bake.
Step Seven
Let the cakes cool.
Step Eight
Add the compote ingredients to a heatproof pan. Bring to a boil.
Step Nine
Simmer the cherry compote until it thickens.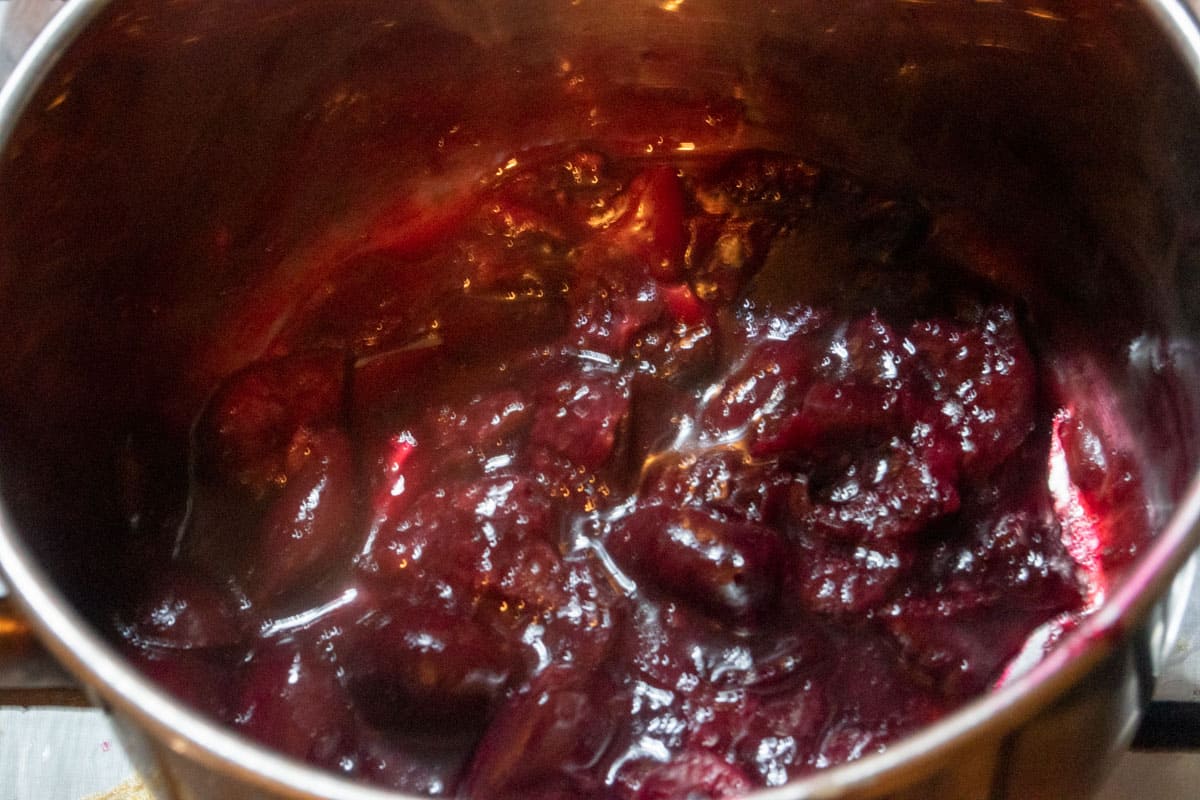 Step Ten
Make the buttercream.
Step Eleven
Spread some compote onto the chocolate cake.
Step Twelve
Spread some buttercream on top of the cherry compote then add a little extra compote on top.
Tips For Making Black Forest Cake
Avoid using frozen cherries
Room temperature fresh cherries are what you need. Icy frozen cherries will affect the texture of your black forest cake negatively and the cake will be too wet.
Let your cakes cool before adding buttercream
If you add buttercream to the cake while it is still warm, it will melt and become difficult to spread. This would be the same if you use vegan whipped cream too.
Customise This Recipe
Use vegan whipped cream. If you have vegan whipped cream in a store near you, feel free to use that instead of making the buttercream. Many black forest gateaus have whipped cream.
Frequently Asked Questions
Why is my vegan chocolate cake gummy?
Don't over mix the cake batter. This makes the cake dense. Too much flour may have also been added.
How To Store My Vegan Black Forest Cake
Store in an airtight container at room temperature for up to 3 days or in the fridge for 4 days.
More Chocolate Cake Recipes
Soft Vegan Black Forest Cake
This easy vegan black forest cake is creamy, sweet and chocolatey. Spread on the buttercream and the cherry compote then serve. 
Print
Pin
Rate
Ingredients
Chocolate cake:
200

ml

soy milk

1

teaspoon

apple cider vinegar

175

g

all-purpose flour

sifted

25

g

cocoa powder

150

g

brown sugar

2

teaspoons

baking powder

0.5

teaspoon

baking soda

1

teaspoon

salt

50

ml

canola oil

rapeseed

1

teaspoon

vanilla extract

1

teaspoon

maple syrup
 Cherry compote:
140

g

fresh cherries

pitted

0.5

Tablespoon

cornstarch

1

teaspoon

maple syrup

40

ml

water
Buttercream layer:
225

g

vegan butter block*

see notes

240

g

powdered sugar*

see notes

0.25

teaspoon

vanilla extract
Toppings:
20

g

vegan chocolate

grated

Fresh cherries

to taste (optional)
Instructions
Preparation:
Preheat the oven to 177 Celsius (350F).

Grease two 20cm x 10cm loaf cake tins with cold vegan butter then set aside. 
Make the cake:
Make the vegan buttermilk. Mix together the soy milk and the vinegar. Set aside for 7-8 minutes so that it can curdle. Measure out the other ingredients in the meantime.

To a large mixing bowl, add the all-purpose flour, cocoa powder, brown sugar, baking powder, baking soda, salt. Mix to combine. 

Next, pour in the buttermilk, the oil, vanilla extract and maple syrup. Carefully, fold your cake batter until there are no pockets of flour left.

Equally, pour the cake batter into the two prepared cake tins. Bake in the centre of the oven for 20 minutes. A skewer will come out completely clean when they are ready.

Let the cakes cool in their tins for 15 minutes, then remove the cakes from the tins. Transfer them to a cooling rack to so that they can cool down completely.
Make the cherry compote:
While the cake is baking, make the cherry compote.

To a small saucepan, add all the compote ingredients. Mix until combined.

Place over a medium-high heat and bring to a boil. When the mixture begins to boil, reduce the heat to a simmer and cover for 10-12 minutes or until the compote thickens.

Remove from the heat and let the compote cool down. Set aside.
Make the buttercream:
To a stand mixer or a large bowl, add the vegan butter block and cream with the paddle attachment for 2 minutes.

Add half of the powdered sugar then beat again until it is combined and has started to thicken. Then add the rest of the powdered sugar and beat again. It should be nice and thick at this point.

Finally, pour in the vanilla extract. Mix one more time.
Assemble the cake:
Carefully use a pastry brush or the back of a spoon to brush a thin layer of the compote onto the top side of each cake. It should soak in.

Spread the buttercream on top of the compote layers on the two cakes. Smooth it out. Drizzle the rest of the compote over the buttercream.

Sprinkle grated chocolate on top and add extra fresh cherries if you wish.
Notes
Not all powdered sugar is vegan so be sure to check.
Use a block of vegan butter instead of vegan butter spread. The consistency is better and creates thicker buttercream. I use the vegan Flora block.