Sweet Simple Toffee Treats
This vegan dalgona candy recipe is another instalment in my Instagram series 'vegan treats from around the world' and although they only contain 2 ingredients, they taste absolutely amazing.
Popularised by the Netflix series 'Squid Game' these dalgonas, or Ppopgi in Korean, taste like vegan honeycomb toffee and make a great comfort treat.
You might also love my vegan chocolate orange macadamia nut clusters which only contain a few ingredients.
Prefer To Watch Instead?
Important Ingredients Overview & Notes
Granulated sugar - you can also use brown sugar if you prefer for this recipe. Totally your choice.
Baking soda - This creates a chemical reaction when mixed into the sugar. When it sets it becomes 'toffee' like.
How To Make Dalgona Candy
STEP-BY-STEP INSTRUCTIONS
For the full method and ingredient amounts, please refer to the recipe card at the bottom of this post.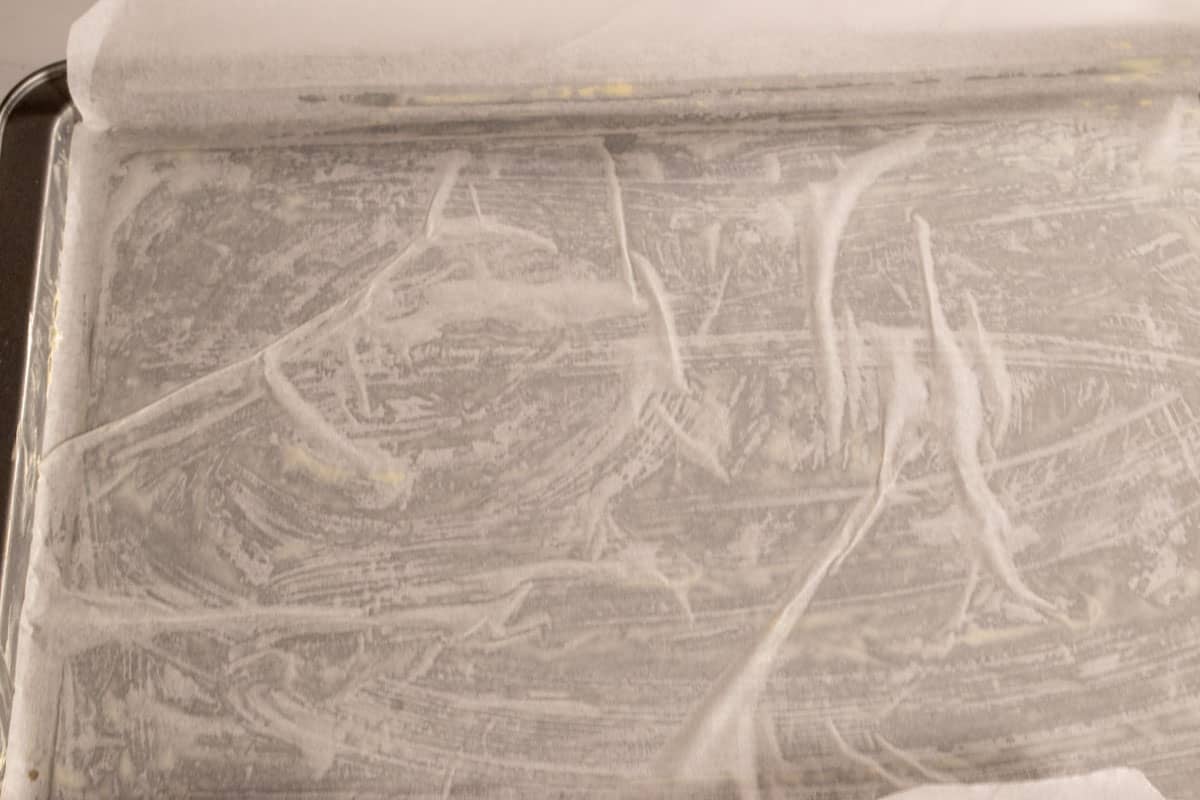 1: Line a large baking tray with parchment paper.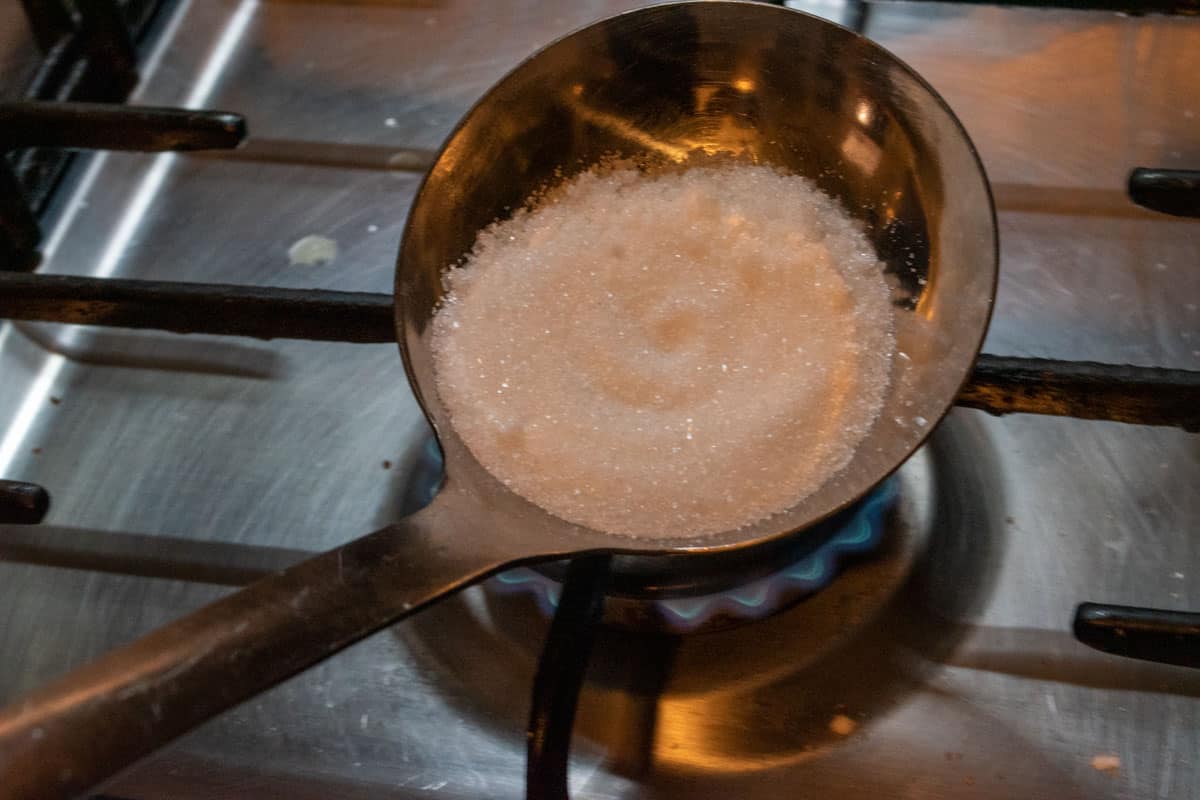 2: Add some sugar to a ladle. Place over the heat.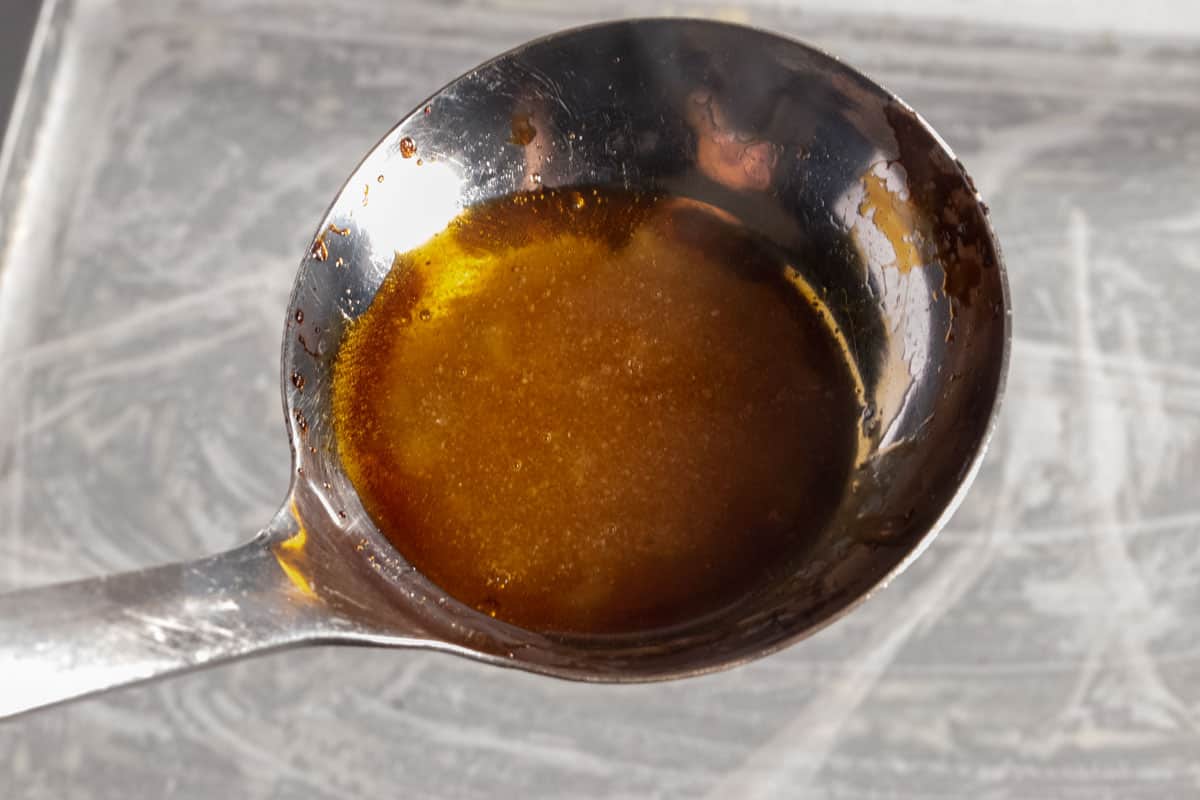 3: Melt the sugar.
4: Add some baking soda to create a frothy mixture.
5: Pour the mixture onto the lined baking tray.
6: Press a lollipop stick into the toffee before it sets.
7: As soon as you press the lollipop stick into the toffee, flatten it with a hotteok press.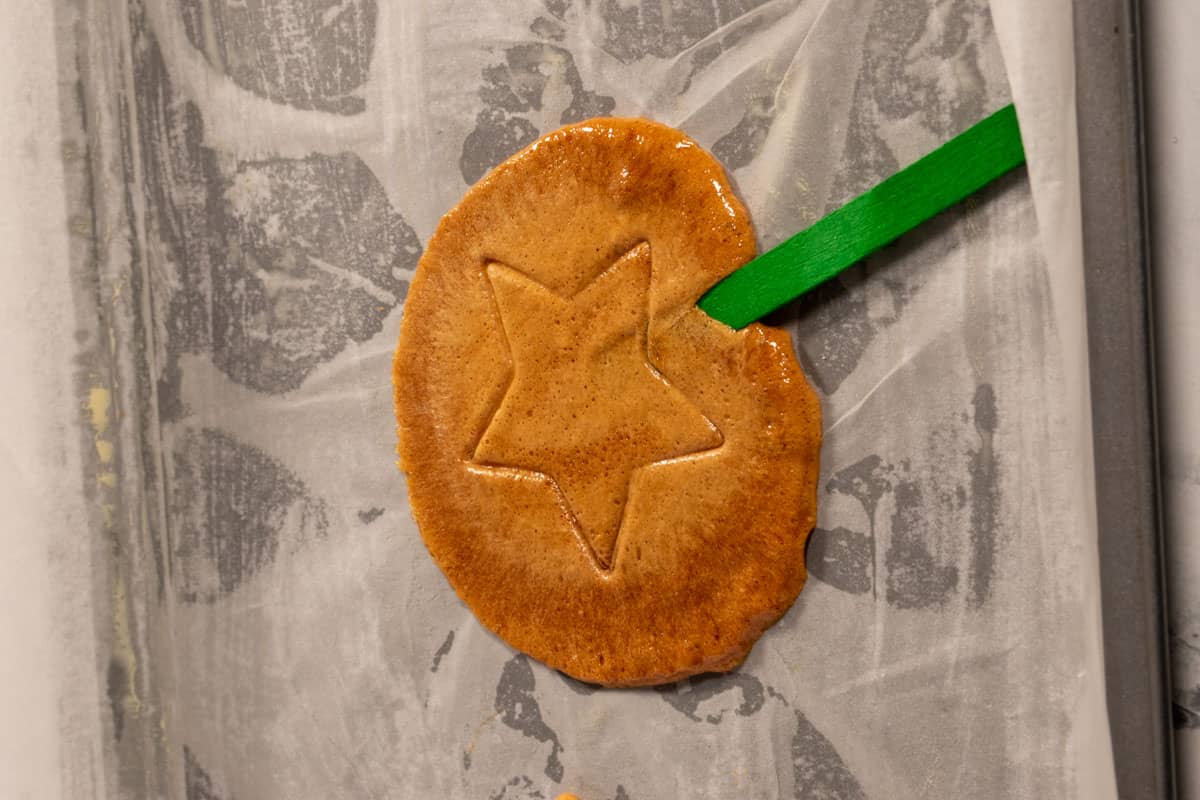 8: Immediately after flattening, press a shape into the centre, creating an indentation (before it gets too soft).
Expert Tips & Tricks
Work Quickly & Get Your Timings Right
This recipe requires you to work quickly. As soon as you have combined the baking soda and the sugar, the mixture will become foamy. When you see this reaction taking place, immediately pour the mixture onto the baking sheet and press in your lollipop (popsicle) stick. It will set VERY fast.
After that, also press the dalgona down before it sets and press the shape into the centre. Make sure that you have all your tools and equipment at hand so that you can be successul with your timings.
What Is Dalgona Candy (Ppopgi)?
Dalgona candy is a treat that is popular in South Korea and especially with children, made by mixing sugar with baking soda which creates a frothy mixture that sets into toffee.
The texture of it has many similarities to honeycomb toffee which isn't vegan.
Important Equipment & Tools For This Recipe
The most important pieces of equipment that you will need to make this vegan dalgona candy are as follows:
Metal/wooden chopsticks or skewers (for stirring the sugar).
Hotteok press (for flattening the dalgona).
Lollipop (popsicle) sticks.
Variations & Substitutions
Use brown sugar. For this recipe, you can use granulated sugar and brown sugar interchangeably. There may be slight differences in outcome but they are hardly noticeable. I always opt for granulated sugar.
Cleaning Hardened Toffee
The Dalgona candy mixture is very sticky and will set very quickly, seemingly making things difficult to clean afterwards.
Don't worry, it's really easy. Just run it under warm water and will eventually peel off things.
Take On The Dalgona Challenge
In South Korea, children compete in a game to save the shape in the centre of their dalgona candy. They have to patiently eat around the shape carefully, which is quite challenging.
Some people prefer to use tools such as pins to complete the challenge in a more intricate fashion. Children may be rewarded with a prize or even another dalgona if they are successful in breaking away the outer pieces of the candy.
Frequently Asked Questions:
Can I double or triple this recipe?
You can. However I highly recommend that you make these one at a time. This is because this recipe requires you to work fast. For example, you may not have enough time to flatten multiple dalgonas before they harden.
Can I use a different kind of sugar?
Brown sugar can also be used for these treats.
What does Dalgona Ppopgi taste like?
It resembles crispy toffee. Is it basically hardened, caramelised sugar.
Storage Tips
Store this vegan dalgona candy inside an airtight container for up to 2 months inside the freezer or for 3 days inside the fridge.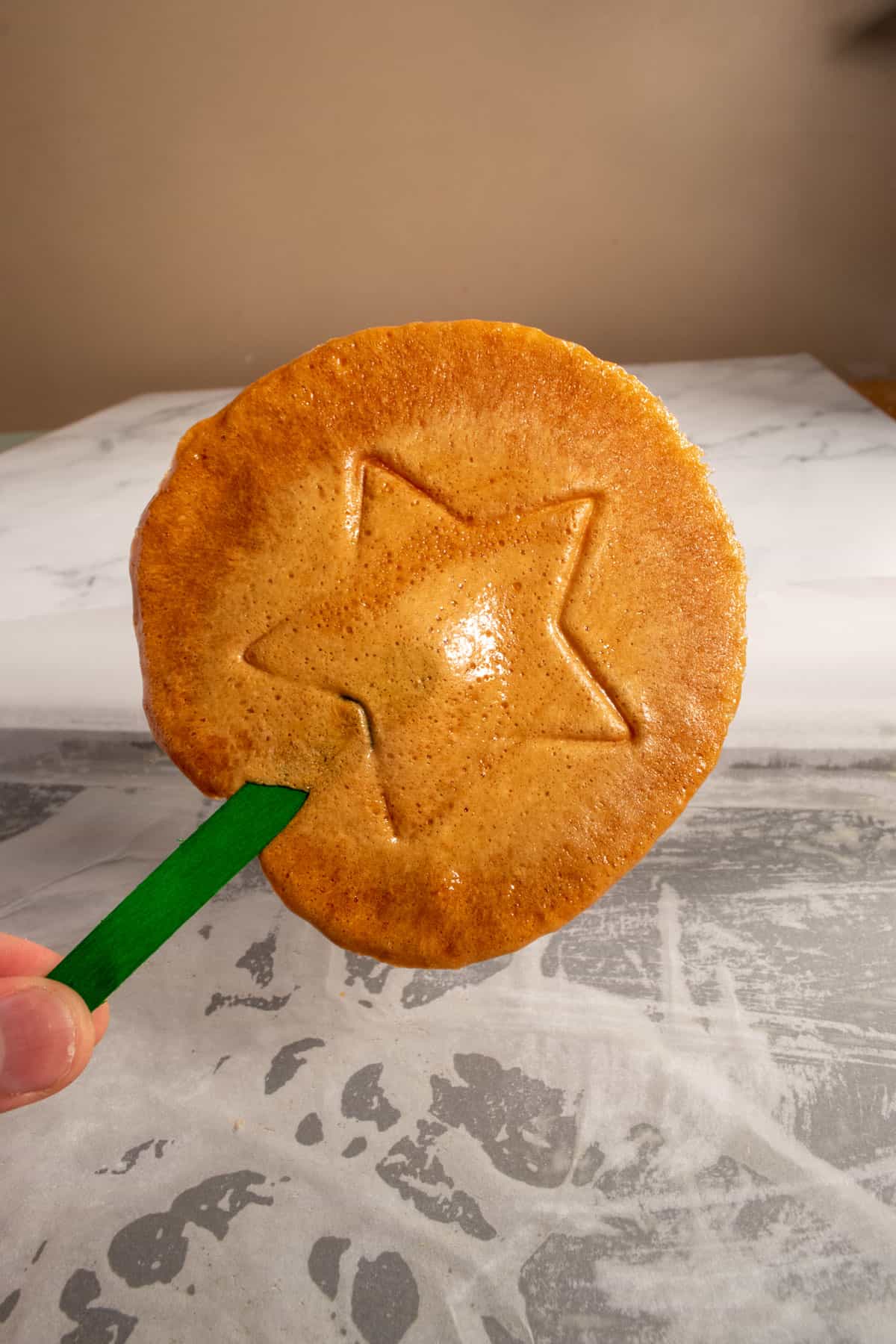 Easy Treats That You Will Love
Print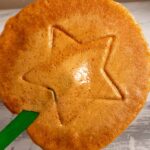 South Korean Dalgona Honeycomb Toffee Candy (2-Ingredients + Vegan)
---
Description
You need to try this vegan dalgona candy which is a delicious South Korean snack, popularised by the series 'Squid Game' on Netflix. 
---
For each dalgona:
2 Tablespoons

granulated sugar
Pinch (1/16 teaspoon) baking soda
---
Instructions
Make the dalgonas:
Line a large baking sheet with non-stick parchment paper. Set aside. Alternatively use a non-stick baking sheet.
Add the granulated sugar to a deep, large metal ladle. Hold your ladle over a medium-low heat. Continuously stir the sugar with a large skewer or a chopstick as it begins to melt over the heat, making sure that it doesn't stick. If the sugar begins to smoke, lift the ladle a couple inches higher.
When your sugar has melted and there are no lumps let it cool for a moment. While the ladle is off the heat, mix in the baking soda.
Place the ladle over the heat again and mix the sugar/baking soda mixture with the skewer, quickly until the baking soda fully dissolves into it. The colour will become a light brown and it with be foamy. 
Pour the dalgona candy mixture from the ladle onto the non-stick baking sheet, forming a round shape. Place a lollipop stick into the mixture while it is still wet.
Allow the dalgona to cool for roughly 15-25 seconds. Give the edge a nudge with your finger to make sure that it isn't stuck this press it down further with a 12cm diameter (4.7 inches) Hotteok hand presser for 5 seconds to a thickness that you like.
Use a smaller cookie cutter to press a shape into the centre of your dalgona, firmly. Don't press it all the way through. You just want there to be a deep imprint.
Repeat this whole process, if you'd like more dalgonas.
Prep Time:

2 minutes

Cook Time:

3 minutes

Category:

Quick & Easy

Method:

Heating

Cuisine:

Dalgona Candy
Nutrition
Serving Size:

1 Candy

Calories:

98

Sugar:

25.1 g

Sodium:

1258.8 mg

Fat:

0 g

Trans Fat:
Carbohydrates:

25.2 g

Protein:

0 g

Cholesterol:

0 mg
Keywords: dalgona, dalgona candy, ppopgi, vegan candy, vegan treats, vegan sweets