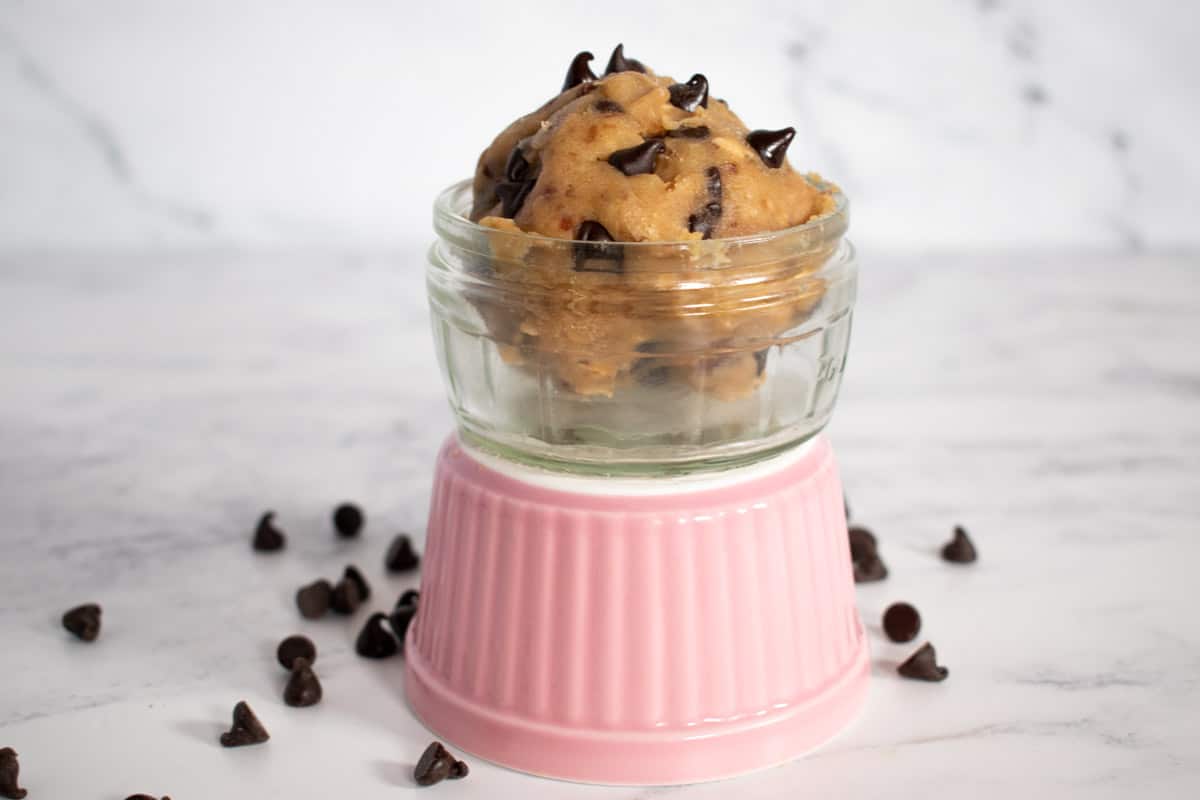 Vegan cookie dough for one? Yes please! If you want a single serve healthy cookie dough recipe but you don't want a big batch to go to waste, this option might just be the one that you're after! It's super simple to make and only requires seven ingredients.
How do you like your edible cookie dough? This recipe creates quite a thick consistency and although many people prefer it that way, I also appreciate that some people prefer it to be a notch smoother. If you are in the latter camp, be sure to add plant milk towards the end of the recipe.
Add the toppings of your choice and enjoy! You don't have to use chocolate chips and hazelnuts like I did. This is your cookie dough so you can put you own awesome twist onto it! Hope you all enjoy this simple dessert as much as I did! Tag @vegan_treats_blogger on Instagram if you make it!
What Ingredients Do You Need For This Healthy Vegan Edible Cookie Dough?
all purpose flour/plain flour/gluten free flour
medjool dates
vegan butter
maple syrup
vanilla
dairy free chocolate chips
chopped hazelnuts
Tips For Making This Single Serve Healthy Vegan Edible Cookie Dough Happen (For The Best Outcome)
Avoid making your cookie dough soggy. Like I previously mentioned, some people prefer their vegan cookie dough to be creamier. Make sure that when you add your plant milk, you don't pour too much at once. This can cause the cookie dough to become far too wet and it can be difficult to revive it from that point onwards. Instead, add a drop of plant milk at a time and try to be as patient as possible.
Make sure that your flour is cooked. Before you even begin to mix the cookie dough ingredients, you need to remember to do one incredibly important thing. Heat treat your flour. As you're probably aware, human beings should't eat raw flour. It can make you very unwell. Just in case you didn't know, make sure you that you place your flour in the oven before adding it to the other ingredients (full info on recipe card). It's an easy mistake to make.
Choose the best dates for the job. Dates are a really important ingredient in this recipe and I highly recommend that you choose medjool dates. They're often easy to source in an ordinary supermarket and they just taste SO GOOD! They have a meatier texture than most types of dates and quite a unique sweetness too! Just don't forget to de-seed them before placing them in a blender/food processor!
As we're in the festive season, you may want your vegan cookie dough to have a Christmassy flavour. Feel free to add spices such as nutmeg and cinnamon (to taste).
To Make this easy recipe, all you need to do is:
Heat treat your flour.
De-seed and blend dates.
Mix the vegan butter, date paste, maple syrup and vanilla.
Gradually add in the flour.
Add a drop of plant milk, if desired.
Fold in chocolate chips and nuts.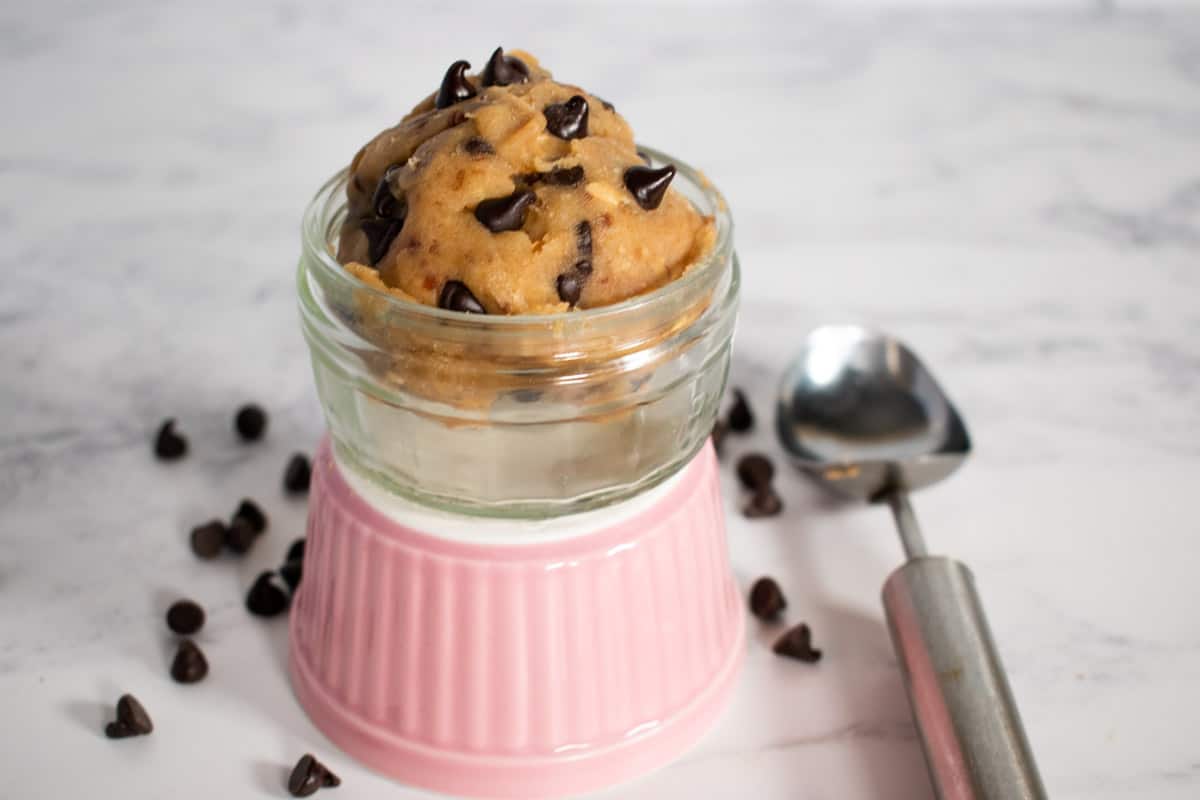 COOKIE DOUGH HEAVEN
Yes, this cookie dough is much healthier and less sugary than your everyday, store-bought version but I can confirm that this recipe really DOES taste like cookie dough! The dates really help with the consistency and I think you will really enjoy this one. Although this cookie dough is for one person, the recipe is easily doubled, tripled etc.
Helpful Tools For Making Vegan This Treat
Baking sheet/Tray
Highspeed blender/Food Processor
Small bowl
Single Serve Healthy Vegan Edible Cookie Dough FAQ's:
Why do I need to heat treat my flour?
Before making a treat like vegan cookie dough, it is so important that you heat treat you flour first in the oven. The high heat allows the bad bacterias to be eradicated and also keeps the flour usable in treats like edible cookie dough.
Do I have to use medjool dates or can I use other types of dates?
You can use any dates you like. I understand that medjool dates are a little more pricy. However, they are the best dates I have ever had. That is just my opinion. If you are using smaller dates, perhaps you could use two for every larger one medjool date.
Is edible cookie dough good for you?
This particular recipe is made with pretty healthy ingredients but some recipes may contain other things. If you don't want chocolate chips in yours, you are more than free to leave them out. You can even replace them with a healthier alternative!
PREFER TO WATCH INSTEAD?
Single Serve Healthy Vegan Edible Cookie Dough
Cookie dough for one? This healthy single serve cookie dough is just what you need if you're craving that something sweet but you don't want anything to go to waste. Enjoy!
Print
Pin
Rate
Ingredients
Cookie Dough:
50

g

all purpose flour/plain flour/gluten free all purpose flour

heat treated

3

large medjool dates

pitted and blended

45

g

vegan butter

melted

1

tablespoon

maple syrup

½

teaspoon

vanilla

Drop of plant milk

optional

1

tablespoon

dairy free chocolate chips

1

tablespoon

chopped hazelnuts
Instructions
Heat treating the flour: Preheat your oven to 180 Celsius (350F).

Line a baking tray with parchment paper and spread the flour onto it, evenly.

Once the oven has preheated, place the flour into the oven for 5-6 minutes.

Carefully remove the tray from the oven and allow your flour to cool fully.

Making your vegan cookie dough: De-seed your dates and add the to a high-speed blender or a food processor with two teaspoons of water. Pulse until fully combined then empty the date paste mixture.

In a small bowl, bind together the melted vegan butter, date paste, maple syrup and vanilla. Then gradually add in the flour.

If you feel that your cookie dough is too thick, add plant milk a drop at a time.

Fold in your chocolate chips and serve immediately. If you like it more firm, you can place it in the fridge for an hour. 
Notes
STORAGE: This treat can be stored in the fridge for up to 5 days. However this will make your cookie dough firm. It can also be stored in the freezer for up to 3 weeks. 
This recipe can easily be made gluten free by substituting the flour for gluten free flour 1:1.
If chocolate chips or hazelnuts aren't your thing, you can substitute them for any topping you like! 
YOU MAY ALSO LIKE THESE OTHER COOKIE-RELATED RECIPES: