This eggless red velvet cake is genuinely so delicious and i'm delighted to be sharing the recipe with you all. It's so easy to make and I really hope your day is made better upon trying it.
Red velvet might just be my favourite type of cake. Add Oreos and vanilla buttercream the the equation and it gets even better!
If you like all things red velvet you may also like these red velvet bars too.
PREFER TO WATCH INSTEAD?
INGREDIENTS FOR THIS RECIPE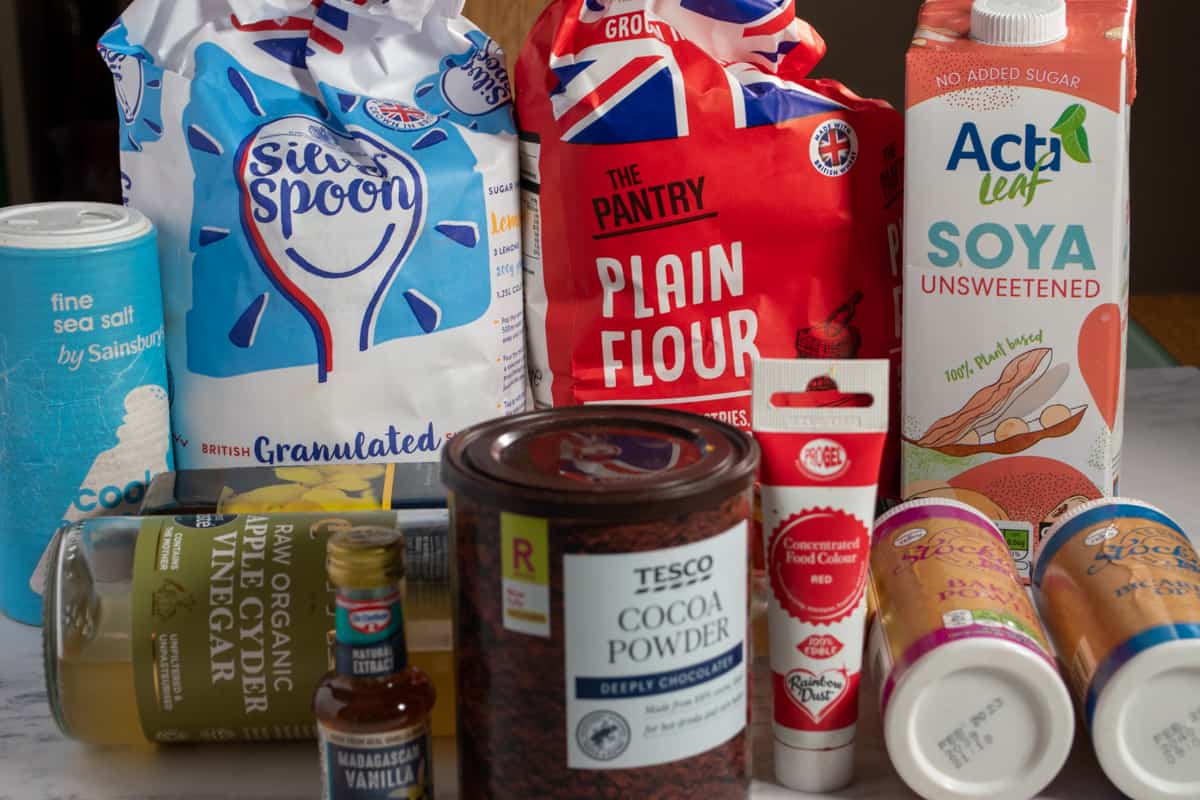 Soy milk - This is my favourite plant milk when baking vegan cakes.
Apple cider vinegar - Simply mix this with the plant milk to create a vegan 'buttermilk'.
All-purpose flour - This is the only kind of flour you'll need for this cake.
Cocoa powder - Red velvet cakes only require a little.
Granulated sugar - If you don't have any at hand, caster sugar will also work just fine.
Baking powder & Baking soda - These are the all-important leavening agents.
Salt - I recommend fine sea salt!
Rapeseed/Canola oil - These are the same thing.
Vanilla - Enhances the cake so much!
Red gel food colouring - Please make sure that your vegan red food colouring is a gel food colouring. These are the food colourings which create the optimum red colour for the cake.
Vegan butter block & Powdered sugar - For the buttercream.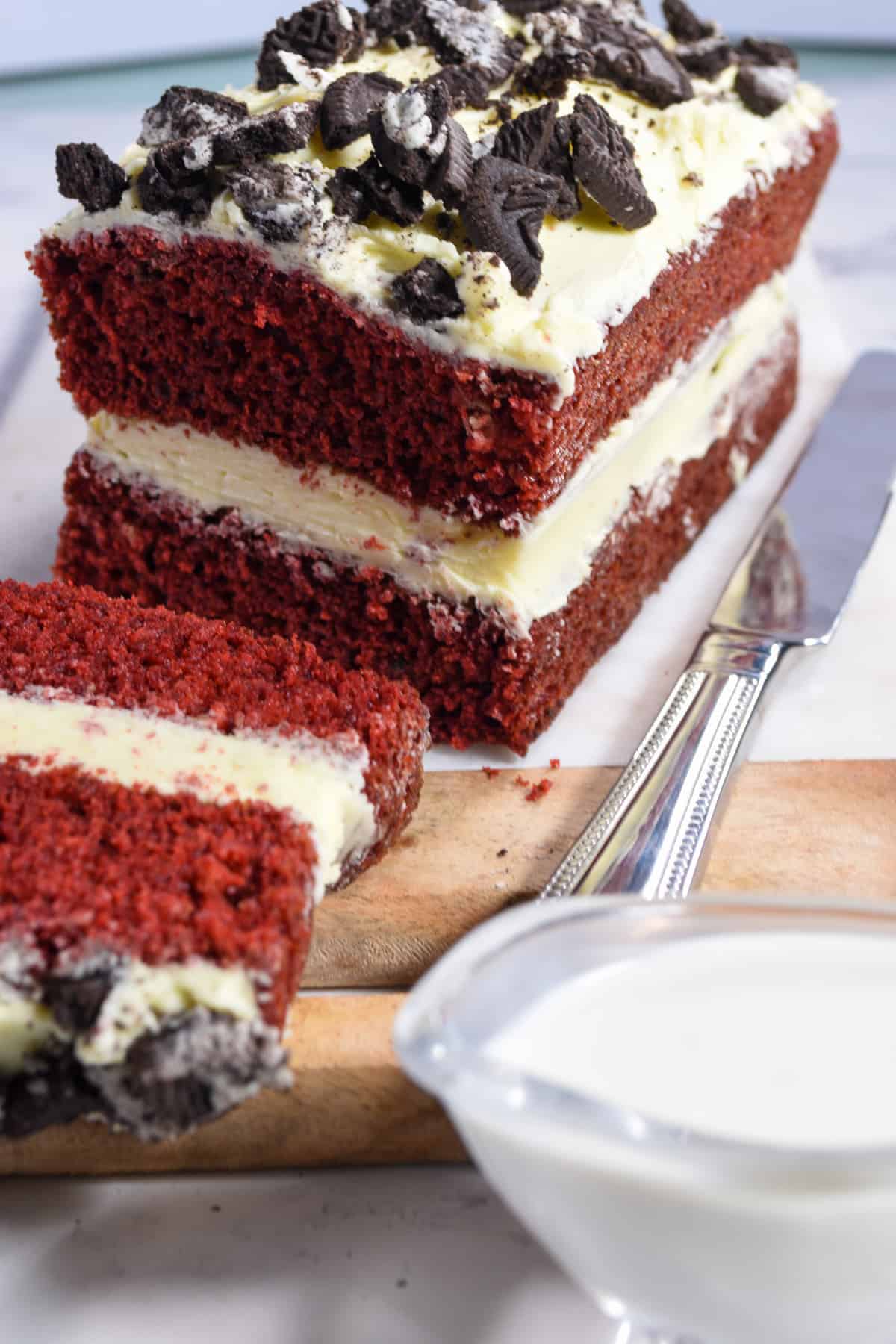 HOW TO MAKE MY EGGLESS RED VELVET CAKE LOAF
For the full method and ingredient amounts, please refer to the recipe card at the bottom of this post.
STEP BY STEP INSTRUCTIONS
STEP ONE
Mix your apple cider vinegar together with the soy milk until it curdles.
STEP TWO
Combine all of the dry ingredients in a large bowl.
STEP THREE
Next, pour in your curdled 'buttermilk'.
STEP FOUR
After you have poured the vegan 'buttermilk', add the remaining wet ingredients.
STEP FIVE
Fold the dry ingredients into the wet ingredients. Don't mix at all. Just keep folding until everything is nicely combined and there are no pockets of flour.
STEP SIX
Equally, pour your folded mixture into two pre-greased loaf pans. Bake in your preheated oven for 20 minutes.
STEP SEVEN
Remove the cake halves from the oven and allow them both to cool down fully.
For instructions on how to make the glaze and buttercream frosting, see the full method on the recipe card at the bottom of the page.
TIPS FOR MAKING AN EGGLESS CAKE
Pre-heat your oven for at least 15-20 minutes before you start baking. Prior to placing your unbaked cake into the oven, it is essential that you make sure that the oven has already reached the required temperature. This way the cake will bake to the desired standard.
Use two loaf pans (20cm x 10cm). This will result in you having two equal cake halves for you to decorate.
Make vegan buttermilk instead of adding ingredients separately. To create a vegan 'buttermilk' you have to add apple cider vinegar to soy milk, then mix. Buttermilk possesses a high level of acidity which gives a vegan cake a delicious, fluffy texture and a perfect crumb. Buttermilk also helps to break down gluten.
Instead of mixing, fold instead. Mixing too much makes an undesirable cake so I don't mix the batter at all. I simply fold the mixture delicately over itself until there are no pockets of flour remaining. Having patience in this will give you the cake you want!
Each oven is different! Some ovens (depending on age) will heat up to inaccurate temperatures. There isn't much we can do about this but just know that when a skewer/toothpick comes out of your cake clean, it's ready.
FREQUENTLY ASKED QUESTIONS
Can you freeze eggless cakes?
Technically, you can and the cake will be edible within 3 months of storage. However, storage at room temperature or even in the fridge always keeps a cake tastier.
What is the flavour of red velvet cake?
Red velvet cakes have mild cocoa undertones. They contain less cocoa powder than standard chocolate cakes, placing them somewhere in between standard sponge cakes and chocolate cakes.
Why is my red velvet cake bitter?
This may be because you've added too much baking soda. This will leave a bitter taste on your baked goods.
Why is my red velvet cake brown?
This issue is usually down to the quality of the red food colouring that you're using for the red velvet cake. Always use a good quality gel food colouring if you want a nice red colour for your final cake.
HOW TO STORE MY EGGLESS RED VELVET CAKE LOAF
I highly recommend that you store this red velvet cake inside an airtight container at room temperature for up to three days or otherwise, in the fridge for up to 4 days (in an airtight container).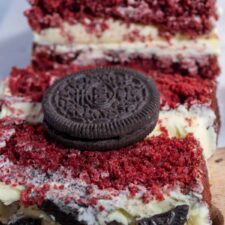 Eggless Red Velvet Cake Loaf With Oreos
This is by far my favourite red velvet cake recipe yet! I hope you love it as much as I do!
Print
Pin
Rate
Ingredients
For the cake:
200

ml

soy milk

1

teaspoon

apple cider vinegar

190

g

all-purpose flour

sifted

1

Tablespoon

cocoa powder

150

g

granulated sugar

2

teaspoons

baking powder

0.5

teaspoon

baking soda

1

teaspoon

salt

50

ml

rapeseed/canola oil

1

teaspoon

vanilla extract

1

teaspoon

red gel food colouring*

see notes
For the vegan buttercream:
225

g

vegan butter block*

see notes

240

g

powdered sugar*

see notes
For the topping:
Crushed Oreos*

to taste, see notes
Instructions
Red Velvet Cake:
Pre-heat your oven to 177 Celsius (350 Fahrenheit). Grease two 20cm x 10cm cake loaf tins with vegan butter then set aside. 

Make your vegan buttermilk. Measure out the soy milk then add the apple cider vinegar to it. Give it a mix then set aside for 7-8 minutes until it curdles. Measure out the other ingredients while you wait.

To a large mixing bowl, add the flour, cocoa powder, sugar, baking powder, baking soda & salt. Mix well. 

Next, pour in the curdled soy milk, oil, vanilla & the red gel food colouring. Don't mix at all. Using a wooden spoon, fold the ingredients together by slowly scooping the mixture over itself. Keep folding the dry into the wet until there are no more pockets of flour. This takes a little longer than mixing but it results in a much better cake. Patience is key! 

Equally divide the cake batter between the two greased loaf tins and bake in the preheated oven for 20 minutes. A skewer should come out clean at this point. 

Remove your cakes from the oven and let them cool in the tins for 15 minutes. Then remove the cakes from the tins and transfer them to a cooling rack to cool fully. Don't apply anything to the cakes until they have completely cooled down.
Vegan buttercream:
Add the vegan butter block to a stand mixer or a large bowl and cream for 2 minutes.

Next add half of the powdered sugar. Beat the buttercream mixture until it is fully combined and has began to thicken. Then add the rest of the powdered sugar. Beat again until your buttercream is nice and thick. 

Spread half of the buttercream in between the cake halves and spread the other half on top. Sprinkle the crushed Oreos over the top of the buttercream. Enjoy!
Notes
If you want your red velvet cake to have a nice colour that isn't brown, always use a red gel food colouring. These give your cake a brighter red and ultimately, your red velvet cakes look much more appetising as a result. 
Use a block of vegan butter instead of spread. I love to use the Flora plant butter block and the Naturli vegan block. These create a much thicker vegan buttercream than a spread.
Not all powdered sugar is vegan. Be sure to check.
Oreos are vegan in the UK. If this doesn't apply to where you live, you can replace them with a cookie of your choice!