Delicious Chocolate Coconut Cakes
Say hello to the super tasty Australian treats that are vegan lamingtons. If you love all things cake, chocolate and coconut, I think that you will absolutely adore these easy treats.
If you are a big coconut dessert fan, be sure to see my vegan raspberry and coconut slices too.
Prefer To Watch Instead?
Ingredients For This Recipe
Soy milk
Apple cider vinegar - mix into the soy milk to make vegan buttermilk
All-purpose flour
Cornflour
Granulated sugar
Baking powder
Salt
Canola oil - this type of oil is the same as rapeseed oil
Vanilla extract
Powdered sugar
Cocoa powder
Soy milk
Vegan dark chocolate
Desiccated coconut
How To Make Vegan Lamingtons
Step By Step Instructions
For the full method and ingredient amounts, please refer to the recipe card at the bottom of this post.
STEP ONE
Line a square baking tray with parchment paper. Set aside.
STEP TWO
Make your vegan buttermilk mixture.
STEP THREE
Mix together the dry ingredients inside a large bowl.
STEP FOUR
Pour the wet ingredients into the mixture.
STEP FIVE
Fold the ingredients together to make a smooth cake batter.
STEP SIX
Pour the batter into the lined tin. Bake the cake.
STEP SEVEN
Let the cake cool.
STEP EIGHT
Slice the cake into smaller squares and freeze.
STEP NINE
Make the chocolate coating.
STEP TEN
Remove the cakes from the freezer.
STEP ELEVEN
Dip each cake into the chocolate and coat in desiccated coconut to create lamingtons.
Tips For Making Vegan Lamington Cake
Don't Skip Freezing The Cakes
Otherwise the cake will crumble when being dipped into the chocolate. They need to be firm.
Don't Over Soak The Cakes In The Chocolate
Even if the cakes have been frozen beforehand, there is still a risk of crumbling. I like to dip each cake square with two forks so that I can lift the cakes out quickly after dipping.
What Are Lamingtons?
Lamingtons are a type of cake which are native to both Australia and New Zealand. They consist of vanilla sponge cake covered in chocolate and desiccated (dried) coconut. They sometimes also have fillings such as, jam and buttercream.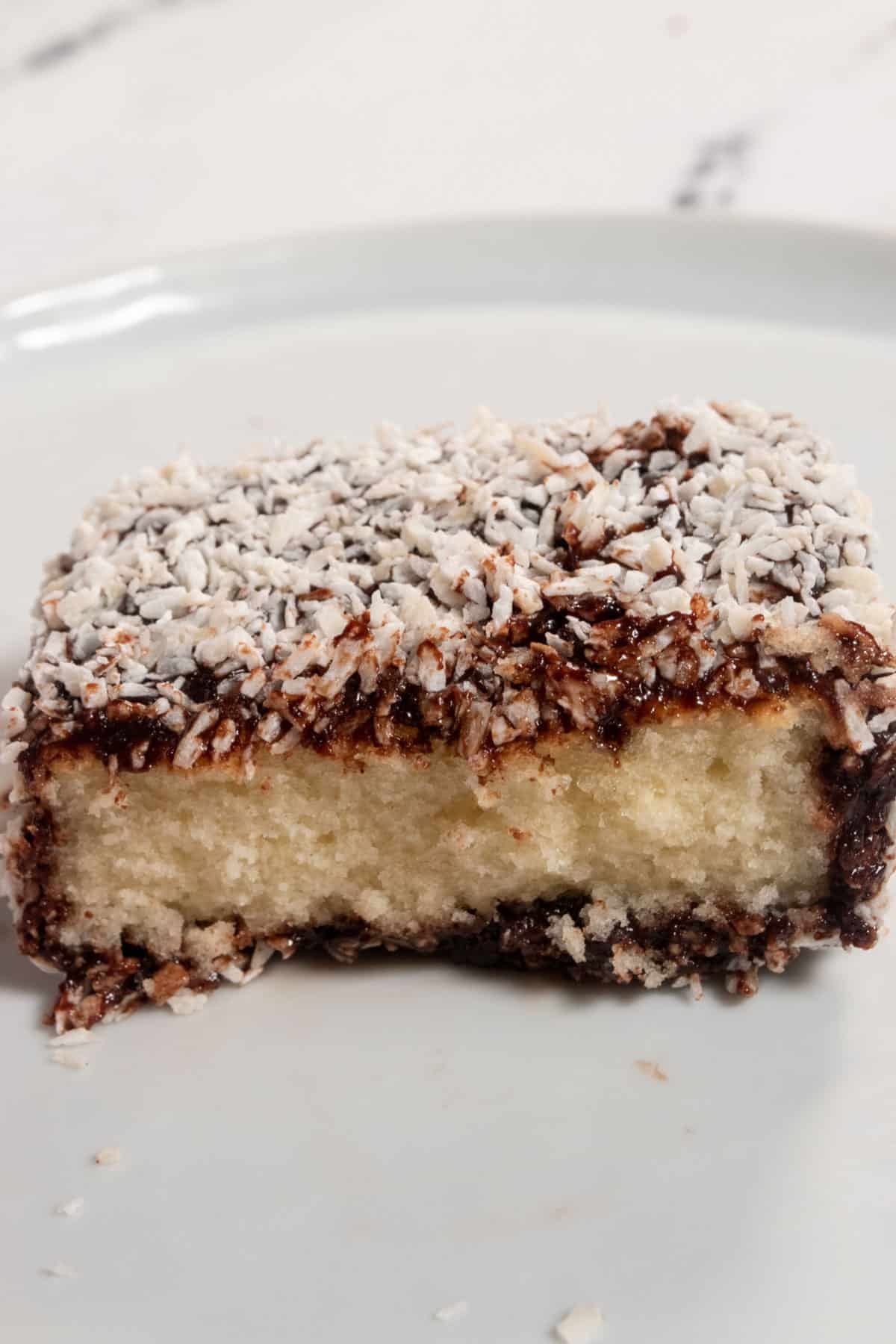 Are Lamingtons Vegan?
Most lamington cakes are not vegan as they contain animal products such as eggs, milk and butter. However, these are 100% vegan.
How To Coat The Lamingtons
Carefully, use two forks to lower each square of cake into the chocolate cake. Once the cake is fully covered, lift it out again. This stops your hands from getting dirty.
Frequently Asked Questions
Why are my lamington cakes dry?
Sheet cakes bake quickly. Make sure you don't over bake it or else your lamington cake squares will taste dry. Also make sure that the oven is at the correct temperature at all times.
How To Store Vegan Lamingtons
Store these vegan lamingtons inside an airtight container for up to one week in the refrigerator.
More Simple Cake Recipes
Print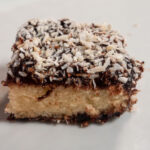 Easy Vegan Lamingtons
---
Description
These easy vegan lamingtons are just what you need if you love chocolate and coconut. They're so easy to make and taste so good. 
---
For the cake:
240

ml

soy milk

1 teaspoon

apple cider vinegar

190

g

all-purpose flour (sifted)

30

g

cornflour (cornstarch)

180

g

granulated sugar

2 teaspoons

baking powder
Dash of salt

70

ml

canola oil

1 teaspoon

vanilla extract
For the coating:
185

g

powdered sugar

15

g

cocoa powder

130

ml

soy milk

100

g

vegan dark chocolate (chopped)

150

g

desiccated coconut
---
Instructions
Preparation:
Preheat your oven to 177 Celsius (350F) and line a 24cm x 24cm square cake tin with parchment paper.
Line a separate large baking tray with parchment paper.
Mix the soy milk and the apple cider vinegar together. Let it sit for 8 minutes. Vegan buttermilk will form after it curdles.
Make the cake:
In a large mixing bowl mix together the flour, cornflour, sugar, baking powder and salt.
Pour in the curdled vegan buttermilk mixture as well as, the oil and vanilla. Fold the dry into the wet until there are no more pockets of flour remaining.
Pour the cake into the prepared cake tin. Make sure that it is level and smooth. Bake in the centre of your oven for 25-30 minutes. A skewer will come out clean when it's ready.
Let the cake cool for 20 minutes in the tin, then transfer the cake to a cooling rack to cool fully.
Slice the cooled cake into nine equal squares. Place the cake squares onto the prepared baking tray. Freeze for 1 hour 30 minutes so that they can firm up.
Make the chocolate coating:
To a medium saucepan add the powdered sugar, cocoa powder and soy milk. Mix well and stir continuously over a medium-low heat. When the mixture begins to simmer, whisk in the chopped dark chocolate. Keep stirring until the chocolate glaze is smooth. Let it cool completely at room temperature.
Remove the frozen cake squares from the freezer. Dip each of the squares into the chocolate glaze until they are completely covered. I like to use two forks or a skewer. It's much less messy this way.
Add the desiccated coconut to a bowl. Dip each of the chocolate squares into the coconut. Make sure the whole of the squares are covered. Place them onto a wire rack to set and defrost fully.
Prep Time:

1 hour 40 minutes

Cook Time:

30 minutes

Category:

Bakes

Method:

Baking

Cuisine:

Lamingtons
Nutrition
Serving Size:

1 Square

Calories:

487

Sugar:

42.3 g

Sodium:

54.8 mg

Fat:

22.5 g

Carbohydrates:

73.4 g

Protein:

5.9 g

Cholesterol:

0 mg
Keywords: lamington cake, lamingtons, vegan chocolate cake, coconut cake, vegan baking, vegan cheesecake