Say hello to the super tasty treats that are vegan Lamingtons. If you've never heard of them, they're small cakes which have been dipped into a melty chocolate mixture and covered with lots of desiccated coconut.
Hailing from Australia and New Zealand, this is a super popular snack down under. However, it isn't usually vegan so I've decided to 'veganize' this classic in my own style.
They're really easy to make. Simply make the cakes, freeze and decorate. If you love all things chocolate and coconut like my vegan bounty bars, I think that you will absolutely adore these easy desserts.
For extra coconut vibes, be sure to see my vegan raspberry and coconut slices and vegan coconut whipped cream too which are both classics.
Jump to:
Why You Will Love These Lamingtons
Amazing Flavors - These Lamingtons are filled with so many flavors. They're dipped in a chocolate mixture and then into desiccated coconut. For me, this is heaven. They're so complimentary to each other. To add more tasty sensations to the equation, the cake tastes great too. It's basically just a standard vanilla sheet cake but the three main components of the recipe all help each other.
It's Unique - I love this recipe mostly for one reason. I hadn't heard of Lamingtons until quite recently as we don't have them where I live but I'm so happy that I found them. Coconut and chocolate are two of my favorite flavors, so to have them both combined into one recipe is great. I also enjoy making treats from other countries. I've made vegan argentinian chocotorta and vegan south korean dalgona honeycomb toffee candy which are both delicious snacks from around the world. This is another to add to the collection.
Easy to Make - The process for making these Lamingtons is very easy. You just need to make a sheet cake like normal, then freeze each individual square until solid. After that, you need to dip the cake squares into the chocolate mixture and desiccated coconut. Let them defrost and serve.
Allergy Friendly & Plant Based - This vegan lamingtons recipe is fully vegan and dairy free.
Ingredient Notes
Cornstarch - I used cornstarch in this recipe as well as all-purpose flour as it gives the cake a nice, light texture. It soften any harsh proteins which are in the ordinary flour, making the Lamingtons more tender and is certainly an underrated ingredient. I used it in my vegan tres leches cake and vegan flourless chocolate cake recipes and if you've ever tried either of those, you'll know exactly how good it makes the textures of cakes.
Canola oil - For those of you who don't already know, canola oil is the same as thing as rapeseed oil. What you call it just depends on what country you come from. I love to use it as it enhances the consistency of the Lamingtons greatly. They'd be more dense without it.
Powdered sugar - This helps to sweeten the chocolate mixture and lessen the richness. It also helps the chocolate mixture to set easier onto the cakes after being dipped.
Vegan dark baking chocolate - I recommend dairy-free dark baking chocolate ahead of other types of chocolate for one main reason. It melts really well. The last thing I want when making the chocolate dipping mixture is any lumps. Using something such as dairy-free chocolate chips could make this adversity happen as they don't melt so well. Chocolate chips work better when they're more solid in recipes such as, my vegan banana mug cake.
Desiccated coconut - This is different to shredded coconut and arguably the main ingredient in this recipe.
See recipe card for full information on individual ingredients and quantities.
Substitutions & Variations
If you'd prefer not to use cornstarch or you don't have any, you can use all-purpose flour instead. This Lamingtons recipe already calls for all-purpose flour anyway but, you can also swap out the cornstarch and replace it with the equivalent amount of flour. So instead of 190 grams of all-purpose flour, you will add 220 grams of all-purpose flour.
Although many don't, some traditional Lamington recipes have jelly (jam) sandwiched in between two slices of cake. You can add jelly too! In order to do this, you'd have to spread some jelly onto one of the frozen cake squares and place a second frozen cake square over it. You will need to freeze the sandwiches so that the jelly can set. After that, they'll be suitable for dipping into the chocolate mixture. You can either use the homemade raspberry jelly from my vegan raspberry crumble oatmeal bars or use a store-bought one.
How To Make Vegan Lamingtons
For the full method, please refer to the recipe card at the bottom of this post.
Line a square baking tray with parchment paper. Set aside.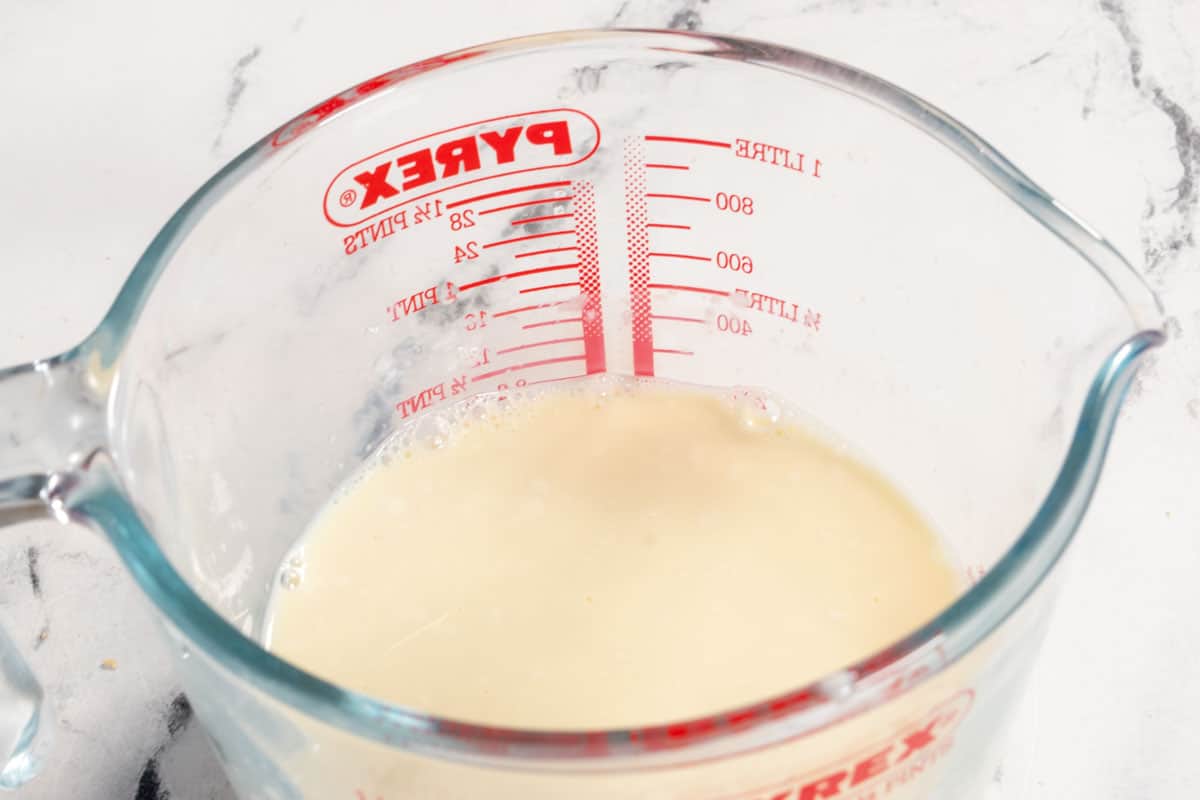 2. Make your vegan buttermilk mixture.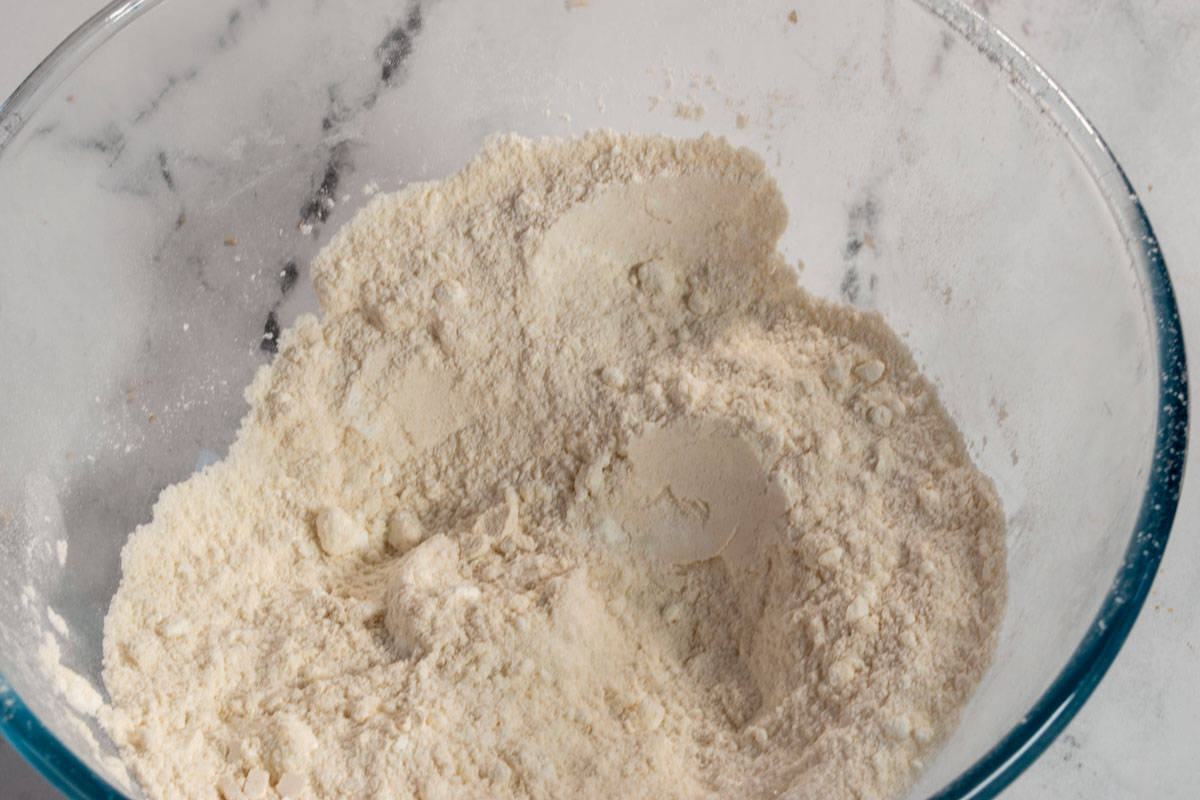 3. Mix together the dry ingredients inside a large bowl.
4. Pour the wet ingredients into the dry mixture.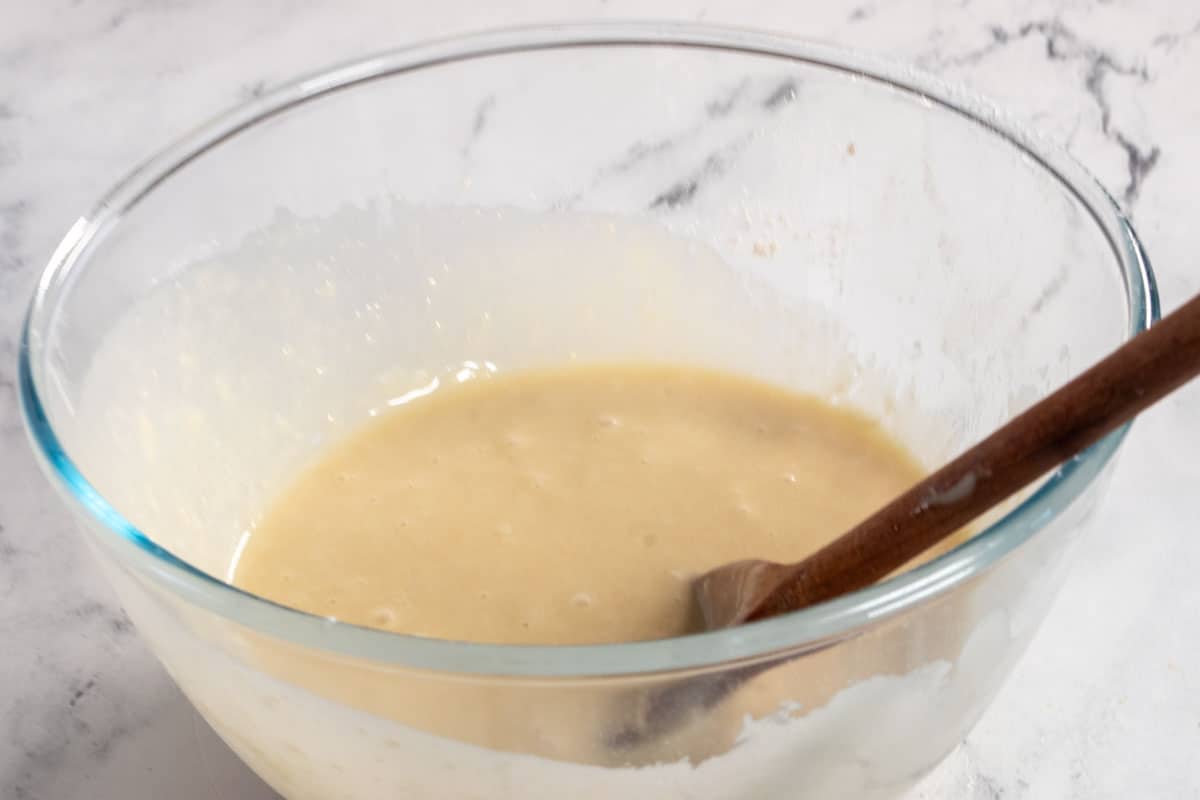 5. Fold the ingredients together to make a smooth cake batter.
6. Pour the batter into the lined tin. Bake the cake.
7. Let the cake cool.
8. Slice the cake into smaller squares and freeze them spaced apart from each other.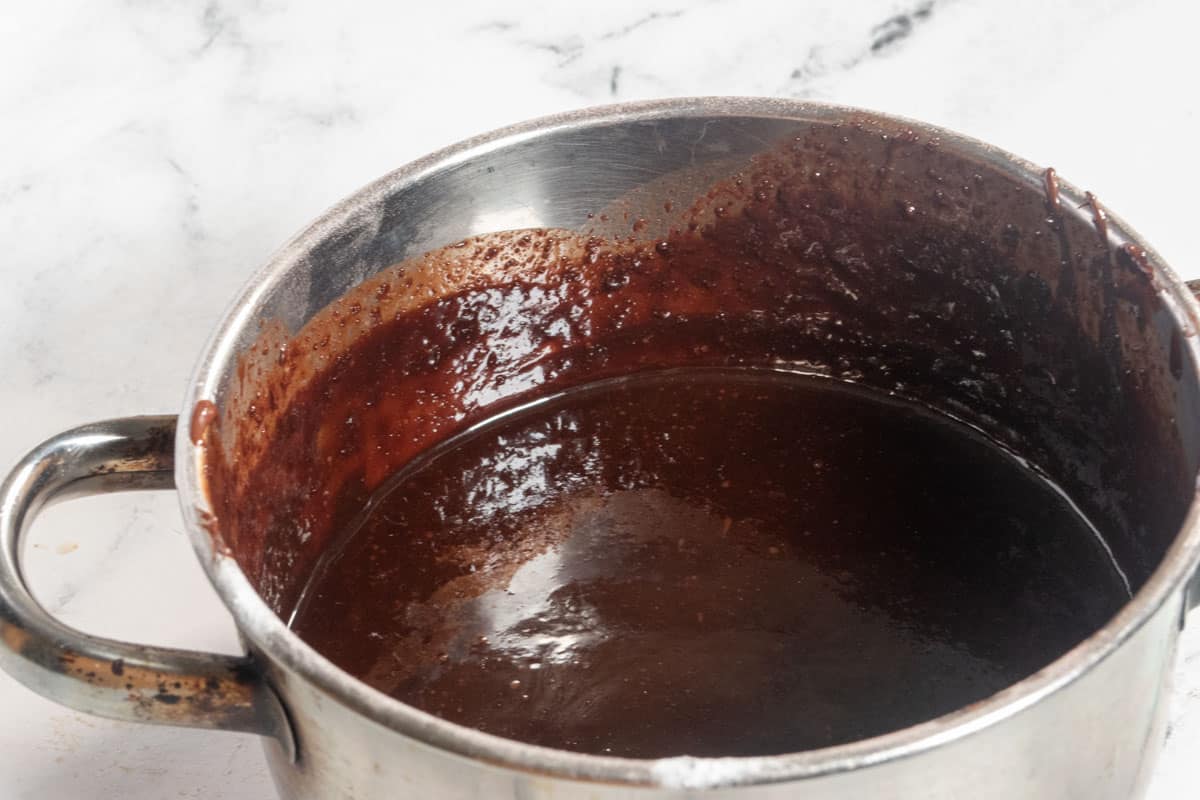 9. Make the chocolate coating.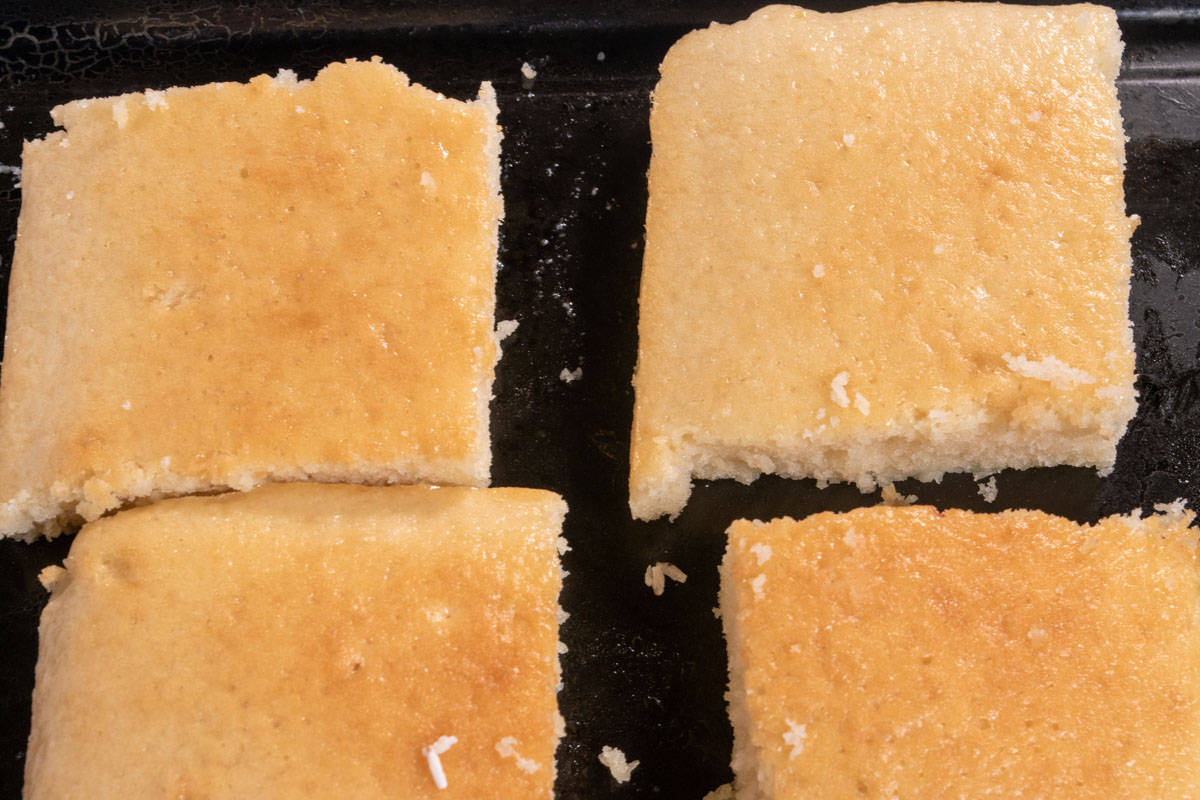 10. Remove the cakes from the freezer.
11. Dip each cake into the chocolate mixture and coat in desiccated coconut to create Lamingtons.
Expert Tips
Don't skip freezing the cakes - Skipping the freezing process will make the cake will crumble when being dipped into the chocolate. They need to be firm and solid so this step cannot be missed out.
Don't over-soak the cakes in the chocolate - Even if the cakes have been frozen beforehand, there is still a risk of crumbling. I like to dip each cake square with two forks so that I can lift the cakes out quickly after dipping. This way they will not be over-soaked and you hands won't get dirty either.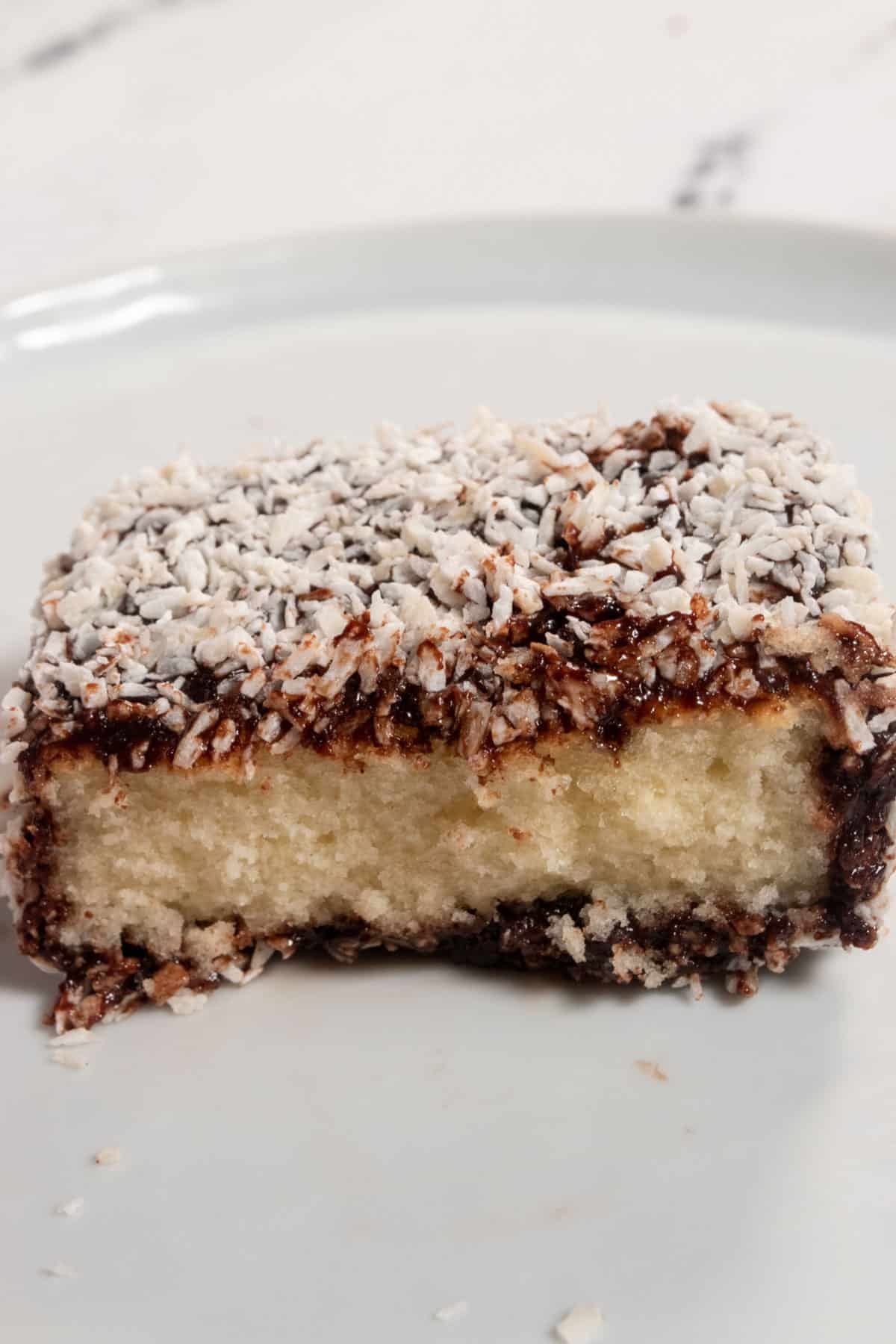 Recipe FAQs
What are Lamingtons?
Lamingtons are a type of cake which are native to both Australia and New Zealand. They consist of vanilla sponge cake covered in chocolate and desiccated (dried) coconut. They sometimes also have fillings such as, jelly and buttercream frosting.
Why are my lamington cakes dry?
Sheet cakes bake quickly. Make sure you don't over bake it or else your lamington cake squares will taste dry. Also make sure that the oven is at the correct temperature at all times.
Are Lamingtons vegan?
Most lamington cakes are not vegan as they contain animal products such as eggs, milk and butter. However, these are 100% vegan.
How can I store Lamingtons?
Store these vegan lamingtons inside an airtight container for up to one week in the refrigerator.
Should Lamingtons have jam?
Traditionally, recipes do not have any jam/jelly and some Aussie's and New Zealanders may be offended by this innovation. Adding jam can be a be tasty addition if you are willing to give it a try.
More Easy Vegan Cake Recipes
If you tried this Vegan Lamingtons Recipe or any other recipe on my website, please leave a 🌟 star rating and let me know how you go in the 📝 comments below. I love hearing from you!
Easy Vegan Lamingtons
These easy vegan lamingtons are just what you need if you love chocolate and coconut. They're so easy to make and taste so good. 
Print
Pin
Rate
Ingredients
For the cake:
240

ml

soy milk

1

teaspoon

apple cider vinegar

190

g

all-purpose flour

sifted

30

g

cornstarch

180

g

granulated sugar

2

teaspoons

baking powder

Dash of salt

70

ml

canola oil

1

teaspoon

vanilla extract
For the coating:
185

g

powdered sugar

15

g

cocoa powder

130

ml

soy milk

100

g

vegan dark baking chocolate

chopped

150

g

desiccated coconut
Instructions
Preparation:
Preheat your oven to 177 Celsius (350F) and line a 24cm x 24cm square cake tin with parchment paper.

Line a separate large baking tray with parchment paper.

Mix the soy milk and the apple cider vinegar together. Let it sit for 8 minutes. Vegan buttermilk will form after it curdles.
Make the cake:
In a large mixing bowl mix together the flour, cornflour, sugar, baking powder and salt.

Pour in the curdled vegan buttermilk mixture as well as, the oil and vanilla. Fold the dry into the wet until there are no more pockets of flour remaining.

Pour the cake into the prepared cake tin. Make sure that it is level and smooth. Bake in the center of your oven for 25-30 minutes. A skewer will come out clean when it's ready.

Let the cake cool for 20 minutes in the tin, then transfer the cake to a cooling rack to cool fully.

Slice the cooled cake into nine equal squares. Place the cake squares onto the prepared baking tray. Freeze for 1 hour 30 minutes so that they can firm up.
Make the chocolate coating:
To a medium saucepan add the powdered sugar, cocoa powder and soy milk. Mix well and stir continuously over a medium-low heat. When the mixture begins to simmer, whisk in the chopped dark chocolate. Keep stirring until the chocolate glaze is smooth. Let it cool completely at room temperature.

Remove the frozen cake squares from the freezer. Dip each of the squares into the chocolate glaze until they are completely covered. I like to use two forks or a skewer. It's much less messy this way.

Add the desiccated coconut to a bowl. Dip each of the chocolate squares into the coconut. Make sure the whole of the squares are covered. Place them onto a wire rack to set and defrost fully.
Video
Notes
Skipping the freezing process will make the cake will crumble when being dipped into the chocolate. They need to be firm and solid so this step cannot be missed out.
Even if the cakes have been frozen beforehand, there is still a risk of crumbling. I like to dip each cake square with two forks so that I can lift the cakes out quickly after dipping. This way they will not be over-soaked and you hands won't get dirty either.
Nutrition
Calories:
504
kcal
|
Carbohydrates:
72
g
|
Protein:
6
g
|
Fat:
24
g
|
Saturated Fat:
13
g
|
Polyunsaturated Fat:
3
g
|
Monounsaturated Fat:
7
g
|
Trans Fat:
0.03
g
|
Sodium:
125
mg
|
Potassium:
198
mg
|
Fiber:
5
g
|
Sugar:
46
g
|
Vitamin A:
161
IU
|
Vitamin C:
3
mg
|
Calcium:
121
mg
|
Iron:
2
mg