The chocolatier a chocolate ganache cake is the better, right? If that is your philosophy then I totally agree!
This is why I love chocolate cake so much. Just when you think that a cake has enough chocolate, in steps the ganache filling, changing your mind instantly.
The ganache filling is super creamy and really easy to make. It only requires three ingredients which is nice and convenient!
If you just love a good chocolate recipe, you may also love my vegan chocolate fudge cake and 1-minute vegan single serve double chocolate chip cookie which are both super delicious!
PREFER TO WATCH INSTEAD?
WHAT YOU NEED TO MAKE THIS YUMMY CHOCOLATE CAKE
All-purpose flour
Brown sugar
Cocoa powder
Salt
Baking soda
Plank milk
Apple cider vinegar
Vegetable oil
Dairy free chocolate chips
Coconut milk
Powdered sugar
HOW TO MAKE CHOCOLATE GANACHE CAKE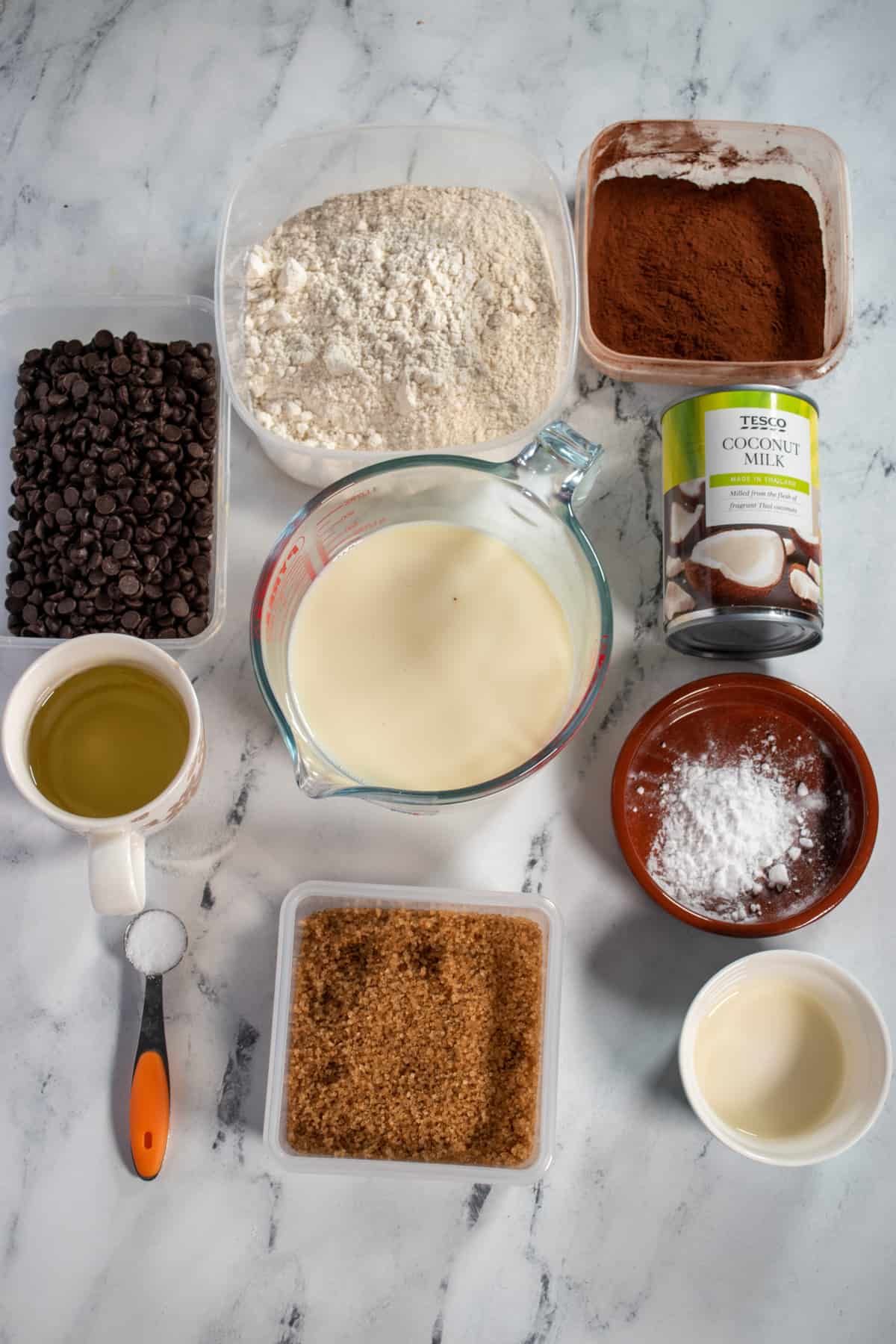 Below you can take a look at a quick overview of how to make my vegan chocolate ganache cake. The full method is down on the recipe card. If you're looking for detailed steps, be sure to see it!
STEP ONE
Add your dry ingredients to a mixing bowl, followed by the wet ingredients. Mix well but don't over-mix.
STEP TWO
Pour your chocolate mixture into your prepared cake tins then bake for 25 minutes.
STEP THREE
While your cake halves are cooling, make your chocolate ganache filling. Pour warm coconut milk over your chocolate chips and let it sit for a couple of minutes. Mix then add the powdered sugar.
STEP FOUR
Spread the ganache over the bottom cake and over the top of the second cake. Place in the refrigerator for 30 minutes so that the ganache can set a little.
CHOCOLATE CAKE TIPS
Don't over-mix your cake batter. This will take the lightness out your chocolate fudge cake and the texture will become tough.
Check on your cake regularly. The cake shouldn't over-bake within 25 minutes but every oven is different.
When the warm coconut milk is poured over the chocolate, let it sit for a few minutes. This will allow the chocolate to melt a little, making it easier to stir afterwards.
If you're not using chocolate chips, chop your chocolate as finely as possible as this way, it will melt quicker when the coconut milk is poured over it.
WHAT TYPE OF CHOCOLATE SHOULD I USE?
The convenience of chocolate chips is my preference but you can use the equivalent amount of another vegan chocolate if you like!
If you can buy semi-sweet chocolate chips/chocolate, that'd be even better! This is usually sweeter than typical dark chocolate chips which are often 70% cacao and above.
VARIATIONS AND SUBSTITUTIONS
I like my chocolate cakes quite moist so I usually opt for brown sugar but if you like your cake slightly firmer, use granulated sugar instead.
If you can't get your hands on full fat coconut milk, coconut cream also works nicely for the ganache. I like using Tesco coconut milk.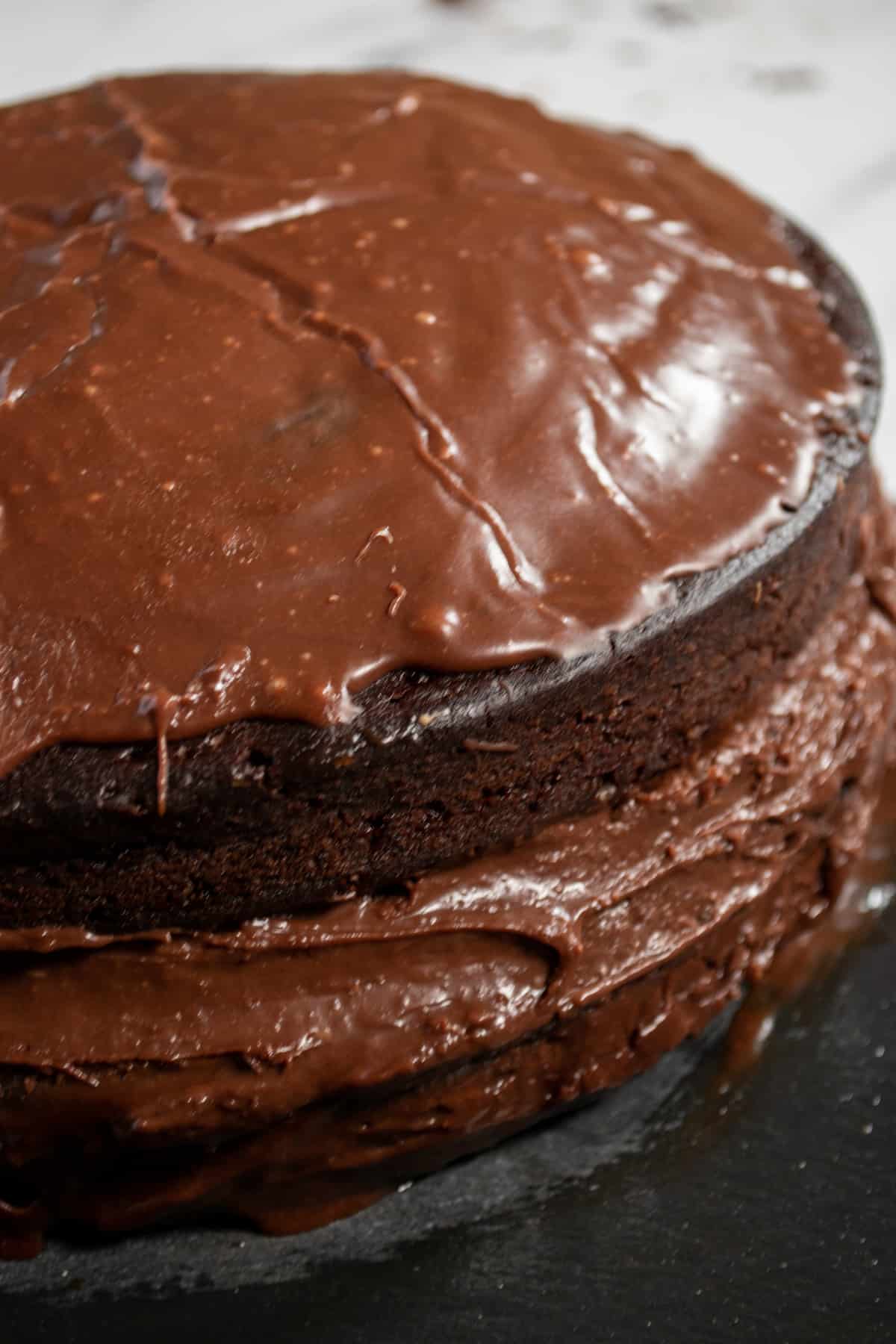 HOW TO STORE CHOCOLATE CAKE
This cake will last for 4 days at room temperature and it'll stay fresh for 2 days in the refrigerator. It must remain in an airtight container until it's ready to be consumed.
HELPFUL EQUIPMENT FOR THIS RECIPE
Large bowl
2x 7-inch, round cake tins.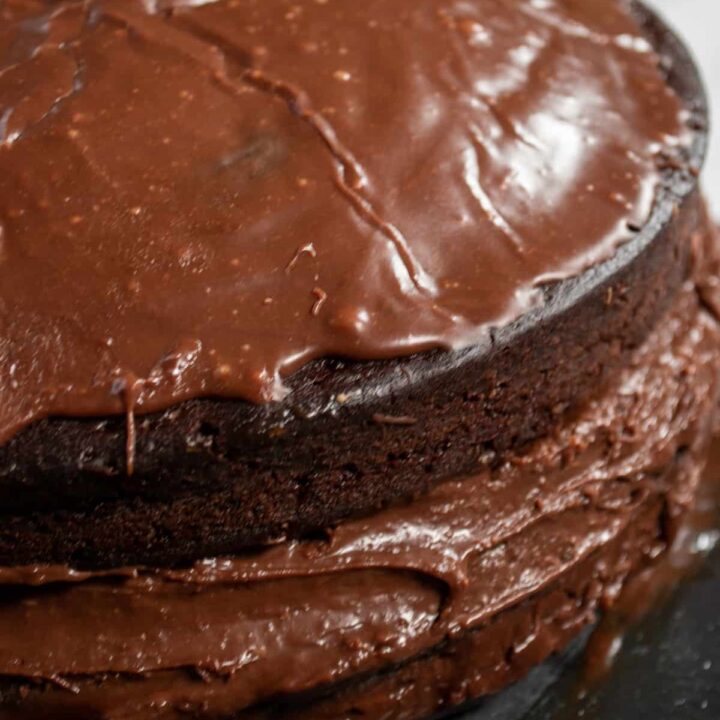 Chocolate Ganache Cake | Vegan, Easy
This vegan chocolate ganache cake is a chocolate lover's dream. Enjoy!
Print
Pin
Rate
Ingredients
Dry Ingredients:
350

g

all-purpose flour

250

g

brown sugar

60

g

cocoa powder

1.5

teaspoons

salt

2

teaspoons

baking soda
Wet Ingredients:
450

ml

plant milk

2.5

teaspoons

apple cider vinegar

175

ml

vegetable oil
For the chocolate ganache filling/topping:
150

g

dairy free chocolate chips

150

ml

full fat coconut milk

300

g

powdered sugar

sifted
Instructions
Preparation:
Preheat your oven to 180 Celsius.

Grease two round, 7-inch cake tins and set aside.
Making the cakes:
In a large mixing bowl, combine the flour, sugar, cocoa powder, salt and baking soda. 

Next, pour in the plant milk, apple cider vinegar and vegetable oil. Mix again but don't over-mix. The flour should be just mixed in enough so that there are no lumps.

Equally, divide the cake batter between the two greased cake tins. If you only have one tin, you can bake the cakes one at a time. 

Bake your two chocolate cakes in the oven for 25 minutes or until a skewer comes out clean. 

Take your cake halves out of the oven and allow them cool fully. In the meantime, it's time to make the melty chocolate ganache!
Making the chocolate ganache:
Add your chocolate chips to a medium bowl. Set aside.

Open your can of full fat coconut milk and scoop out 150ml of the thick white coconut cream at the top. If you have to use a little bit of the liquid, that is okay.

Place the coconut cream into a microwave-safe bowl and heat for 1 minute. 

Now it is nice and warm, pour it over your chocolate chips, then let it sit for 3 minutes before stirring.

After a few minutes have past, you can then give it a stir. Then add your sifted powdered sugar. Stir again until the ganache has thickened. You should now be able to spread it over the cake. 
Layering the cake:
If your cake has now cooled, spread some of your ganache filling onto the flat side of one of the chocolate cakes. Make sure that you save some for the top!

Place your other cake half on top of the filling then, carefully assemble some more of the chocolate ganache on top of the cake. 

Place your chocolate cake in the fridge for 30 minutes so that the ganache can thicken a little, then slice and serve. 
Notes
If you don't have a microwave, you can heat the coconut milk on the stove until it's warm. Avoid cooking until boiling. 
Store this cake for 4 days at room temperature or for 2 days in the fridge.
MORE CHOCOLATE RECIPES